Hoy -Hermenet Web Site
---
Hoy Family Coat of Arms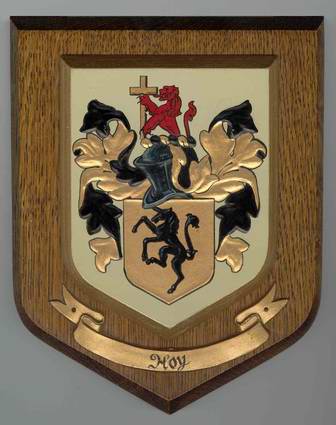 Crest - A Red demi-lion holding a gold cross
Coat of Arms - A Gold and Black Unicorn rampant

Spelling Variations of this Family Name Include:
Hoy, Hey, Hay, Heu, Hoye and others.
First found in the Island region of Orkney in eastern Scotland.
Some of the first settlers of this family name or some of its variants were: John Hoy, who was Naturalized in Philadelphia in 1760; William Hoy, who was Naturalized in Ohio in 1792; David Hoy, who was registered as a British Alien in the U.S., during the war of 1812.

The Following Information on the Various Spellings
of the Name "Hoy" were received from our very own
Cal Hoy in November 2008.
(Cal is the Great-Great-Great-Great Grandson of Philip Hoy)
The various spellings of the name "Hoy" has baffled me.
I have found that the word "Hay" translates to Heu in German.
The term "Heu" in German translates to
"make hay" in English.
I also found out from numerous documents and deeds that Philip signed it as "Hay" however when his wife signed her mark with an (X) the spelling written by the attorney or other official spelled it as "Hoy".
That makes me think the name was pronounced "Hoy".
The tombstones of Philip and his son Abraham show it spelled "Hay", while on the tombstones of his other sons,
Henry, William and Joseph, the name is spelled "Hoy"...


Family Indexes
Last Up-Date 04/19/2009 01:11:12 AM