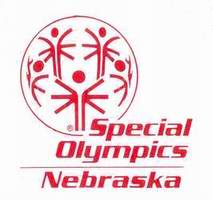 THE FOLLOWING ARTICLE WAS RELEASED FOR PUBLICATION BY THE PRESS ON
AUGUST 1, 1979
Nebraska Special Olympics is proud to announce the opening of the Nebraska Special Olympics Hall of Fame. The Hall of Fame will honor both athletes and coaches, who throughout their involvement in Special Olympics exemplify the true Olympic Sprit. Each year, two coaches and ten athletes will be inducted into the Hall of Fame, based on participation, courage, love, devotion, effort, behavior, cooperation, sportsmanship, integrity, personality, joy, confidence, and enthusiasm, as they work and compete in Special Olympics.
The Hall of Fame trophy, donated by the men & women volunteers from Offutt Air Force Base, has been named in memory of
Marleigh Ann Hoy.
Marleigh was born September 29, 1952, in Lyons, Wayne County, New York, the daughter of Mr. and Mrs. Daniel L. Hoy, who currently reside in Omaha, Nebraska.
Marleigh graduated from the University of Nebraska at Lincoln in 1974. She received a degree in Elementary and Special Education. It was while attending the University that Marleigh became involved with working with "Special People". She worked at LOMR in Lincoln all the while she attended school. After graduation, Marleigh taught at the Educational Service Unit #5 in Hebron, Nebraska. While teaching at Hebron, Marleigh spent many hours coaching and training Special Olympic athletes. Marleigh traveled as a friend and chaperone on camping and several other outings with her students as well as bringing teams to Special Olympic State Games.
Marleigh Hoy was killed in an accident as she was driving the school van to take students
home from a summer session on July 14, 1976.
Because of People whose interest, enthusiasm, and unselfish efforts give Special Persons a chance to learn,
a chance to grow, and a chance to know the joy of sports and athletic competition through participation in
Special Olympics, we proudly present the Marleigh Ann Hoy Memorial Trophy to the
Nebraska Special Olympics Hall of Fame.

- Music -
White Bird
It's A Beautiful Day