Eltiste-Kaiser Web Site
---
Merklein Family
Michael Merklein
Born - December 21, 1852
Neidersteinach, Württemberg, Germany
Naturalized - October 15, 1877
Phillips County, Kansas
Died - February 20, 1928
Phillips County, Kansas
Buried - February 23, 1928
Emmanuel Evangelical Lutheran Cemetery
Phillips County, Kansas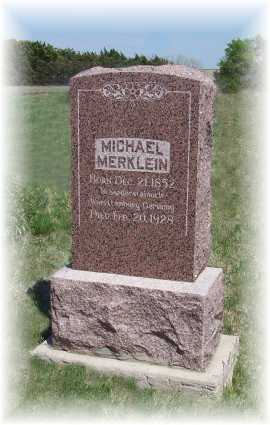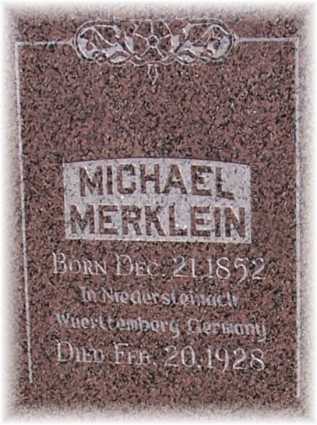 Michael Merklein

Michael Merklein was born December 21, 1852, in Neidersteinuch, In Württemberg, Germany, and departed this life February 20th, 1928, at the age of 75 years and 2 months.
In early childhood he was baptized and later confirmed in the Lutheran church of which he was a member all his life.
In 1870 he landed in America and settled down in Marshall county, Kansas. After that he came to the present home near Stuttgart, Kansas, while the buffalos and Indians still roamed the prairies.
In 1874 he was united in marriage to Margaretha Schneck. This union was blessed with thirteen children, nine sons and four daughters, of which three sons died in infancy.
Those surviving are John, George, Henry, Fred, Leonard, Herman, Maggie Imm, Lizzie Kohle, Mary Hoffman and Barbara Finley. After twenty years of wedded life the mother was called to her heavenly home. After three years he married Henrietta Reinhold.
The deceased received form the Creator all his life good health until the last year his health began to fail which the physicians later announced to be cancer of the stomach.
He was laid to rest on February 23rd in the Lutheran Cemetery at Stuttgart. Reverend F. Hainke officiating. The pastor spoke the words: Our Lord Jesus said by St. John. "I am the resurrection and the life. He died, yet shall he live, and whosoever liveth and believeth in me shall never die."
The deceased is survived by his wife, six sons and four daughters, twenty-seven grandchildren, one brother and many other relatives.

CARD OF THANKS
We wish to thank all those who so kindly assisted us during the sickness and death of our beloved husband and father, also to thank all for the beautiful floral offerings.
The Wife and Children

Phillips County Review
Thursday
March 1, 1928

1stWife - Maria Margaretha (Schneck) Merklein
Born - July 22, 1858
Married - 1874
Died - February 25,1893
Phillips County, Kansas
Buried - Emmanuel Evangelical Lutheran Cemetery
Phillips County, Kansas
2ndWife - Henrietta (Reinhold) Merklein
Born - May 1857 - Germany
Married - May 1, 1896
Phillips County, Kansas
Died - March 19,1945
Phillips County, Kansas
Buried - Emmanuel Evangelical Lutheran Cemetery
Phillips County, Kansas

Son - John Leonard Merklein
Born - January 12, 1876 -Kansas
Married - November 15, 1900
Emmanuel Evangelical Lutheran Church
Stuttgart, Phillips County, Kansas
Died - May 4,1943
Wife - Henrietta Karolin (Horz) Merklein
Born - September 22, 1877 ۩ Died - October 29 1962
Daughter - Margaretha (Merklein) Imm
Born - October 29,1877 - Kansas
Married - August 15, 1906
Died - February 3, 1952
Husband - Gustav Imm
Born - January 7, 1867 ۩ Died - August 10, 1945
Daughter - Barbara Louisa (Merklein) Finley
Born - March1879 - Kansas
Married - April 30, 1913
Phillips County, Kansas
Husband -C. E. Finley
Son - Henry John Merklein
Born - July 14, 1880 - Kansas
Son - George John Merklein
Born - March 21, 1883 - Kansas
Married - April 9, 1910
Died - March 27, 1946
Buried - Emmanuel Lutheran Cemetery
Wife - Elizabeth "Lizzy" (Krafft) Merklein
Born - November 9, 1888 - Kansas ۩ Died - July 1976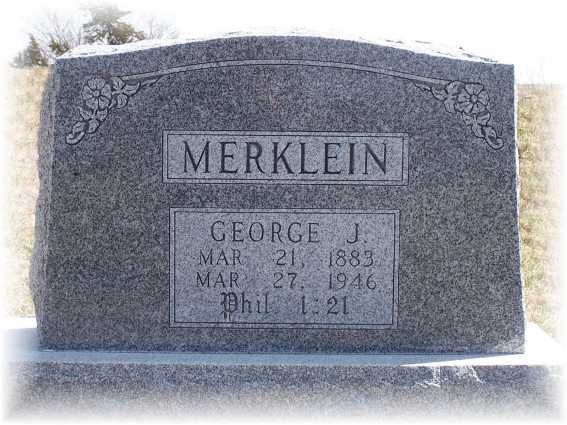 Daughter - Mary (Merklein) Hoffman
Born - December 23, 1882
Married - October 9, 1912
Phillips County, Kansas
Died - July 21, 1949
Husband - Fred Conrad "Fritz" Hoffman
Born - May 1, 1886 ۩ Died - October 8, 1956
Father - John George Hoffman
Mother - Fredericka Barbara (Veeh) Hoffman
Son - Fred Merklein
Born - April 1886
Married - August 28, 1912
Emmanuel Lutheran Church
Phillips County, Kansas
Wife - Elizabeth (Himmelein) Merklein
Son - Leonard John Merklein
Born - November 6, 1887
Son - Herman L. Merklein
Born - April 15,1896
Married - September 30, 1914
Died - July 5, 1955
Wife - Margaret (Himmelein) Merklein
Born - June 28, 1891 ۩ Died - November 18, 1972

Brother - John George Merklein
Born - May 20, 1842
Brother - Leonhard Merklein
Born - February 12, 1852

Father - George Merklein
Mother - Maria Margareta (Vogel) Merklein

Family Indexes
Home Eltiste Kaiser Fink Rohrs
Eltiste Photos Kaiser Photos Rohr Photos Fink Photos
Last Up-Date 10/20/2010 11:47:14 AM