Eltiste-Kaiser Web Site
---
Rohrs Family
Johannes Heinrich Christoph Rohrs
(Henry C. Rohrs)
Born - September 15, 1867
Schneverdingen, Hanover, Germany
Immigrated to USA - March 15, 1886
Ship - Fulda
Married - November 7, 1894
Died - July 12, 1947
Auburn, Nemaha County, Nebraska
Buried - Saint Matthew Lutheran Cemetery
Johnson, Nemaha County, Nebraska
Lot 14, Plot 2


Henry C. Rohrs

Henry Rohrs learned granite & stonecutters trade in Germany.
In 1886 he came to Nemaha County. He was a stone-cutter,
general contractor, builder & bricklayer in Eastern Nebraska
for 25 years. The community of Rohrs, located five miles
west of Auburn, was named for Henry Rohrs,
who was a depot agent for a few years. He built an elevator along the Burlington railroad tract in 1896. There was also a stockyard
for shipping livestock. He owned Rohr's Quarry for many years.
Soon after the railroad built its track, Henry Rohrs and
Herman Bohling opened a stone quarry nearby.
Stone from it was used to build the courthouse in Auburn.
Mr. Rohrs opened a small store in the community.
In 1910 he built a two room brick building from which
he sold dry goods, groceries, clothing, hardware, and feed.
He also bought eggs, cream, and poultry.
From 1896 to 1916 he was a grain dealer & elevator manager.
Henry owned 2 farms near Rohrs. From 1910 to 1922 he built entire village of Rohrs. He built many churches & other structures
in Nemaha County. From 1910 to 1931 he was owner and manager
Rohr's General Store. From 1897 to 1907, 1919 to 1922,
and in 1925 he was secretary German American Mutual
Life Insurance Company. From 1916 to 1925 he was director
Farmers Securities Bank, and President from 1925 to 1928.
Henry was Deacon at Hickory Grove Lutheran Church.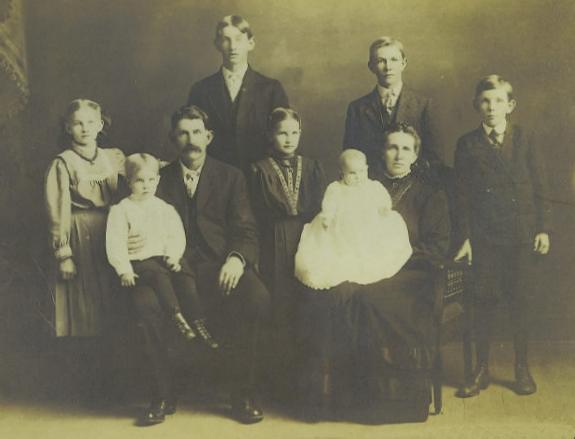 Photographs Courtesy of Lanny & Lynnda Richards.
Lanny Richards is the son of Richard & Christina (Rohrs) Richards.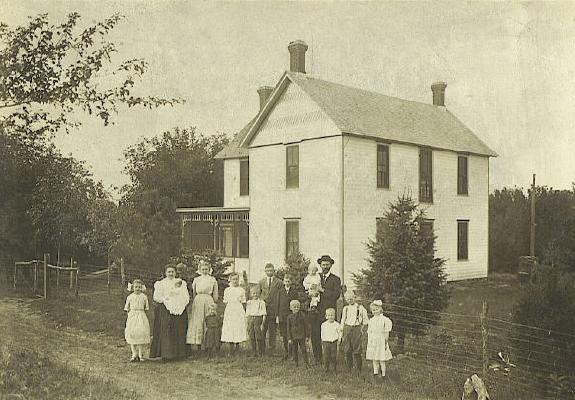 Henry Rohrs farm was up the hill behind the stores of Rohrs

Robbers Loot Henry Rohrs General Store

After Stealing License Number From Car of A. M. Engles
of Auburn, Driver of Big Nash Car Burglarizes Store of $3,000 Worth Of Merchandise

When Henry Rohrs general merchant at Rohrs station, opened
his store for business Tuesday morning, he found that the
establishment had been practically looted during the night
by burglars who stole merchandise estimated to be worth
between $2000 and $3000,
The counters were in disorder, merchandise having been taken
from the shelves and thrown all over them, while the floor was
literally strewn with empty shoe boxes and covers.
Mr. Rohrs at once telephoned Sheriff Davis, who made a flying
trip to the station and obtained what clues he could to the
robbery. As soon as the proprietor of the general store could a
hasty inventory of the missing articles he did so, and found that
the entire stock of jewelry, amounting to $500 or more had been
stolen. This consisted of pins, gold chains, lavalieres, brooches
and other articles. One brooch had been dropped by the robbers.
All the cigar stock, amounting to about $300 was taken, together
with the entire stock of silks, laces, embroideries. Many pairs
of shoes were stolen. These had been taken from the boxes and
the latter were thrown on the floor. There was also a quantity of
ladies hose, ladies stocking caps, ladies bonnets and other articles
of feminine wear stolen.
Six men's sheepskin coats ad a quantity of shirts were also among
the loot. In going over his stock several hours afterwards Mr.
Rohrs would find new articles which had been taken. Nothing in the
hardware department which contained guns, cutlery, search lights
and other articles of a very compact portable and compact nature
had been taken except a Marlin rifle, the individual property of
the owner of the store.
The robbers had entered the store by forcing one of the back
windows with a crow bar. Sheriff Davis tried to find some
legible finger prints on the glass of the show cases, and on the
surface of articles, which had been handled by the thieves,
but they were badly smeared that no characteristics could
be developed.
Mr. Rohrs said that there had been cars passing through Rohrs
almost every hour of the night and he had been quite uneasy
and scarcely slept. He had a hunch that something was wrong,
but he did not go down to the store to investigate.
Sheriff Davis, in looking for clues, found that one of the tires
of the automobile used for transporting the stolen articles was
a Goodrich tread and the marks of the car could be seen as it
approached from the east, and as it went west.
He also found, a cushion that had taken out of the machine and
left at the store. It was the kind that is used in a Nash touring
car. One of the robbers, a man evidently of slight build, had
left a gabardine overcoat behind. It bore the mark
of Browning, King & Company.
On Monday night a slight man, between 22 and 24 years
of age drove into town in a large Nash touring car. It had
yellow wheels and the top was enclosed.
A. M. Engles, of the Nemaha county bank, and who is also
city treasurer, has his books under his arm on his way home
from the city council meeting. The driver of the Nash car
stopped and asked him where he could get some gasoline.
Mr. Engles directed the fellow to the Coulter & Gritz garage.
He looked at the rear of the car as it passed him and he
saw what he thought was his own license plate on the car.
The plate contained the number, "Nebr. 254214". This was
Mr. Engles number. He hastened to where he had his car
parked in front of the Nemaha County bank and found the
license plate missing from his machine. Instead of getting
in his car and driving back to the Coulter & Gritz garage,
where the Nash car still stood, Mr. Engles started running
down the street in that direction. The driver of the Nash saw
him; he had just handed a bill to Mr. Coulter for the gasoline
and was waiting for the change. Seeing Engles running in his
direction the driver called out "keep the change," and drove
rapidly away.
Mr. Engles at once telephoned Sheriff Davis of the circumstances,
and the sheriff, believing that the Nash was a stolen car, sent out
warnings to all of the nearby towns.
Mr. Engles says he believes there was another person in the
rear of the Nash car. It is believed that this was the machine
that had been used in the transportation of the goods stolen
from the Rohrs store. It is thought that the driver turned his
car toward Rohrs and waited until after midnight before
attempting the robbery.
Shortly after 2 o'clock in the morning Sheriff Davis received
a long distance call from the city Marshall of Syracuse that a Nash
car which answered the description of the supposed stolen car
had passed through that place and was evidently going in the
direction of Eagle, Nebraska. It is thought the driver was
headed for Omaha, crossing the Platte river at Ashland.

Nemaha County Herald
Friday
November 11, 1921


1st Wife – Emma Maria Sophie (Lunzmann) Rohrs
Born – December 12, 1876
Washington, Nemaha County, Nebraska
Died – October 11, 1932
Nemaha County, Nebraska
Buried - Saint Matthew Lutheran Cemetery
Johnson, Nemaha County, Nebraska
Lot 14, Plot 1
Parents – August & Anna Lunzmann
Both - Born in Prussia.
To This Union 17 Children Were Born
One Died Before 1900

Woman Summoned By
Death Call

Mrs. Henry Rohrs Has Passed Beyond

Woman Who Was Born in This County and Whose Life Had Been Spent Here Has Entered Into Eternal Rest
Funeral Services At Johnson Sunday

Mrs. Henry Rohrs passed away Tuesday at 11:30 P.M. at her home near Rohrs. Mrs. Rohrs had been in failing health for several
months, and although not unexpected, her death brings
profound sorrow to her relatives and many friends. She
had been a resident of Rohrs community for many years and
those who shared her friendship realize that one who was in
every way worthy of their love and respect had been called
beyond. She was a woman admired for her kindly nature and
her beautiful traits of character and disposition. She was a
true helpmate, being very industrious, her household duties
and care of her family occupying most of her time. The
members of her family to whom her passing has brought deep
sorrow, have the sympathy of a host of friends.
Emma Marie Sophia Lunzmann was born in Hickory Grove
vicinity, December 27, 1875, and was the second child of
August and Anna Lunzmann. While an infant she received the
Holy rites of Baptism at the Stone church. In the year 1889
in the Hickory Gove church, Rev. Whitting, pastor, she
accepted the baptismal covenant through the rite of confirmation.
At the age of eighteen, she was united in marriage to
Johann Heinrich Christoph Rohrs at the Hickory Grove
church. Rev. Theodore Streng performed the ceremony.
To this union seventeen children were born, two of whom
have preceded their mother in death, one at the age of 16
months and the other by accident, at 12 years of age.
In early infancy, Mrs. Rohrs was a member of the Stone
church, later becoming a member of the Hickory Grove
congregation. Twenty-six years ago she and her husband
became charter members of St. Mathews church, to
which she brought devotion and support, especially in
the Ladies Aid.
She is survived by her husband and fifteen children;
Rudolph, Auburn; Anna Deubler, Graf; Minnie Hector,
Auburn; Gustav, Atkinson; Emma Balke, Johnson;
John, Auburn; Lottie Bergman, Byron; Herman and August,
who live at home; Louise Weers, Superior; William,
Christine, Leona, Leo, Lloyd at home; twelve grandchildren,
one sister, Mrs. Louise Harms, Auburn; five brothers,
William Lunzmann, Columbia, South Dakota; Gustav, Enders,
Nebraska; Henry, Johnson; Herman and John, Auburn.
Funeral services were held from St. Mathews Lutheran
church in Johnson, Saturday afternoon, conducted by
Reverend G. F. R. Duhrkop. Many friends attended the obsequies
thus paying tribute to the memory of a good woman who had
been called beyond. The following sons of the deceased acted
as pall bearers, John, Rudolph, August, Herman,
William and Gustav.
Following the services interment was made in the church cemetery.

Nemaha County Herald
Thursday
October 20, 1932


2nd Wife - Nettie Pearl Loomis (Rockemann) Rohrs
"Pearl Rohrs"
Born - April 1, 1886
Millard, Douglas County, Nebraska
Married - April 1935
Died - August 30, 1970
Beatrice Hospital, Gage County, Nebraska
Buried - Sheridan Cemetery
Auburn, Nemaha County, Nebraska


Nettie Pearl Rohrs

Nettie Pearl Rohrs was born April 1, 1886 at Millard, Nebraska,
the daughter of Mr. and Mrs. Earl Loomis.
After an extended illness, she passed away at the
Lutheran Hospital in Beatrice on August 30, 1970.
She was 84 years, four months and twenty-nine days of age.

She was united in marriage to Ale Rockemann in 1902 at Humboldt, Nebraska. Five children were born to this union. Mr. and Mrs. Rockemann farmed near Nemaha until Ale passed away in 1933.

In 1935 she was married to Henry Rohrs. They made their home at
Rohrs Corner until 1945 when they retired and moved to Auburn.
Mr. Rohrs farmed, and was the postmaster and depot agent
at Rohrs Corner. He passed away in 1947.

Pearl continued to live in Auburn until 1963 when she moved to the
Good Samaritan Nursing Home in Wymore.
She had been in failing health for the past several years.
She was a member of the Christian Church in Auburn.

Pearl was also preceded in death by her parents,
two children, three brothers, and two sisters.

Those left to mourn her passing are two sons,
Cleo and Gerald E. Rockemann of Beatrice;
one daughter, Mrs. Joe C. (Opal) Humphrey of Lincoln;
eight grandchildren, and eleven great-great grandchildren.

Obituary Courtesy of Mrs. Roberta Everett

Son - Rudolph Herman Rohrs
Born – October 20, 1896 – Nebraska
Died - October 1962
Wife - Lucille I. Rohrs
Born – 1906 – Nebraska
Son - Henry Lee Rohrs
Born – 1928 – Nebraska
Daughter - Anna M. (Rohrs) Deubler
Born – December 1897 – Nebraska
Died – November 1973
Johnson, Nemaha County, Nebraska
Husband – Albert Deubler
Born - July 5, 1900
Died – January 1, 1992
Tecumseh, Johnson County, Nebraska
Parents – George & Mary M. Duebler
(The 1910 Lafayette, Nemaha, Nebraska Census)
Gives his mother's name as "Kneal"
Note - In the 1930 Census
Albert & Anna are living with his parents,
but states that her husband is Albert's brother, John.
Daughter - Minnie M. (Rohrs) Hector
Born – March 22, 1899
Rohrs, Nemaha County, Nebraska
Died – February 1985
Auburn, Nemaha County, Nebraska
Husband – Frederick L. Hector
Note - Per the 1910 Washington, Nemaha County, Nebraska
Census it lists, Frederick (34) Minnie M. (32)
Lawrence K. (9), Harold M. (7) and
Willis W. (1 Yr. 7 months).
Son - Gustav Rohrs
Born – May 5, 1900
Rohrs, Nemaha County, Nebraska
Married - August 25, 1929
Died – March 11, 1985
Atkinson, Holt County, Nebraska
Wife - Dorothea Clara (Schukar) Rohrs
Born - March 1, 1907
Lincoln, Lancaster County, Nebraska
Died - July 20, 2006
Boulder, Colorado
Buried - Woodlawn Cemetery,
Atkinson, Holt County, Nebraska
Parents - Frank & Johanna (Bergstraesser) Schukar
To This Union 3 Children Were Born
Son - Robert Rohrs
Daughter - Margaret Meitzen Higgins
Daughter - Sylvia Arnot
Daughter - Emma Louise (Rohrs) Balke
Born - June 5,1902
Rohrs, Nemaha County, Nebraska
Died - March 9, 1997
Auburn, Nemaha County, Nebraska
Husband - Roland Otto Balke
Born - February 7, 1898 - Nebraska
Roland's Parents - Henry & Meta Balke
Son - Heinrich Karl Rohrs
Born – October 27, 1902
Died - July 22, 1914
Buried - Saint Paul's Lutheran Cemetery
Hickory Grove, Nemaha County, Nebraska
Son - John H. Rohrs
Born -1904 ۩ Died - 1961
Wife - Elsie Rohrs
Born - April 16, 1906
Died - May 1975
Lincoln, Lancaster County, Nebraska
Buried - Saint Paul's Lutheran Cemetery
Hickory Grove, Nemaha County, Nebraska
Daughter - Lottie E. (Rohrs) Bergmann
Born – June 10,1905
Died – May 27, 1986
Multnomah County, Oregon
Husband - Theodore F. Bergmann
Born – March 29, 1901
Died – October 13, 1979
Multnomah County, Oregon
Parents – Henry G. and Emma D. Bergmann
Note -1930 Bryon, Thayer County Census lists
Theodore (28), Lottie (24) and Leland (2 yrs. 3 months)
Son - Herman Rohrs
Born – July 24, 1902
Died – June 1974
Hebron, Thayer County, Nebraska
Son - August H. Rohrs
Born – May 4, 1908
Died – December 1, 1965
Butte, California
Daughter - Louisa Emma (Rohrs) Weers
Born – October 1, 1909
Rohrs, Nemaha County, Nebraska
Died – June 13, 1998
Tyqh Valley, Wasco, Oregon
Buried – Rose City Cemetery Mausoleum
Husband – Deitrich Henry Weers
(Richard Weers)
Born – June 13, 1909 – Nebraska
Died – November 8, 1980
Portland, Mulnomah, Oregon
Parents - Herman & Sophia Mary (Schleifer) Weers
Son - William "Billy" Rohrs
Born – 1911 – Nebraska
Died - 1934
Daughter - Christina Frieda (Rohrs) Richards
Born – April 8, 1912
Rohrs, Nemaha County, Nebraska
Died – June 28, 2003
Apache Junction, Pinal County, Arizona
Buried - Tecumseh Cemetery,
Johnson County, Nebraska
Husband – Richard J. Richards
Born - June 5, 1914 - Nebraska
Died - October 4, 1995
Tecumseh, Johnson County, Nebraska
Buried - October 7, 1995
Tecumseh Cemetery,
Johnson County, Nebraska
Block 8, Lot 3B
Richard's Parents - John Thomas and Nettie Ann Richards
Son - Lanny Richards
Wife - Lynnda Richards
Son - Leo Rohrs
Born – September 29, 1915
Rohrs, Nemaha County, Nebraska
Died – July 26, 2004
Prescott Valley, Yavopai County, Arizona
Wife - Jackie Rohrs
Daughter - Leona E. (Rohrs) Michaelis
Born – June 15, 1916
Rohrs, Nemaha County, Nebraska
Died - September 19, 1996
Auburn, Nemaha County, Nebraska
Buried - September 27, 1996
Tecumseh Cemetery, Johnson County, Nebraska
Block 218 - Lot 3I
Husband - Ivan Michaelis
Born - November 6, 1916
Died - April 3, 1986
Nebraska City, Otoe County, Nebraska
Buried - April 7, 1986
Tecumseh Cemetery, Johnson County, Nebraska
Block 218 - Lot 3I
Ivan's Parents - Otto A. and Rose Marie Michaelis
Son -Lloyd Rohrs
Born –October 27, 1917
Died – May 1978 - Nebraska

Father - William Jonas Rohrs
Mother - Christina (Thomen) Rohrs

Family Indexes
Home Rohrs Eltiste Kaiser Fink
Eltiste Photos Kaiser Photos Rohr Photos Fink Photos
Last Up-Date 03/08/2011 12:13:43 AM