Eltiste-Kaiser Web Site
---
Eltiste Family
Emil Martin August Muller
Emil Miller
Born - Wednesday, August 12, 1903
Stuttgart, Phillips County, Kansas
Confirmed - Wednesday, March 14, 1917
Zion Lutheran Church
Hanover, Washington County, Kansas
Married - Sunday, June 20, 1937
Zion Lutheran Church
Herkimer, Marshall County, Kansas
Died - Saturday, January 10, 1976
Beatrice, Gage County, Nebraska
Buried - Tuesday, January 13, 1976
Hanover City Cemetery
Washington County, Kansas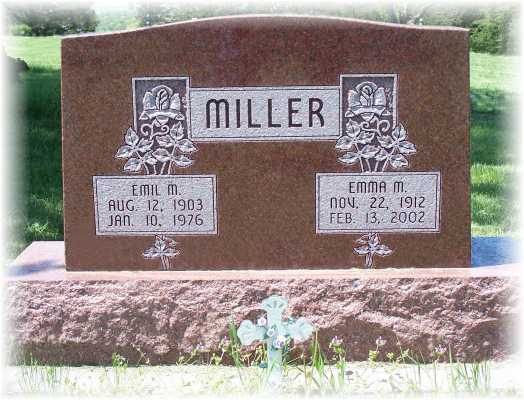 Emil Miller

Emil Miller, retired employee of Burlington Railroad, Hanover, died Saturday in a Beatrice Hospital.
Although he had been confined to a wheel chair for several years he continued to do as much as possible. Over two years ago when a tornado toppled the bell tower of Zion Lutheran church in Hanover, he found a project, which he could manage. He spent hours polishing the big brass bell, which had been a historic and sentimental part of the church.
Emil Martin August Miller, resident of Hanover, died January 10, 1976, at the Lutheran Hospital in Beatrice, Nebraska. The son of August and Auguste (Jasch) Miller, born August 12, 1903 near Stuttgart, Kansas
Emil was confirmed March 14, 1917, at Zion Lutheran church Hanover, Kansas, where he remained a dedicated member all his life. In later years Emil served a four-year term on the church council and was treasurer of Hanover Cemetery Association since 1957.
On June 20, 1937, Emil and Emma Koenig were married in Zion Lutheran church at Herkimer, Kansas. The first four years of married life they lived in Lanham and Odell, Nebraska.
Emil and Emma moved to Hanover in 1942 and lived there until the time of his death.
Emil was employed by the Burlington Railroad as a section employee for 36 years. He retired in 1963.
He was handicapped and in a wheel chair for the last 12 years. He was always uncomplaining and ready with a kind word and he never lost his marvelous sense of humor. He'll always be remembered by his many friends and relatives for his sunny disposition and faith in God.
His survivors include his wife Emma, one sister and brother-in law, Irene and Herman Johannes of Hanover; nephew Jerry Johannes, two great-nieces, Debbie and Sherrie all of Marysville, and a host of other relatives and friends.
Services were Tuesday at 2 p. m., at Zion Lutheran church with Pastor R. Keith Lingwall officiating.
Organist was Mrs. Vernon Nieman and Pastor Lingwall was soloist.
Casket bearers were Fredrick Mueller, Walter Weber, Henry Rippe, Joe Wollenberg, Al Wieden and Fredrick Laue.
Interment was in Hanover City Cemetery, with arrangements by Hanover Funeral Home.


Wife - Emma Marie (Koenig) Muller
Born - November 12, 1912
Died - February 13, 2002
Buried - Hanover City Cemetery
Washington County, Kansas

Sister - Irene Lena (Muller) Johannes
Born - August 5, 1913

Father - August Muller
Mother - Augusta (Jasch) Muller


Family Indexes
Home Eltiste Kaiser Fink Rohrs
Family Thumbnail Photo Gallery Index
Last Up-Date 05/18/2008 11:19:52 AM