Hoy -Hermenet Web Site
---
Hermenet Family Coat of Arms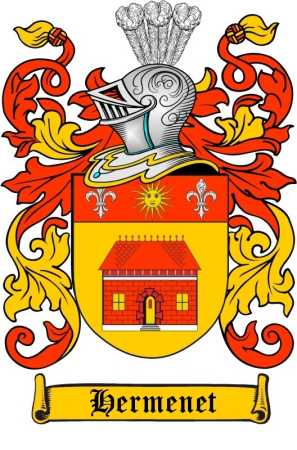 Hermenet Family History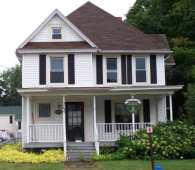 Marion Museum and Hermenet Family
Submitted by Our Own Hermenet Family Historian, Mr. Dennis De Groot
Palm Desert, California

The Marion Museum has been purchased from the John and Jennie Hermanet family. The New Museum is located on Main Street in Marion, New York.
This home was the residence of John and Jennie Hermanet and son Ivan. John died in 1967; Jennie died in 2003 at 106 and was buried on her 107th birthday.
They have one son Ivan and his wife Gale, two grandsons Paul and Robert, and three great-grandchildren. The Hermenet (Hermanet) Family has deep roots in the Marion and Wayne County area. The first family members to immigrate to Wayne County from Holland were the Wemelsfelder (Wemesfelder, Wemes,) Family in 1853 from Groede, Zeeland, Holland. Several brothers and their families came then; Their Grandmother was Jacomina Hermenet. Next to come was Adriana Hermenet-De Back and Jannis De Back and their family in 1866.
Abraham Hermanet (My great grandfather) emigrated in 1883, his brother John in 1890, next his brother Jacob and his wife and 8 children in 1904. One brother and sister stayed in Holland,
Michiel Hermenet and Janneke.
Michiel's three sons emigrated: John in 1905, Michael in 1912 and Adrian in 1904, while his two
daughters, Marie (Hermenet) Leurgans & Johanna (Hermenet) Collemeijer also stayed in Holland.
Jacob Hermanet, the son of Abraham Hermanet and Jozina 'Cynthia' Hillebrand Hermanet, was one of the first soldiers in World War I to die in Europe. He is buried in Marion.
Many of the Hermenet families still live in Wayne County and Marion. They are Shippers, Marr, Bliek, De Groot, Bel, Hoffman, Tellier, Wemesfelder, Wemes, De May, Pease, Sonneville, Van Lare, De Meyer, De Wind, Rommel, Norsen, Luke, Reynolds, De Fisher, De Back, Beckens (Bekkens) and many more.
The family has a reunion at Forman Park in Pultneyville every five years. The reunion started in 1932 at the farm of my grandparents, Edward and Mary Hermanet-De Groot in Walworth. The reunion continued for 60 years. In 1992 the family decided to have the reunion every 5 years, next reunion is 2007. The Family in the early days was farmers in most of the Wayne County towns. The largest Hermenet population now outside of the Rochester, Wayne County area, is California.
We also have family members in Oregon, Washington State, Maryland, Nebraska, Michigan, Texas, Pennsylvania, Tennessee, and Florida Idaho. One member lives in Panama, and of course Holland. A complete Genealogy Chart of the Hermenet Family resides with Carolyn Adriaansen in the Museum. It's 210 pages long, still growing as I find new information. Over the years we have located about 50 families who have the Hermenet name and are related to us in the Rotterdam, Gouda, Bodgraven, Reeuwijk area. I met many of them in Holland in 2003.
The Hermenet family came originally from France, we were French Huguenots, and they immigrated to Holland in the mid 1660's and settled in the Zeeland Province. The Wemelsfelder family was Protestant and asked to leave Salzburg, Austria in the early 1700's. Holland at the time was accepting immigrants from all over Europe who were Protestant. The Hermenet family then settled in these villages: Sluis, Cadzand, Nieuwvliet, Schoondijke, Breskens, Biervliet, Hoofdplaat, Groede, Aardenburg.
We have Hermenet family members still in Zeeland, the Leurgans Family who we have kept contact with over the years. In 1946, Michiel Leurgans wrote a letter to the Hermenet Family in Marion asking for food, and clothes. I have that letter today. The Hermenet responded in kind and sent many care packages to help the families after World War II. They had nothing. in 1974, I made my first trip to meet the families in Zeeland. They responded then, that if it hadn't been for the kindness of the families in Wayne County, they could have died of starvation. They in turn showed me photo's that were sent, they were of various Reunions in the 1940's.
I'm proud our family took care of its own. We also located a clan of Hermenets in Barry County, Michigan. They go by the name Hermenitt. That family emigrated in 1879. Our families lost track of each other until about 4 years ago when Otis Hermenitt called me in California asking if we were related. We ARE!
As you can see, there are three different spellings of our name. US customs changed the spelling and they kept it. It's an honor to have a family member's house to be used to as a Museum.
'Thank you' Carolyn Adriaansen for accepting a copy of our family history into the Museum.


Family Indexes
Last Up-Date 11/20/2007 03:37:06 AM