Hoy -Hermenet Web Site
---
Hoy Family
Catherine (Frymoyer) Hoy
Born - December 30, 1858
Berks County, Pennsylvania
Died - June 26, 1921
Dauphin County, Pennsylvania
Burial - David's Church Cemetery,
Killinger, Dauphin County, Pennsylvania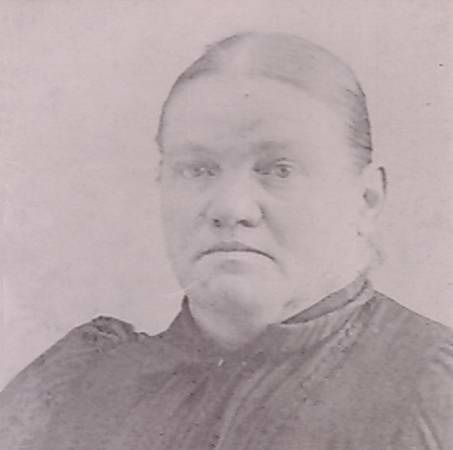 Photograph Courtesy of Eva (Hoy) Haelen


Obituary
Catherine Hoy

Mrs. Catherine Hoy died on Sunday morning at the home of her daughter, Mrs. Roy Heinbaugh, just east of Millersburg.
She was born in Berks county, December 30, 1858, and was married to Alfred Hoy August 5, 1876, the latter preceding the wife to the grave August 21, 1909.
The following children survive; Daniel F., John J., and Ralph Hoy of Cortland, New York; Mrs. Heinbaugh, east of town; Mrs. James Baer, of Millersburg; and by eleven grandchildren.
Mrs. Hoy came to the section when a young girl. For the past 40 years she was a consistent member of the Reformed church at Killinger, and was held in esteem by all who knew her.
Brief funeral services were held at the Heinbaugh home at 9:30 this Thursday morning, after which further services were held in the church at Killinger, where interment was made. Reverend Ralph E. Starr was the officiating clergyman.

July 1, 1921
Friday

Husband -Christian Alfred Hoy
Born - May 26, 1854
Upper Paxton Township, Dauphin County, Pennsylvania
Died - August 21, 1909
Millersburg, Dauphin County, Pennsylvania
Burial - David's Church Cemetery,
Killinger, Dauphin County, Pennsylvania

Son - Daniel Franklin Hoy
Born - November 20, 1876
Died - February 1, 1946
Son - John J. Hoy
Born - June 19, 1881
Wife - Katie (Michael) Hoy
Daughter - Dora E. (Hoy) Heinbaugh
Born - September 24, 1890
Husband - Roy Heinbaugh
Daughter - Sally (Hoy) Baer
Born - February 21, 1892
Husband - James Baer
Son - Ralph Hoy
Born - May 13, 1898
Wife - Annie (Merrick) Hoy

Father - Daniel Frymoyer
Mother - Elizabeth (Werner) Frymoyer


Family Indexes
Home Hoy Hermenet Boise Shively
Last Up-Date 11/15/2011 01:57:06 AM