Hoy -Hermenet Web Site
---
Shively Family
Dorothy Lucille (Hoover) Greene
Born - July 12, 1921
Nappanee, Elkhart County, Indiana
Married - December 20, 1941
Died - March 23, 2010
Elkhart, Indiana
Buried - Union Center Cemetery
Nappanee, Elkhart County, Indiana
Find A Grave Memorial # 57890525

Photograph Courtesy of Kevin Hoover and Shireen Davis


Dorothy L. Greene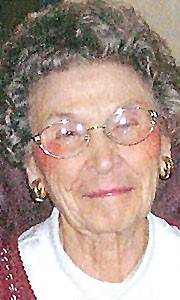 ELKHART -- Dorothy L. Greene, 88, of 28070 C.R. 24 W.,
Hubbard Hill Estates, Elkhart, formerly of Nappanee,
died at 5:36 a.m. Tuesday
(March 23, 2010) at her residence.
She was born July 12, 1921, in Nappanee, to John and Cora Weaver Hoover.
On Dec. 20, 1941, she married Ralph L. Greene in
Nappanee at her parents' home.
He survives along with a daughter, Kathy A. (Frank) Weidner
of Nappanee; son Thomas L. (Claudine) Greene
of Western Springs, Ill.;
grandchildren Emily (Josh) Shneyderov, Jonathon Greene,
Hillary Greene, Angela (Grady) Sanders,
Dawn (Scott) Vargo and Nathan Weidner;
eight great-grandchildren;
and sister Anita (Wendell) Sheets of Bourbon.
She was preceded in death by brothers Ned, Ronald,
Howard and Willard Hoover.
Mrs. Greene was a lifetime area resident and a graduate
of Nappanee High School. She was a homemaker.
Prior to her marriage, she worked as a dental assistant.
She was a member of Grace Point Presbyterian Church,
where she served as a deacon
and was an adult Sunday school teacher.
She was also a former Cub Scout den mother
and chairwoman of the Blue Bird leaders in Nappanee.
She was one of the organizers of Open Door in Nappanee
and served as its secretary/treasurer.
She was involved in Open Door for 28 years,
eight of those on the steering committee.
She was very involved in the Nappanee community.
Friends may call at Thompson-Lengacher & Yoder Funeral Home,
Nappanee, on Thursday from 2 to 8 p.m.
and for one hour prior to the funeral service at 10:30 a.m.
Friday at Grace Point Presbyterian Church.
The Rev. Terry Tyler will officiate
and burial will be in Union Center Cemetery.
Memorial contributions may be given to
Grace Point Presbyterian Church or Nappanee Open Door.

Goshen News
Goshen, Indiana
Wednesday
March 24, 2010

Husband - Ralph Lamb Greene
Born - July 29, 1921
Nappanee, Indiana

Son - Thomas Lee Greene
Born - November 19, 1947
Elkhart General Hospital, Elkhart, Indiana
Wife - Claudine Denise (Marzo) Greene
Born - May 26, 1953
Daughter - Kathy Ann (Greene-Truex) Weidner
Born - April 13, 1952
Elkhart General Hospital, Elkhart, Indiana
1st Husband - Raymond Dean Truex
To This Union 2 Daughters Were Born
Daughter - Angela K. (Truex) Sanders
Born - August 23,1972
Married - July 17, 1993
Husband - Grady Lawrence Sanders
To This Union 4 Children Were Born
Son - Zachary Ray Sanders
Born - December 12, 1998
Daughter - Lilly Rose Sanders
Born - February 19,2000
Daughter - Sierra Shyanne Sanders
Born - December 8, 2007
Daughter - Chloe Ann Sanders
Born - December 18,2009
Daughter - Dawn Michelle (Truex) Vargo
Born - December 2, 1974
Married - June 30, 1995
Husband - Scott Allen Vargo
To This Union 5 Children Were Born
Daughter - Alexis Nicole Vargo
Born - May 18, 1998
Daughter - Lindsay Michelle Vargo
Born - July 22, 2000
Son - Lucas Andrew Vargo
Born - May 6, 2004
Son - Jacob Scott Vargo
Born - October 15, 2009
Son - Bryce Anthony
Born - August 13,2010
2nd Husband - Frank Weidner
To This Union 1 Child Was Born
Son - Nathan Paul Weidner
Born - March 5, 1997


Brother - Ronald Jay Hoover
Born - August 4, 1919
Nappanee, Elkhart County, Indiana
Brother - Willard Carl "Bill" Hoover
Born - November 18, 1924
Nappanee, Elkhart County, Indiana
Brother - Howard Wayne Hoover
Born - April 9, 1926
Nappanee, Elkhart County, Indiana
Brother - Ned Leroy Hoover
Born - February 24, 1938
Elkhart General Hospital, Elkhart, Indiana
Sister - Anita Kay (Hoover) Sheets
Born - December 14, 1940
Nappanee, Indiana

Father - John Edward Hoover
Mother - Cora May (Weaver) Hoover

Grandfather - Isaiah Hoover
Grandmother - Emaline (Loucks) Hoover Wise

Great Grandfather - Abraham Hoover
Great Grandmother - Susanna (Landis) Hoover

Great Great Grandfather - John Hoover
Great Great Grandmother - Susannah (Kurtz) Hoover

Family Indexes
Home Hoy Hermenet Boise Shively
Last Up-Date 04/01/2012 06:25:15 AM