Hoy -Hermenet Web Site
---
Shively Family

Howard Wayne Hoover
Born - April 9, 1926
Nappanee, Elkhart County, Indiana
Married - June 13, 1948
Veteran - U. S. Air Corp. During World War 11
U.S. Marines During the Korean Conflict
Died - May 26, 1983
White County Memorial Hospital
Monticello, White County, Indiana
Buried - Bremen Municipal Cemetery,
Marshall County, Indiana
Find A Grave Memorial # 87522949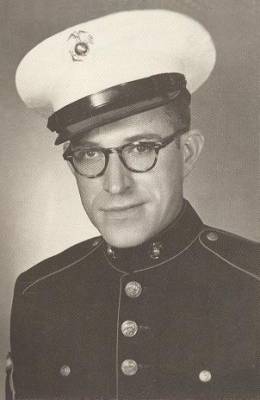 Howard W. Hoover
April 9, 1926 - May 26, 1983
Word has been received of the death of Howard W. Hoover, 57, Monticello, May 26, at White County Memorial Hospital. He had been in ill health for the past six months, and a patient at the
hospital for one week.
Born April 9, 1926, in Nappanee, he was the son of John and Cora (Weaver) Hoover, who both survive. He married Edith L. (Dee) Palmer on June 13, 1948, and she also survives.
Mr. Hoover was a member of the First Presbyterian Church at Monticello, where he served as a deacon, elder and long-time Sunday School teacher. He was a member of the Nappanee Masonic Lodge 566, American Legion, and was a former Jaycee and Kiwanian at Monticello, where he had resided since 1955, moving there from Nappanee. He was a graduate of Nappanee High School and Ball State University, and served in the U.S. Air Corps during WWII, and with the U.S. Marines during the Korean Conflict.
He had also served as an American Red Cross Blood Bank chairman, and later Blood Bank coordinator for 22 years. He worked for Nappanee Milling Company for several years, and started an insurance company in Monticello in 1956, at which time he also began traveling for Equitable Life Insurance Company. In 1969, he became a counselor for Indiana State Vocational Rehabilitation Services of the Lafayette District, and in 1973 he became Lafayette Area Supervisor.
Mr. Hoover served as Justice of the Peace in Union Township, White County, from 1963-1969. He also served a term as a school board member for the White Twin Lakes School System. He was interested in minor league baseball and little league baseball, and was manager of a minor league team in 1965.
Surviving with his parents and Mrs. Hoover are a daughter, Mrs. Stephen (Shireen) Davis, Syracuse; two sons: Randall S. Hoover, Burnettsville; a granddaughter, Amy Kendall; two brothers: Willard (Bill) Hover, Winter haven, Florida, and Ned Hoover, Etna Green; two sisters: Mrs. Dorothy Greene, Nappanee, and Mrs. Anita Sheets, Bourbon, and several nieces and nephews. Another brother, preceded him in death.
Services were conducted by Rev. William Weckerly and Rev. Wallace McDonald, at the First Presbyterian Church, Monticello, Saturday, May 28, and burial was at Bremen Cemetery. Masonic rites were also conducted.
Memorials may be donated to a favorite charity in his name.

Wife - Edith Louise "Dee" (Palmer) Hoover
Born - August 25, 1925
Wabash, Wabash County, Indiana
Died - December 30, 2005
Monticello, White County, Indiana
Buried - Bremen Municipal Cemetery,
Marshall County, Indiana
Find A Grave Memorial # 87523418

Son - Randall Scott Hoover
Born - September 8, 1953
Son - Gregg Howard Hoover
Born - September 20, 1957
Wife - Janice Marlene (Alma) Hoover
To This Union 1 Child Was Born
Son - Brayson Howard Hoover
Born - March 29, 1984
Married - October 20, 2007
Wife - Jessica Lynn McClure
Born - February 28, 1980
Step Daughter - Amy Lynn (Kendall) Bates
Married - June 18, 1994
Husband - Robert Walter Bates
To This Union 3 Children Were Born
Daughter - Cassandra Lynn Bates
Born - February 15, 1999
Son - Matthew Robert Bates
Born - December 13, 2001
Daughter - Madison Kendall Bates
Born - April 5, 2005
Son - William Bates
Daughter - Shireen Deeann (Hoover) Davis
Born - April 2, 1960
Husband - Stephen Paul Davis
To This Union 2 Children Were Born
Daughter - Stephanie Deeann Davis
Born - February 29, 1984
Goshen, Elkhart County, Indiana
Daughter - Shaundra Louise-Mae Davis
Born - July 5, 1987
Goshen, Elkhart County, Indiana

Brother - Ronald Jay Hoover
Born - August 4, 1919
Nappanee, Elkhart County, Indiana
Sister - Dorothy Lucille (Hoover) Greene
Born - July 12, 1921
Nappanee, Elkhart County, Indiana
Brother - Willard Carl "Bill" Hoover
Born - November 18, 1924
Nappanee, Elkhart County, Indiana
Brother - Ned Leroy Hoover
Born - February 24, 1938
Elkhart General Hospital, Elkhart, Indiana
Sister - Anita Kay (Hoover) Sheets
Born - December 14, 1940
Nappanee, Indiana

Father - John E. Hoover
Mother - Cora M. (Weaver) Hoover

Grandfather - Isaiah Hoover
Grandmother - Emaline (Loucks) Hoover Wise

Great Grandfather - Abraham Hoover
Great Grandmother - Susanna (Landis) Hoover

Great Great Grandfather - John Hoover
Great Great Grandmother - Susannah (Kurtz) Hoover


Family Indexes
Home Hoy Hermenet Boise Shively
Last Up-Date 03/29/2012 11:08:36 AM