Eltiste-Kaiser Web Site
---
Novak Family ~Coat of Arms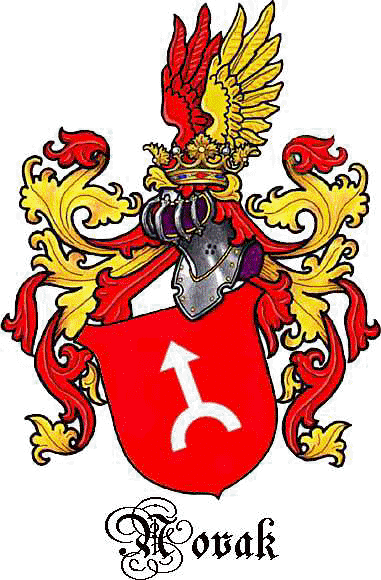 The Shield is: Gules, a demi annulet argent, ensigned by an arrow proper, the point in chief, in pale.
The Crest is: Issuing from a crowned helmet, two arms vested argent, the hands proper, placed in pale.
Origin: Poland
Variant spellings for Novak: Nowack, Nowag, Nowak and Nowacki.
The origins of the Polish surname Novak lie in a nickname, that is to say, it is derived from a nickname that was attributed in the intitial bearer. In this instance, the surname finds its roots in the word "nowy" which literally means "new". Thus, the surname Novak originated as a nickname for a newcomer to a place. However, according to the onomastic researchers Patrick Hanks, Flavia Hodges and Ewa Radziminska-Kazierczak, the surname Novak was also used to identify a shoemaker who made new shoes, as distinct from a cobbler who repaired old ones.
References to this surname are found in the variant form of Nowacki, this being the name borne by two noble Polish families which were septs of the clans Kotwica and Ogonczyk. The Nowacki family of the clan Ogonczyk had its ancestral seat located in the region of Minsk, where its existence was documented in 1674, when members of this house were ascribed in the "Sejm" (Parliament) of that city. A member of this family, Stanislaw Nowacki, was a renowned poet of Latin verse in the city of Lwow in 1605. Another reference mentions a Prussian family named Nowag, whose descendant, Philipp Carl Anton Nowag, was granted a new coat of arms in 1866. Nicolaus Novak wed Francisca Muzyczanka on 10 November 1748 in Krasienin, Poland. Micheleen Novak was born of 1 September 1884 in the city of Poznan. We also find a record of Katarina Novak, the daughter of Wasyl and Juila Novak, who was born on 29 June 1884 in Przemysl, Galicia. The form Novak, while found in Poland, in much more common in the Czech Republic, Slovakia and Ukraine.
Novak is the 1,171st Most Popular Name in the United States


Family Indexes
Home Kaiser Eltiste Fink Rohrs
Thumbnail Family Photo Gallery Index
Last Up-Date 12/25/2006 08:18:17 PM