Eltiste-Kaiser Web Site
---
Eltiste Family
George Paul Eltiste
Born - Wednesday, September 7, 1892
Sod House, Stuttgart, Phillips County, Kansas
Married - Wednesday, June 14, 1916
Orange, Orange County, California
Died - Thursday, March 1, 1990
Orange, Orange County, California
Buried - Saint John's Lutheran Cemetery
Santa Ana, Orange County, California

Copied from
"HISTORY OF ORANGE COUNTY, CALIFORNIA"
with Biographical Sketches of The Leading Men and Women of the County Who have been Identified with its Growth and Development from the Early Days to the Present". History By Samuel Armor. Published by Historic Record Company, Los Angeles, California 1921.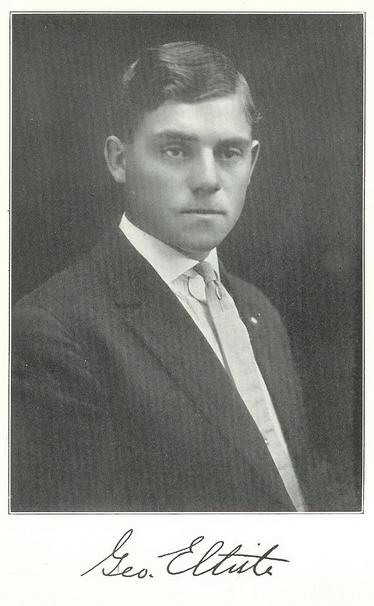 GEORGE PAUL ELTISTE

A far-seeing and optimistic young man of remarkable energy, whose "hustling" spirit of enterprise, contagious to others, has brought well-merited success, is George Paul Eltiste, the well-known horticulturist. He was born in Phillipsburg, Phillips County, Kansas, on September 7, 1892, the son of Michael Eltiste, and the eldest of six children, all of whom are living. He was reared on a farm in Kansas, and attended the local public schools.
In August, 1906, Mr. Eltiste came out to California and settled in Orange County; and being still in his teens, he continued his schooling, topping off with a thorough course at the Orange County Business College at Santa Ana. Then he commenced to work for J. C. Williams in his implement store, and after that in a blacksmith shop, where he learned the trade. He next formed a partnership with Chris Ruehle, under the firm name of Ruehle & Eltiste, and they conducted their business very successfully at their shop on North Glassell Street.
Selling out his interest, Mr. Eltiste engaged in ranching and took care of his father's ranch of twenty-three acres. It was then only partly set out, and he finished the planting; and he conducted it for four years. Then he bought three acres of Valencia oranges on East Walnut Street, to which he added by purchase two acres adjoining and later ten acres more, making him owner of fifteen acres in a body. The ten acres he has planted to Valencia oranges, and the five to lemons. He uses an International tractor in the operation of the two farms, and otherwise employs up-to-date machinery and methods. He belongs to the Central Lemon Association, and is an equally live wire in the Santiago Orange Growers Association.
At Orange, on June 14, 1916, Mr. Eltiste was married to Miss Bertha Schmetgen, a native of Orange and the daughter of George Schmetgen, the local orange grower now retired. Two children have blessed the union, Clarence and Evelyn; and with their parents they attend the Lutheran Church. Mr. Eltiste is a member of the Lutheran Men's Club. In national politics, he is a Republican, but locally is independent and is always interested in promoting the highest American civic ideals.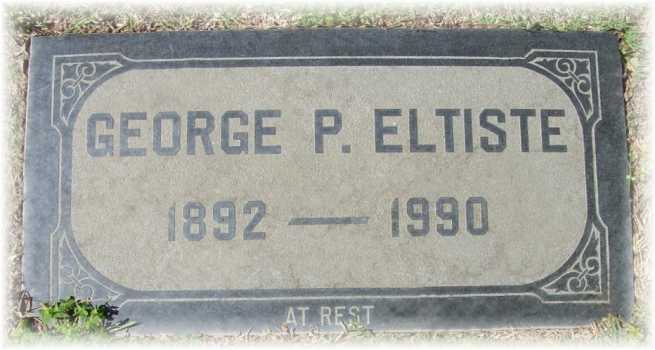 1st Wife - Bertha Meta (Schmetgen) Eltiste
Born - Thursday, December 29, 1892
Orange, Orange County, California
Died - Wednesday, April 19, 1972
Anaheim, Orange County, California
Buried - Friday, April 21, 1972
Fairhaven Lutheran Cemetery, Orange County, California
Father - Jürgen Schmetgen
Born - May 4,1851 - Deinste, Proving Hanover, Germany
Died - February 15, 1937 -Orange, California
Mother - Rebecka (Schmedtjen) Schmetgen
Born -October 28,1850 - Deinste, Proving Hanover, Germany
Died - January 13, 1933 -Orange, California
2nd Wife - Lois (Kelley) Ensign Eltiste
Born - January 27, 1902 - California
Married - January 9, 1973
Died - June 29, 1980 - Ventura, California
Father - Kelley
Mother - King


Son - Clarence George Eltiste
Born - September 28, 1917
Daughter - Evelyn Bertha (Eltiste) Clark
Born -November 25, 1919

Brother - August Dan Eltiste
Born - December 18,1894

Brother - Johann Fredrick Eltiste
Born - April 11, 1897
Sister - Anna Barbara (Eltiste) Muench
Born - September 22, 1899
Brother - Paul Michael Eltiste
Born - November 27, 1902
Died - November 30, 1902
Sister - Emma (Eltiste) White
Born - July 24, 1906
Brother - Carl John Eltiste
Born - February 5, 1911

Father - Michael Eltiste
Mother - Kunigunde (Beyerlein) Eltiste


Family Indexes
Home Eltiste Kaiser Fink Rohrs
Family Thumbnail Photo Gallery Index
Last Up-Date 01/06/2009 02:37:17 PM