Eltiste-Kaiser Web Site
---
Eltiste Family
Michael Eltiste
Born - November 21, 1865
Burgsalach, Bavaria, Germany
Married - November 17, 1891
Stuttgart, Phillips County, Kansas
Naturalized - September 14, 1894
Phillips County, Kansas
Died - April 19, 1948
Orange, Orange County, California
Buried - Saint John's Lutheran Cemetery
Santa Ana, Orange County, California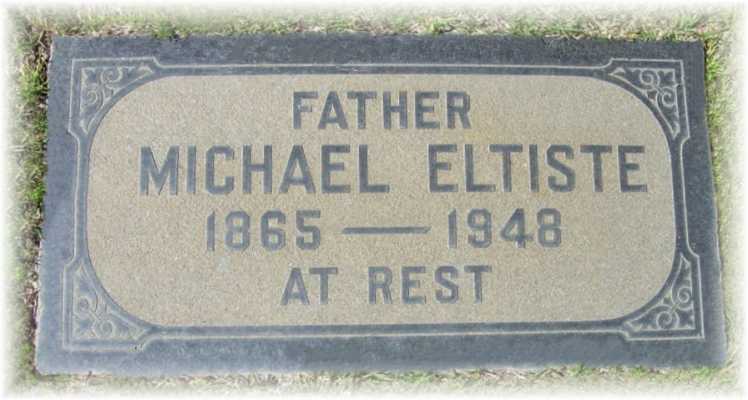 This shop was mighty well-pleased Tuesday, to receive a call from Mike Eltiste and August Krause, the first named gentleman having rolled in Saturday night from Orange, California, to visit a few weeks with relatives and look after his land interests in this county.
Eltiste went to California four years ago, invested in a
fruit farm and bears the stamp of prosperity.
He says the Phillips County boys out there are all doing well, most of them being in the automobile class.
Mr. Eltiste was accompanied from California by his
brother-in-law, Paul Beyerlein and Mike Preuss who had
spent two weeks at Orange.

Phillips News Dispatch
Thursday
September 29, 1910


Michael Eltiste
A successful business man and horticulturist of Orange is Michael Eltiste, a native of Bavaria, Germany, who was born there November 21, 1865. Mr. Eltiste received a splendid education as a foundation for his future endeavors, and finished with a course in an industrial college in Germany.
In 1883, at the age of eighteen, eager for new fields and greater opportunities, he came to the United States, and located in Connecticut. Later, he started westward by degrees, and after visiting Iowa and Nebraska, for twenty-three years he followed stock raising near Phillipsburg, Phillips County, Kans., operating on a large scale and meeting with the success assured by his thorough training and the business principles which he applied to his farming operations.
During these years of residence in Kansas he also interested himself in the advancement of his district, and served as township trustee and also on the school board.
In 1908 Mr. Eltiste decided to come further west, and that year located at Orange, Cal., where he bought land and developed a sixty-acre orange and lemon grove. From time to time he bought and developed other ranches, and at present is the owner of a young orchard of thirty acres, twenty-five acres of which is planted to Valencia oranges and five acres to lemons, in the city limits of Orange.
About one year after taking up his residence here, with customary energy and business acumen, Mr. Eltiste opened up a business establishment in Orange and engaged in selling farm implements, and the success of the undertaking may be imagined from the fact that within ten years his business was doubled six times, not-withstanding that during this time six competitors in his line entered the field in Orange and have all gone out of business. His early experience with ranching and the practical knowledge gained while on his Kansas farm have been utilized in his business career, and he laid the foundation for his success in square dealing and satisfied customers, which is the real foundation for all success in business, be it large or small.
As agent for the International Harvester Company's motor trucks and tractors, and also carrying a full line of farming implements, his output has increased at a marvelous speed and to facilitate the business he has opened a second store, this one located at Fullerton, and with his son, August Eltiste, as manager of the Orange establishment, and W. C. Egly in charge of the Fullerton house, the concern has developed into one of the leading business establishments in Orange County and an example of the type of men who choose this locality for their home community and bring to it the benefit of their experience and their public-spirited work for the up building of this section.
The business throughout the county has become so large it was necessary to have a third branch store, and they have secured a suitable location on East Fourth Street, Santa Ana, where they will carry a line of implements, trucks and tractors, at each place doing business under the firm name of M. Eltiste and Son.
The marriage of Mr. Eltiste united him with Kuni Beyerleim, and six children were born to them: George, an orange grower in Orange; August, in partnership with his father; John who saw service in the U. S. Army in France as a member of the replacement division, and is now interested in the business with his father; Anna also a member of the firm is their bookkeeper; Emma and Karl. The family are members of St. John's Lutheran Church at Orange and for seven years Mr. Eltiste was president of the board of trustees and helped build the new church
Deeply interested in all progressive movements here, Mr. Eltiste served one term as trustee of Orange, and he was one of the founders of the new sewer and water system, and active in street improvements in the city, helping carry these important projects through to completion, in spite of opposition. He is a director in the First National Bank of Orange.
Wife - Kunigunde (Beyerlein) Eltiste
Born - April 22, 1872
Germany
Died - July 19, 1955
Orange, Orange County, California

Son - George Paul Eltiste
Born - September 7, 1892
Son - August Dan Eltiste
Born - December 18,1894 ~ Kansas
Died - July 26, 1955 ~Orange, California

Son - Johann Fredrick Eltiste
Born - April 11, 1897
Daughter - Anna Barbara (Eltiste) Muench
Born - September 22, 1899
Son - Paul Michael Eltiste
Born - November 27, 1902
Died - November 30, 1902
Daughter - Emma (Eltiste) White
Born - July 24, 1906
Son - Carl John Eltiste
Born - February 5, 1911

Sister - Magdalena (Eltiste) Eickhoff
Born - May 16,1857
Burgsalach, Bavaria, Germany
Brother - Johan Fredrich Eltiste
Born - October 6, 1859
Burgsalach, Bavaria, Germany
Sister - Kunigunde (Eltiste) Ehm
Born - December 14, 1868
Burgsalach, Bavaria, Germany
Brother - Daniel Gottlieb Eltiste
Born - March 26, 1872
Burgsalach, Bavaria, Germany

Father -Johann George Eltiste

Mother - Anna Barbara (Beyerlein) Eltiste


Family Indexes
Home Eltiste Kaiser Fink Rohrs
Family Thumbnail Photo Gallery Index
Last Up-Date 01/15/2012 09:12:45 AM