Eltiste-Kaiser Web Site
---
Eltiste Family
Clifford August Ross
Born - February 3, 1908
Auburn, Nemaha County, Nebraska
Married - Saturday, December 17, 1932 (Marjorie)
Auburn, Nemaha County, Nebraska
Married - Friday, June 18, 1971 (Edith)
Died - Monday, June 2, 1980
Litzenburg Memorial Hospital
Central City, Merrick County, Nebraska
Buried - Thursday, June 5, 1980
Nemaha Cemetery, Nemaha County, Nebraska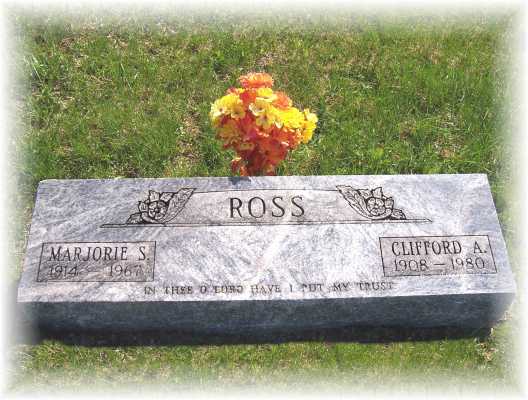 Clifford Ross
Was City Native

Clifford A. Ross a native of Auburn, died June 2 at a hospital in
Central City at the age of 72. He suffered a stroke on May 29.
After attending Auburn schools, he was married in 1932 to
Marjorie Strain, who died in 1967. He later married Edith Hannah
and they lived at Adams until last fall when he moved to Clarks.
Survivors include his daughter, Mrs. Robert Norvell of Clarks;
five grandchildren: one sister, Mrs. John Beer of Auburn;
one brother, John Ross of Omaha.
Funeral services were held June 5 at Casey-Witzenburg
chapel in Auburn, conducted by Rev. Ward Merritt.
Burial was in the Nemaha cemetery.

Nemaha County Herald
Front Page
Wednesday, June 4, 1980

---

Rites For Mr. Ross
Thursday

Services for Clifford A. Ross, 72, were held Thursday, June 5, at 2:00 p.m. at the Casey-Witzenburg Funeral Chapel in
Auburn with Rev. Ward Merritt officiating.
Interment was in the Nemaha Cemetery.
Songs featuring the voice of Merrill Womach were "Sunrise" and "Take My Hand Precious Lord."
Pallbearers were Tom Hottovy, Mark Norvell, James Norvell, Arnold Hottovy, Michael Norvell and Melvin Dissmeyer.
Mr. Ross died June 2 at the Litzenberg Memorial Hospital.
He was born February 3, 1908 to William H. and Emma Miller Ross at Auburn. He received his education in the Auburn Public Schools and grew to manhood in that community.
In 1932 he married Marjorie Strain in Auburn. They lived in Auburn and Omaha. Mrs. Ross died in November of 1967.
In 1971 he was married to Edith Hannah. They lived in Adams, Nebraska. Since September of last year, Mr. Ross had lived with his daughter and son-in-law at Clarks.

Central City Republican
Thursday
June 12, 1980

1stWife - Marjorie Louise (Strain) Ross
Born - April 21, 1914
Nemaha City, Nemaha County, Nebraska
Died - Tuesday, November 7, 1967
Community Memorial Hospital
Humboldt, Richardson County, Nebraska
Buried - Friday, November 10,1967
Nemaha Cemetery
Nemaha, Nemaha County, Nebraska
Father - John Clark Strain
Born - July 25, 1877 - Nebraska
Mother - Lulu Eva (Leibhart) Strain
Born - December1884 - Nebraska

Mrs. Clifford Ross
Was Former Resident

Mrs. Clifford Ross of Humboldt died November 7 at a Humboldt hospital at the age of 53. She had been ill the past nine months with cancer and had been attending the LPN School of Nursing in Lincoln when she became ill.
Daughter of John and Lulu Strain, she was born April 21, 1914 at Nemaha and lived there for some time, graduating
from the Humboldt high school in 1931.
She was married to Clifford Ross at Auburn on
December 17, 1932 and they lived here and at
Omaha before moving to Humboldt.
She was a member of the Lutheran church.
Besides her husband she is survived by a daughter,
Mrs. Robert Norvell of Adams; a foster daughter,
Mrs. Val Janousek of Pontiac, Michigan; four sisters,
Mrs. Wendell (Doris) Grossoehme of Verdon,
Mrs. Roy (Lulu) Smith of Golden, Colorado;
Miss Bonice Strain and Mrs. Willard (Blanche) Trimble,
both of Humboldt, two brothers, Hal Strain of Baxter Springs, Kansas and Jack Stain of Beatrice and seven grandchildren.
Services were held at the Wherry Chapel, Humboldt, Nebraska on November 10, 1967. Mrs. Stan Strain was the organist.
Rev. Outler officiated. Pallbearers: Delbert Brandt, Gilbert Hespen, Lester Keithley, Val Janousek, Tom Whitaker
and John Trimble.
Burial will be in the Nemaha Cemetery.

Nemaha County Herald
Friday
November 10, 1967


2ndWife - Edith (Hannah) Ross

Daughter - Nancy Ann (Ross) Norvell
Born - May 29, 1933

Brother - Charles William Ross
Born - July 31, 1902
Sister - Opal Irene (Ross) Beers
Born - July 7, 1910
Brother - John William Ross
Born - April 26, 1917

Father - William Harrison Ross
Mother - Emma (Muller) Ross

Family Indexes
Home Eltiste Kaiser Fink Rohrs
Family Thumbnail Photo Gallery Index
Last Up-Date 01/21/2011 06:43:18 PM