Eltiste-Kaiser Web Site
---
Eltiste Family
Emma (Muller) Ross
Born - Thursday, August 3, 1882
Rohrs, Nemaha County, Nebraska
Married - Tuesday, October 29, 1901
Auburn, Nemaha County, Nebraska
Died - Sunday, April 25, 1965
Rest Home, Nebraska City, Otoe County, Nebraska
Buried - Tuesday, April 27, 1965
Sheridan Cemetery, Auburn
Nemaha County, Nebraska
Section-3 Lot-702 Row-18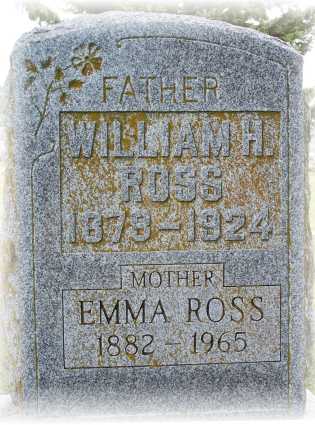 Obituary – Emma Ross

Emma Ross was born August 3, 1882 at Rohrs, the daughter of Mattias and Margaret Miller. She passed away at Nebraska City on April 25, 1965, aged 82 years, nine months and 22 days.
She attended school in Nemaha County and has been a resident here most of her life.
She was united in marriage to William Ross on October 29, 1900 at Auburn. Mr. Ross passed away in 1924.
She was baptized into the Lutheran church Missouri Synod in the Johnson community in early life.
Except for the past few months when she was confined to a rest home at Nebraska City, she has reside in the same house on 11th Street in Auburn for the past 56 years.
Besides her husband, a son, Charles, also preceded her in death in 1958.
She is survived by one daughter, Mrs. John Beer of East Gary, Indiana; two sons, John W. Ross and Clifford A. Ross, both of Omaha; one brother, August Miller of Lanham, Kansas, one sister, Mrs. Matilda Mook of Kansas City, Missouri, four grandchildren and 14 great-grandchildren.
Funeral Services were held April 27 at the May and Timm chapel in Auburn, conducted by Rev. Ward Merritt. Mrs. William C. Brown was soloist and Mrs. Korah Baker was organist.
Pallbearers were Ed Huey, Dan Perdue, Everett Huey, W. A. McKee, Walter Haith and Melvin Litter. Mrs. Ed Huey and Mrs. Floyd Carmichael were in charge of flowers.
Burial was in Sheridan cemetery.

Husband - William Harrison Ross
Born -September 22, 1878
Rockport, Atchison County, Missouri
Died - August 27, 1924
Omaha Hospital, Omaha, Douglas County, Nebraska
Buried - Sheridan Cemetery,
Auburn, Nemaha County, Nebraska
Section-3 Lot-702 Row-18
Father - David Ross
Step-Father - John W. Huff
Born - March 25, 1853 ♦ Died - August 10, 1921
Mother - Julia Ann (Mc Farlan) Ross
Born - April 6, 1867 ♦ Died - March 21, 1916

Son - Charles William Ross
Born - July 31, 1902
Son - Clifford August Ross
Born - February 3, 1908
Daughter - Opal Irene (Ross) Beers
Born - July 7, 1910
Son - John William Ross
Born - April 26, 1917

Sister - Anna Marie (Muller) Weigel
Born - January 1, 1874
Brother - August Muller
Born - April 29, 1877
Sister -Christinia (Muller) Wallenberg
Born - July 11, 1879
Sister - Minnie Sophia (Muller) Preston
Born- November 10, 1886
Sister - Margaret (Muller) Jones
Born - January 1885
Sister - Tilde "Mathilda" (Muller) Mook
Born - 1887

Father - Mattis "Matthaus" Muller
Mother - Maria Margarete (Eltiste) Muller


Family Indexes
Home Eltiste Kaiser Fink Rohrs
Family Thumbnail Photo Gallery Index
Last Up-Date 06/17/2014 01:41:56 PM