Eltiste-Kaiser Web Site
---
Fink Family
Babette Ann (Glock) Fink
Born - Monday, October 31, 1870
Nassau, Württemberg, Germany
Married - Friday, April 25, 1890
Stuttgart, Phillips County, Kansas
Died - Wednesday, December 20, 1937
Phillips County, Kansas
Buried - Thursday, December 20, 1937
Saint Peter's Lutheran Cemetery
Logan, Phillips County, Kansas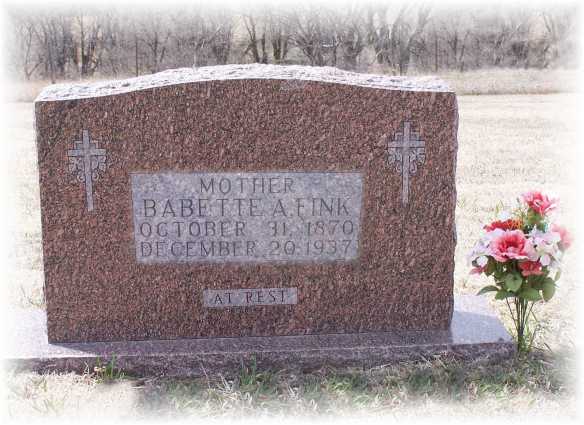 Babette Fink

Babette Fink the youngest of eight children of Michael Glock and Eva
Schmieg was born in Nassau, Germany, on October 31, 1870. Soon after birth she was consecrated to the Lord in Holy Baptism. She was confirmed in the faith of the Evangelical Lutheran Church by her Pastor Reverend Hartman.
In the year 1888 she, together with her sister, the late Mrs. John Krafft, emigrated to America. For a period of a few years she worked out for different families in the neighborhoods of Stuttgart and Phillipsburg.
On April 25, 1890 she was joined in Holy Wedlock with Mr. Leonard Fink by the Reverend Dilges who was then pastor of Emmanuel Lutheran Church at Stuttgart. Babette was seldom seriously ill.
Shortly Before her death, she together with her husband, partook of the Lord's last Supper, after which she was comforted and longed to be called home to her Heavenly Father. This wish was granted to her when shortly before 6 o'clock last Monday evening, December 20, 1937, her soul was carried by angels to her new home in heaven, having reached the age of 67 years, 1 month and 20 days.
The funeral services took place Thursday, at 12:00P.M. at Home of her daughter, Mrs. Margaret Kaiser of Phillipsburg. and at 2:15 in Saint Peter's Lutheran Church. Interment was made in Saint Peter's Lutheran Cemetery.

Port of Departure - Hamburg Germany
Ship Name - Taormina
Arrived America - April 28, 1888
Port of Arrival - New York

Husband - Leonhard G. Fink
Born - September 19,1862 - Dubuque, Iowa
Died - March 25, 1950 - Home of Maria Boethin
Phillips County, Kansas
Buried - Saint Peter's Lutheran Cemetery
(Wolf Creek Cemetery)
Logan, Phillips County, Kansas

Daughter - Maria Barbara Margaretha (Fink) Kaiser
Maggie Kaiser
Born - February 19, 1891
Daughter - Maria Apollonia Katharina (Fink) Boethin
Born -October 29, 1892
Son - Leonhard Niclaus Karl Fink
Nick Fink
Born -October 17, 1894
Daughter - Eva Maria Margaret (Fink) Kaiser
Born -October 27, 1896
Son - William John Fink
Born - March 3, 1899
Son - Edward John Fink
Born - June 8, 1903

Father - Michael Glock
Mother - Eva Margaret (Schmieg) Glock


Family Indexes
Home Fink Kaiser Eltiste Rohrs
Eltiste Photos Kaiser Photos Rohr Photos Fink Photos
Last Up-Date 04/05/2008 03:28:16 PM