Hoy -Hermenet Web Site
---
Hoy Family

Levi Hoy
Born - March 27, 1837
Near Columbus, Ohio
Married - February 21, 1860
Henry County, Ohio
Civil War Veteran, Rank - Sergeant
Enlisted - October 18, 1861
Company B, 68th Regiment, Ohio Volunteer Infantry
Levi serviced his county during the entire war of the Rebellion.
He was wounded in the Battle of Kenesaw Mountain, and
received his discharge July 10, 1865.
Died - November 25, 1927
Wauseon, Fulton County, Ohio
Burial - Wauseon Union Cemetery,
Wauseon, Fulton County, Ohio
Find A Grave Memorial # 51846690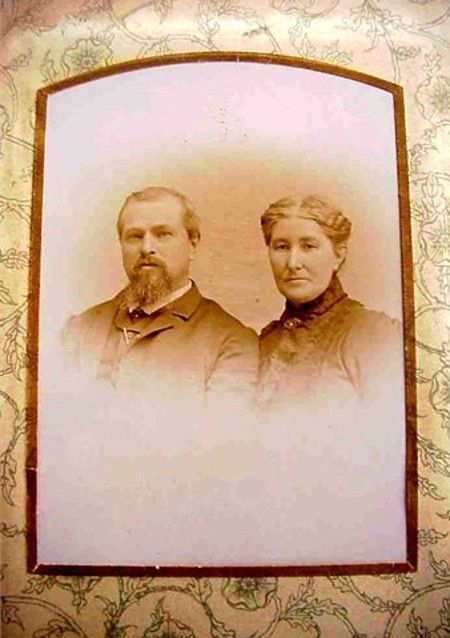 Levi and Almira (Whitright) Hoy
Photograph Courtesy of Cindi Hoy Greer
Note From Cindi:
It is a picture taken with my digital camera of the original photo taken the summer of 1999.
The Original is located in the David Hoy Homestead where descendants of the Hannah Martha (Hoy) Sturdavant family still live.


Levi Hoy


Levi Hoy had the honor of being the first
rural mail carrier in Fulton County Ohio,
carrying on a route out of Wauseon,
and one of the first three to be appointed
in the state. His salary was less then $500
and the route that he covered was about
24 miles. He furnished his own horse and buggy
and paid his own expenses with no additional allowance.
Mr. Hoy was the right man
in the right place and his route proved
popular and the result was of great force
in establishing free rural delivery
in the United States. From that time on
for a period of twenty years he continued
as a carrier on a rural route out of Wauseon.

Levi was in the Civil War and enlisted
in the Union Army in 1861 and served
until the close of the war. He was a brave
soldier and saw some of the hardest
service of the war. He was ever loyal to
the flag of his country and to the high principles
of American Citizenship.

He was a member of Legion Post.
Grand Army of the Republic and served
as it's commander. He was president of the
regimental association. He always
took an active part in all affairs
of the Civil war veterans.

Bio from the Research of Cheryl Rogers


Wife - Almira (Whitright) Hoy
Born - August 25, 1840
Loraine, Ohio
Died - September 7, 1921
Wauseon, Fulton County, Ohio
Burial - Wauseon Union Cemetery,
Wauseon, Fulton County, Ohio
Find A Grave Memorial # 51846711
To This Union 8 Children Were Born
Almira's Parents - John & Mary (Snyder) Whitright

Son - Harley Hoy
Born -February 2, 1861
Son - Rollo D. Hoy
Born - May 20, 1866
Napoleon, Henry County, Ohio
Married - April 28, 1904
Toledo, Lucas County, Ohio
Died - September 20, 1938
Burial - Wauseon Union Cemetery,
Wauseon, Fulton County, Ohio
Wife - Edith S. (Mason) Hoy
Born/Died - 1866 - 1938
Burial - Wauseon Union Cemetery,
Wauseon, Fulton County, Ohio
Parents - William and Elizabeth (Roth) Mason
To This Union 2 Children Were Born
Daughter - Louise E. Hoy - 1907 - Ohio
Daughter - Frances H. Hoy - 1911 - Ohio
Son - Joseph N. Hoy
Born - January 13, 1868
Harrison, Henry County, Ohio
Marriage - March 10, 1889
Harrison Township, Henry County, Ohio
Died - November 1951 - Michigan
Buried - Highland Cemetery,
Gladwin, Gladwin County, Michigan
Find A Grave Memorial # 40825457
Wife - Laura Margaret (Hitts) Hoy
Born - April 18, 1870
Pleasant City, Perry County, Ohio
Died - April 10, 1953
Newfield, Oceana County, Michigan
Buried - Highland Cemetery,
Gladwin, Gladwin County, Michigan
Find A Grave Memorial # 40825434
Laura's Parents - Joseph J. and Susan Matilda (Riggs) Hitts
Son - David "Raymond" Hoy
Born - January 28, 1870
Wauseon, Fulton County, Ohio
Died - September 12, 1949, Michigan
Wife - Lulu May (Fifer) Hoy
Born - June 29, 1882
Pleasant Township, Putnam County, Ohio
Died - June 8, 1951, Michigan
Parents - Joseph S. and Nancy Belle (Guthrie) Fifer
Daughter - Florence (Hoy) Ford
Born - October/November 7, 1871
Harrison, Henry County, Ohio
81119559
Husband - Alfred R. Ford
81119558
Daughter - Gertrude "Gerty" Hoy
Born - August 11, 1873
Daughter - Cordella (Hoy) Allison
Born - November 6, 1875 - Ohio
Husband - Ernest A. Allison
Son - Jacob Albert "Bert" Hoy
Born - May 26, 1878
Henry County, Ohio
Married - August 7, 1907
Died - March 7, 1964
Wauseon, Fulton County, Ohio
Burial - Wauseon Union Cemetery,
Wauseon, Fulton County, Ohio
Wife - Nellie Maude (Cooper) Hoy
Born - October 10, 1881
Waterville, Ohio
Died - 1946
Wauseon, Fulton County, Ohio
Burial - Wauseon Union Cemetery,
Wauseon, Fulton County, Ohio
To This Union 1 Child Was Born
Son - Marshall Cooper Hoy
Born - March 20, 1908
Died - December 24, 1985
Wife - Irma Kathryn (Zimmerman) Hoy
Son - Byron Hoy
Born -1881 - Died - 1882
Buried - Hoy Cemetery
Shunk, Henry County, Ohio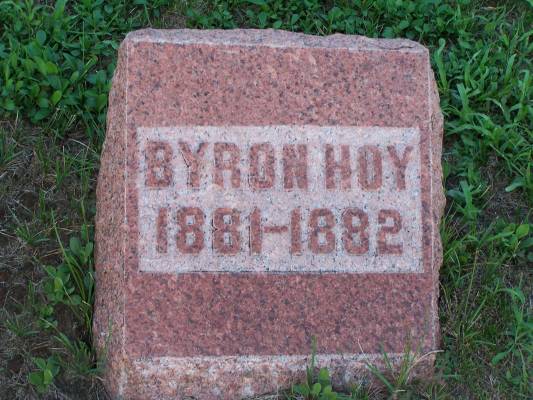 Father - David Hoy
Mother - Hannah (Ritter) Hoy

Grandfather - Daniel J. Hoy
Grandmother - Magdalena (Mollie) Eyer Hoy

Great Grandfather - Johann Phillip (Heu) Hoy
(Phillip Hoy )
Great Grandmother - Barbara Hoy

Family Indexes
Home Hoy Hermenet Boise Shively
Last Up-Date 08/02/2012 11:33:41 AM