Eltiste-Kaiser Web Site
---
Kiel Family
John Henry Martin Ferdinand Kiel

"Fred Kiel"
Born - January 14,1858 - Germany
Married - November 14, 1883
Nemaha County, Nebraska
Naturalized -1880
Died - January 2, 1903
Buried - Saint John's Lutheran Cemetery
(Old Stone Church Cemetery)
Nemaha County, Nebraska

John Henry Marten Ferdinand Kiel
Laid to Rest

John Henry Marten Ferdinand Kiel was born in Hamburg, Germany, January 15, 1858 and died at his home five miles south east of Johnson, Friday morning at 7 o'clock January 2, 1903. The deceased has suffered for several years with a cancer on his arm, during which time he has tried every known remedy, many doctors and spent most of his worldly possessions but death came as the only relief for his suffering. Thus has been one beloved friend,
neighbor, husband and father removed from our midst and left a place vacant that this world, with all its might and power can not fill. Sad are the memories: of that noble man and patient sufferer whose familiar face and voice was so short time ago in tangled with ours but is now silent in the cold grave.
Cruel seems the fate that lie is gone, gone forever from us, the places that knew him so well will know him no more. The hearts of the whole community are melted with sympathy for that once happy home, six pretty children and a loving mother, but little does it amount to in the place of the husband and father which they will never see again.
After a beautiful tribute by Rev. Dirks, the remains were lowered to their vast resting place, in the Stone Church Yard, surrounded by the vastest multitude of sorrowing friends the Old Church Yard ever knew.

The Johnson News
Johnson, Nemaha County, Nebraska
Friday
January 9, 1903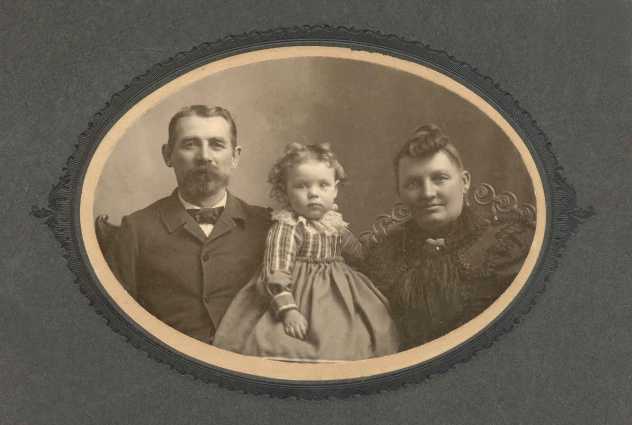 Fred, Lizzie & Ella (Johnson) Kiel

Wife - Ella (Johnson) Kiel
Born - October 1,1864 - Iowa
Died - November 14, 1923
Buried - Saturday, November 17, 1923
Saint John's Lutheran Cemetery
(Old Stone Church Cemetery)
Nemaha County, Nebraska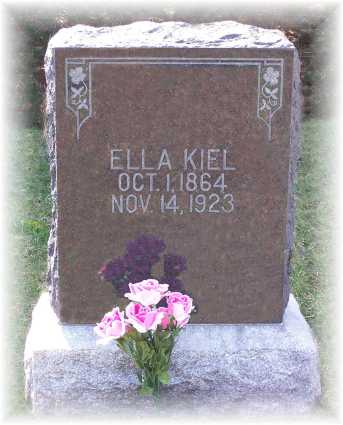 DEATH COMES TO SUFFER AT
THE HOSPITAL

Mrs. Ella Kiel of Johnson, Formerly of Auburn, Dies Under Anesthetic at St. Joseph Hospital, St. Joseph, Missouri, After Suffering for Years -
- Leaves Five Children.-
Death came to relieve the suffering of Mrs. Ella Kiel of Johnson, on Wednesday, November 14th. She had been taken to the St. Joseph Hospital, St. Joseph, Missouri, where it was hoped an operation would prove beneficial, and died under the anesthetic. Death came to her on her fortieth wedding anniversary. Her age was 59 years, one month and 13 days.
Mrs. Kiel was born in Murray, Iowa, October 1, 1864. In 1882, she moved with her parents to Nebraska. She was married to Mr. Kiel, November 14th, 1883. Her husband died in 1903, leaving five children,
Mrs. J. C. Wittenmeyer, of Lincoln, Nebraska; Mrs. Fred Gebers, Thomas Kiel and Mrs. H. A. Eltiste of Johnson; Mrs. H. J. Caspers of Twin Bridge, Montana; and two deceased.
Together with her five children, the deceased leaves two brothers, Henry Johnson, Murray, Iowa, and Thomas Johnson, Lamar, Iowa;
two sisters, Mrs. Mary Volker, Kearney, Nebraska, and Mrs. Minnie Volker, Murray, Iowa, besides a large number of relatives and friends to mourn her going.
Mrs. Kiel was in business in Auburn in 1912-13, where she conducted a bakery, south of the court house. In 1915, she moved to her home south of Johnson, where she resided until her death.
The deceased was a faithful Christian; a member of the Stone Lutheran Church from the time of her arrival in the state. She was an earnest worker for the good of the church and her influence was felt in the community. She was an excellent mother, and the impress of her life is seen in the splendid character of her children, who enjoy the confidence of the people wherever found. She was a good neighbor, and was esteemed and loved by her many friends. Life for her had much in it of tell and sacrifice to rear a family, and later years were filled with great suffering, but through it all she "fought the good fight of faith." Her reward comes beyond the grave.
The funeral was held from the Stone Lutheran Church on Saturday, November 17th at 2:00 p.m., and burial was had in the Stone Church Cemetery.

The Nemaha County Herald
Friday
November 23, 1923



Auburn Couple Married In Omaha

Mrs. Ella Kiel and Mr. G. W. Hawk went to Omaha yesterday where they were quietly married. After the ceremony they went to Waterloo, Iowa, and will visit there and other points for several weeks before returning to Auburn.
This marriage will be somewhat of a surprise to their many friends in this vicinity.
The bride was, until last week the proprietor of the Auburn bakery. While she was identified with the business interests of Auburn, she formed a wide acquaintance and became known to many as an excellent woman. Here is that type of character that makes true womanhood beautiful and that has won for her the high regard in which she is held in this community.
The groom is associated with her son in conducting the meat market on the west side of the square. He has been in business for a number of years and is a man of upright character who attends strictly to business and has won and held the confidence of the people. At the end of their honeymoon trip, Mr. and Mrs. Hawk will return to make their home in this city and to receive the sincere congratulations of all their friends.

The Johnson News
Johnson, Nemaha County, Nebraska
February 27, 1914


Daughter - Julia E. "Lizzie" (Kiel) Draggo
Born -June 19, 1885 - Nebraska
Daughter - Louise (Kiel) Crippen
Born - February 16, 1887- Nebraska

Daughter - Minnie Francis Kiel
Born -July 19,1889

Son - Thomas H. E. Kiel
Born - June 6, 1891
Johnson, Nemaha County, Nebraska
Sister - Hattie (Kiel) Caspers
Born - April 27, 1893 - Nebraska
Daughter - Ethyl Harriet (Kiel) Eltiste
Born - September 24, 1900

Father - J.H.C.F. Kiel
Mother - Julia (Walker) Kiel



Family Indexes
Home Eltiste Kaiser Rohrs Fink
Eltiste Photos Kaiser Photos Rohr Photos Fink Photos
Last Up-Date 04/14/2012 04:28:22 AM