Eltiste-Kaiser Web Site
---
Eltiste Family
Ethyl Harriet (Kiel) Eltiste
Born - Monday, September 24, 1900
Nemaha County, Nebraska
Married - Wednesday, November 28, 1917
Nemaha County, Nebraska
Died - Tuesday, January 3, 1961
At Her Home, Nemaha County, Nebraska
Buried - Friday, January 6, 1961
Sheridan Cemetery
Section-8 Lot-846 Row-2
Auburn, Nemaha County, Nebraska

MRS. H. A. ELTISTE
DIES HERE TUESDAY

Mrs. Ethyl H. Eltiste a lifetime resident of Nemaha County passed away at her home north-west of Auburn Tuesday. She was 60 years of age and had lived in the same vicinity all of her life.
She is survived by her husband, H. A. Eltiste; sons, Kiel E. of Johnson and Warren K. of Nebraska City; three sisters, Mrs. Julia E. Draggo, Long Beach, California, Mrs. Louise Crippen, Tecumseh, and Mrs. Hatie Caspers, West Yellowstone Park.
One Son, Herman A., lost his life in military service in 1944 in New Guinea.
Funeral Services will be held at 2 p.m., Friday (today) at St. Johnís Lutheran Stone church, conducted by Reverend Carl J. Diethloff.
Burial will be in Sheridan cemetery, with May and Timm in charge.

Nemaha County Herald
Friday
January 6, 1961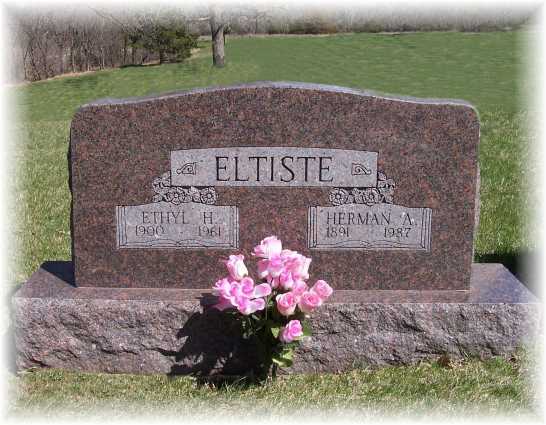 Husband -Conrad August Herman Eltiste
Harry Eltiste
Born - August 11, 1891
Family Home -Johnson, Nemaha County, Nebraska
Died - July 27,1987



Son - Kiel Eugene Eltiste
Born - July 8, 1918 ۩ Died - July 10, 2000


Son - Herman Alton Paul Eltiste
Born - May 27,1920 ۩ Died - August 6,1944


Son - Warren Kenton Friedrich Eltiste
Born - August 9,1922 ۩ Died - January 14, 2003


Sister - Julia E. "Lizzie" (Kiel) Dragoo
Born - June 19, 1885 - Nebraska
Sister - Louise (Kiel) Crippen
Born - February 16, 1887- Nebraska

Sister - Minnie Francis Kiel
Born - July 19,1889

Brother - Thomas H. E. Kiel
Born - June 6, 1891
Johnson, Nemaha County, Nebraska
Sister - Hattie (Kiel) Caspers
Born - April 27,1893 - Nebraska
Died - March 15,1978 - Montana
Husband - Henry J. Caspers
Born -July 23, 1883 - Nebraska
Died - March 14,1976 - Gallatin County, Montana


Father - John Henry Ferdinand Kiel
Mother - Ella (Johnson) Kiel



Family Indexes
Home Eltiste Kaiser Rohrs Fink
Eltiste Photos Kaiser Photos Rohr Photos Fink Photos
Last Up-Date 09/09/2014 01:11:50 PM