Eltiste-Kaiser Web Site
---
Rohrs Family
Cecil Lee Thomas
Born - Saturday, August 24, 1907
Baileyville, Nemaha County, Kansas
Married - Tuesday, September 17, 1929
Kimball, Brule County, South Dakota
Died - Monday, May 2, 1981
White Lake Nursing Home
Kimball, Brule County, South Dakota
Buried - Thursday, May 5, 1981
Kimball Cemetery, Kimball, South Dakota
Lot -1 ~ Block 14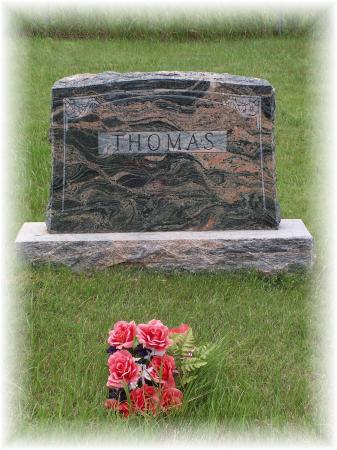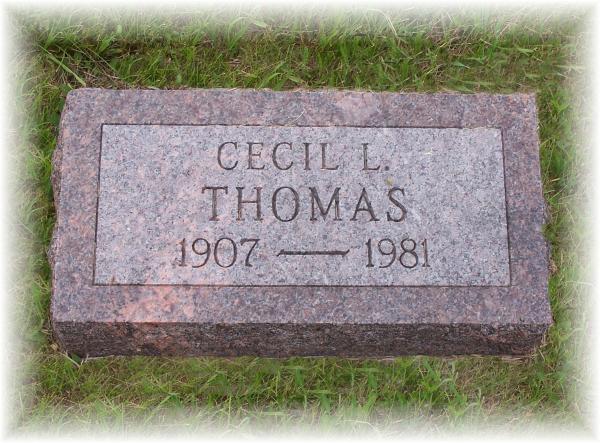 Obituary
Cecil L. Thomas

Funeral Services for Cecil Thomas 73, were held Tuesday, May 5, at 2 p.m. at the Immanuel Lutheran Church of Kimball with the Reverend Glenn Phillips officiating. Burial was in Kimball Cemetery. Cazer Funeral Homes was in charge of the arrangements.
He died May 2 at a White Lake nursing home.
He was born August 24, 1907, at Baileyville, Kansas. He was a lifetime resident of the Kimball area. He was a member of the Willow Lake School Board and Township Board for several years.
He was a member of Immanuel Lutheran Church and had served on the church council. He married Leta Parriott at Kimball,
September 17, 1929.
Survivors include his widow; two sons, Darold and Leonard, both of Kimball; three daughters, Mrs. Lyle (Velva) Heath, Rapid City, Vivian Cleland, Chamberlain, Mrs. Dale (Elaine) Stanek, Kimball; 20 grandchildren; eight great grandchildren; and several nieces and nephews.
He was preceded in death by his parents.

Brule County News
Saturday
May 7, 1981


Wife - Leta Berneta (Parriott) Thomas
Born - October 6, 1906
Buffalo, Center County, Iowa
Died - December 19, 2000
Buried - Kimball Cemetery, Kimball, South Dakota
Lot -1 Block 14
Father -William Spangler Parriott
Born-June 3,1871 -Iowa ♦ Married-February1898 ♦ Died-Jaunary1941
Mother - Rosa (Giffin) Parriott
Born-September1869 -Illinois ♦ Died -August 19,1948 - South Dakota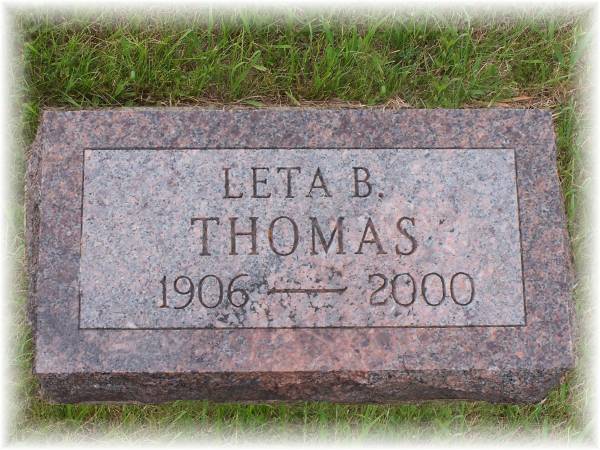 Son - Darold Thomas
Son - Leonard Thomas
Daughter - Velva M. (Thomas) Heath
Husband - Lyle E. Heath
Born - August 1932
Daughter - Vivian (Thomas) Cleland
Born - July 1933
Daughter - Elaine (Thomas) Stanek
Husband - Dale Stanek

Brother - Joseph Alvin Thomas
Born - 1905
Baileyville, Nemaha County, Kansas
Married - January 1. 1930
Aurora County, South Dakota
Wife - Eva Mae (Freeman) Thomas
Born - 1913

½Brother - William H. Ehlers
Born - February 2,1887
Died -December 14, 1964
½Sister - Christine Ehlers
Born - May 1888
Johnson, Nemaha County, Nebraska
½Brother - Elmer Edward Ehlers
Born - February 10, 1890
Johnson, Nemaha County, Nebraska

Father - Joseph Thomas

Mother - Wilhelmine Anna (Rohrs) Ehlers Thomas

Family Indexes
Home Rohrs Eltiste Kaiser Fink
Family Thumbnail Photo Gallery Index
Last Up-Date 01/15/2012 09:41:34 AM