Eltiste-Kaiser Web Site
---
Rohrs Family
Wilhelmina Anna (Rohrs)
Ehlers-Thomas
Born - November 30, 1867
Napoleon, Henry County, Ohio
Married - February12, 1886 - Henry C. Ehlers
Johnson, Nemaha County, Nebraska
Married - May 1903 - Joseph Thomas
Hiawatha, Brown County, Kansas
Residence -1920 - Willow Lake, Brule County,
South Dakota
Died -January 25, 1939
Kimball, Brule County, South Dakota
Buried - Kimball Cemetery, Kimball, South Dakota
Lot -1 Block 14
Find A Grave Memorial # 93819932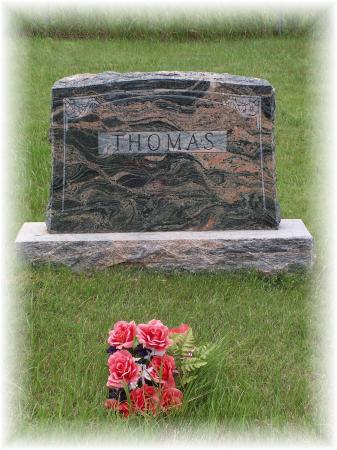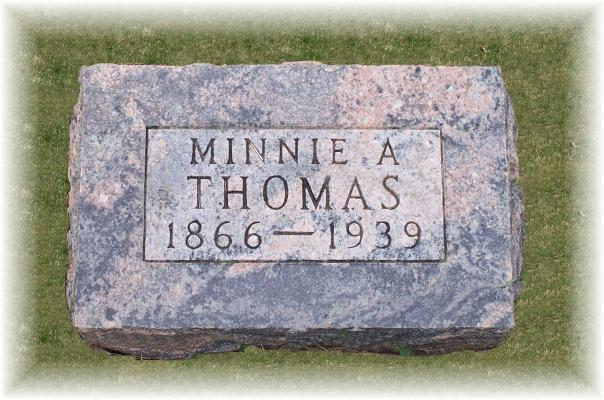 Mrs. Joseph Thomas
Passes Away

Death Comes After Serious Illness During Past Month
Mrs. Minnie Thomas of Willow Lake township passed away last Wednesday, January 25, 1939, at 9:30 in the Methodist Hospital in Mitchell, South Dakota. Her passing was not wholly unexpected as she had not been well for the past several years. During the last month she became seriously ill, with heart and kidney trouble.
She was preceded in death by her husband who passed away in June 1934, and by her brother, John, who died November 24, 1938.
Minnie Anna Rohrs was born November 30, 1967, at Napoleon, Ohio. Her parents were Mr. and Mrs. Henry Rohrs. Being raised in a Christian home, she was baptized and confirmed in the Lutheran faith.
When she was twelve years of age, her father died as a result of being kicked by a horse. After her fathers death, she and her mother moved to Auburn, Nebraska.
It was while in Auburn that she was married to Henry Ehlers on February 16, 1884. To this union two children were born; Joseph and Cecil.
The family moved to Brule county in 1913 and located on a farm northeast
of Kimball, where she lived with her husband until 1924. Joseph Thomas was killed in a tornado in 1924. and Mrs. Thomas continued her residence on the same farm with her son, Cecil, until the time of her death.
She leaves to mourn her loss, one daughter, Mrs. Chris Thomsen of Kimball, and four sons, William Ehlers, of Kimball; Elmer Ehlers, of White Lake, and Cecil Thomas, of Kimball. There are sixteen grandchildren and two great grandchildren. She also leaves one sister, Mrs. Ida Carson of Rhodes, Michigan, and many other relatives and friends.
Funeral services were held in the American Lutheran church at Kimball, January 28, 1939, with the Rev. Roleder conducting. Burial was made in the Kimball cemetery.

In Memory of "Our Dear Mother"
I'd like to be the sort of mother that you have been to me,
I'd like to be the help that you've been always glad to be.
I'd like to say the kind things that I so oft have heard,
And feel that I could rouse your soul the way that mine you've stirred.
I'd like to give you back the joy that you have given me,
Yet that we're wishing you need, I hope will never be;
I'd like to make you feel as rich as I, who travel on,
Undaunted in the darkest hours with you to lean upon.
I am wishing this year that I could be repay,
A portion of the gladness that you've shown along the way;
Could I have but one wish this year, this only would it be;
I'd like to be the sort of mother that you have been to me.

Brule County News
Thursday
February 2, 1939


1stHusband - Henry C. Ehlers
Born - August1864 - Missouri
Married - February12, 1886 -Wilhelmina Anna (Rohrs) Ehlers
Johnson, Nemaha County, Nebraska
Father- Henry Ehlers
Born - Germany
Mother - Christina (Evarts) Ehlers
Born - Germany

Son - William Henry Ehlers
Born - February 2,1887
Johnson, Nemaha County, Nebraska
Died - December 14, 1964
Daughter - Christine Ehlers
Born - May 1888
Johnson, Nemaha County, Nebraska
Son - Elmer Edward Ehlers
Born - February 10, 1890
Johnson, Nemaha County, Nebraska

2ndHusband - Joseph Thomas
Born - March 16, 1861
Cass County, Nebraska
Residence -1870 - Mount Pleasant, Cass County, Nebraska
Married - December 3, 1882 - Mary Frances (McMullin) Thomas
Cass County, Nebraska
Married - May 1903 -Wilhelmina Anna (Rohrs) Ehlers Thomas
Hiawatha, Brown County, Kansas
Died - June 14 , 1924
Kimball, Brule County, South Dakota
Buried -Kimball Cemetery, Kimball, South Dakota
Lot -1 Block 14
Find A Grave Memorial # 93819504
Father - Joseph Thomas
Mother - Elizabeth (Archer) Thomas
1st Wife - Mary Frances (McMullin)
Thomas
Born - May 14, 1860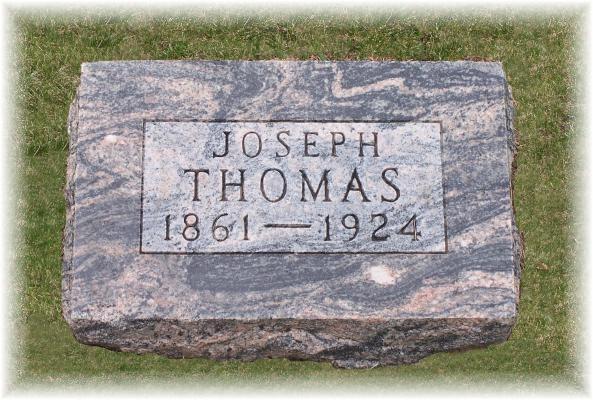 Son -
Raymond Thomas
Born - 1883 - Cass County, Nebraska
Wife - Dora Thomas
Son -
John William Thomas
Born - March 9, 1885
Murray, Cass County, Nebraska
Died - April 27, 1965
Plattsmouth, Cass County, Nebraska
Daughter -
Myrtle E Thomas
Born - February 12, 1888
Cass County, Nebraska,
Died - July 2, 1888
Cass County, Nebraska,
Son -
Robert Thomas
Born - April 2, 1891
Died - February 1967
Portsmouth, Shelby County, Iowa
Daughter - Mamie Thomas
Son -
Marion Thomas
Born - November 17, 1897 - Iowa
Died - December 1966
Spokane, Spokane County, Washington
Son - Joseph Alvin Thomas
Born - September 16,1905
Baileyville, Nemaha County, Kansas
Married - January 1, 1930
Aurora County, South Dakota
Wife - Eva Mae (Freeman) Thomas
Born - 1913

Son - Cecil Lee Thomas
Born - August 24, 1907
Baileyville, Nemaha County, Kansas

Sister - Catharine (Rohrs) Fre˙tag
Born - December 9,1849
Hanover, Germany
Brother - Henry R. Rohrs
Born - January 1, 1852
Hanover, Germany
Brother - Johan Heinrich Rohrs
Born - July 3, 1853
Napoleon, Henry County, Ohio
Sister - Anna S. Rohrs
Born - February 24, 1857 - Hanover, Germany
Died - April 5, 1862 - Henry County, Ohio
Brother - John Christopher Fredrich Rohrs
Born - December 23, 1859
Napoleon, Henry County, Ohio
Sister - Emma Maria Elizabeth Rohrs
January 26, 1862
Napoleon, Henry County, Ohio
Died - October 10, 1906
Brother - Friedrick Henry Rohrs
Fred Rohrs
Born - November 5, 1863
Napoleon, Henry County, Ohio
Sister - Ida (Rohrs) Cartens
Born - March 8, 1870
Napoleon, Henry County, Ohio
Brother - John Rohrs
Born - 1879
Napoleon, Henry County, Ohio

Father - John Henry Rohrs
Mother - Maria (Schroeder) Rohrs

Family Indexes
Home Rohrs Eltiste Kaiser Fink
Eltiste Photos Kaiser Photos Rohr Photos Fink Photos
Last Up-Date 07/19/2012 12:04:03 AM