Eltiste-Kaiser Web Site
---
Rohrs Family
Henry F. Fre˙tag
Born - Friday, December 15, 1871
Henry County, Ohio
Married - Tuesday, March 1, 1898
Died - Saturday, September 17, 1927
Buried - Tuesday, September 20, 1927
Chester Cemetery, Chester, Thayer County, Nebraska
Plot: Block 6, Lot 10, Grave 6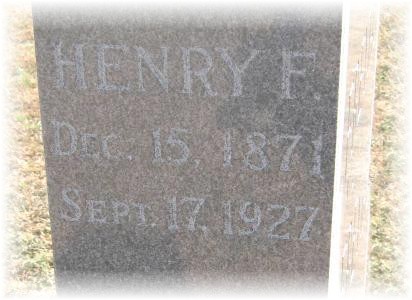 Chester Grain Manager Dies

Henry Fre˙tag Will Be
Buried Tuesday

Chester, Nebr., September 19 --- Mr. Henry Fre˙tag, fifty-five, former grain elevator manager of Chester, Byron and Odell, and for the past
10 years, connected with the Grain Buyers Union
at Sidney, passed away on September 17.
Funeral services will be held
Tuesday, September 20.
Mr. Fre˙tag died in an Omaha hospital, Saturday
following an operation for appendicitis.
Mr. Fre˙tag, the son of Frederick H. and
Catharine (Rohrs) Fre˙tag, was born in Ohio on
December 15, 1871, and his boyhood days were spent
at Auburn, Nebraska, and later the family
moved to Bryon.
Mr. Fre˙tag is survived by his wife Georgia,
a brother; Fred Fre˙tag,
of Winner, South Dakota; and five sisters: Mrs.
William J. (Matilda) Dankenbring, of Bryon; Miss Lydia Fre˙tag and Mrs. Vernon V. ( Lala) Gregg, of Culver City, California; Mrs. J. B. (Ida) Swartz, of Lincoln; and Mrs. William L. (Helena) Brown
of Hebron.

Deshler Rustler
Wednesday
September 28, 1927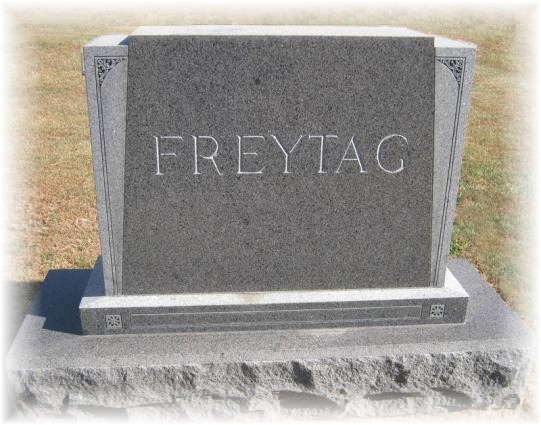 Wife - Georgia May (Forsdik) Fre˙tag
Born - Friday, April 8, 1878
Craig, Holt County, Missouri
Died - Monday, March 15,1964
Denver, Denver County, Colorado
Buried - Wednesday, March 18,1964
Chester Cemetery, Thayer County, Nebraska
Plot: Block 6, Lot 10, Grave 5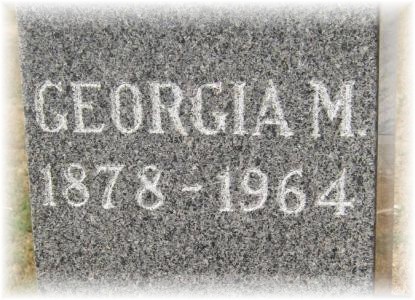 Mrs. Henry Freytag

Georgia May Fre˙tag was born April 8, 1878 at Craig, Missouri.
She died March 15, 1964, at the age of 85 years, 11 months and
7 days. Georgia was the youngest child of Stephen and Malisa
(Davenport) Forsdik. She was preceded in death by her
six brothers and two sisters.
She was a graduate of the Chester High School and a dress
designing school. She followed this profession until her marriage
to Henry Fre˙tag on March 1, 1898.
There were no children born to this union.
She was an active member of the Methodist Episcopal Church.
Mr. and Mrs. Fre˙tag were in commercial business in Sidney,
Nebraska for many years. After his death she moved to Denver,
Colorado in 1944. She lived here until her death.
During her time in Denver she traveled in Europe and made two
trips to Alaska. She gave several talks about her travels before
Rotary and numerous other clubs.
Her nearest survivors are a niece, Mrs. Thelma Riggs of
Wildeo, Idaho; two nephews, Kermit Forsdick of Lubbock, Texas,
and Donald Suedmeier of Norfolk, Nebraska.
Funeral services were held at the Chester Methodist Church on
Wednesday afternoon, March 18, the Rev. Loren J. Silsby
officiating. Mrs. W. W. Aspegren of Republic, Kansas, sang,
accompanied by Mrs. Dolan Frye. The pallbearers were
W.W. Aspegren, Harold Swartz and Earl Erkenbrack of
Republic; Clay Davenport, J. F. Gausman and T. E. Boyer.
Interment was in the Chester Cemetery with
Bachelor-Faulkner-Dart Funeral Service in charge.

The Chester Herald
Front Page - Wednesday
March 26, 1964


Sister - Matilda M. (Fre˙tag) Dankenbring
Born - January 1870 - Henry County, Ohio
Sister - Ida (Fre˙tag) Swartz
Born - July 12, 1873 - Henry County, Ohio
Married - February 24, 1895
Died - November 29, 1960
Torrance, Los Angeles County, California
Husband - John Bright Swartz
Born - March 15, 1873 - Kansas
Died - December 28, 1951 - Los Angeles County, California
Father - Henry C. Swartz ♦ Born - 1842 - Ohio
Mother - Susannah C. Swartz ♦ Born - 1846 - Ohio
Sister - Mary (Fre˙tag) Swartz
Born - 1876 - Nebraska
Died - Lincoln, Nebraska
Sister - Catherine Minnie (Fre˙tag) Swartz
"Katie Swartz"
Born - March1, 1878 - Henry County, Ohio
Brother - Frederick John Fre˙tag
Born - January 27,1880 -Ohio
Died - August 8, 1957
Pierre, Hughes County, South Dakota
Wife - Belle Fre˙tag
Born - 1874 - Iowa
Sister - Helena M. (Fre˙tag) Brown
Born - February 21, 1882 -Ohio
Husband - William L. Brown
Born -1881 - Kansas
Brother - John Fre˙tag
Born - October 1884 - Nebraska
Died - Pierre, South Dakota
Brother - Carl Herman Fre˙tag
Born - October 12,1887 - Nebraska
Married - July 6, 1910
Alma, Harlan County, Nebraska
Wife - Minnie (Artz) Fre˙tag
Born - November 30, 1892
Dorchester, Saline County, Nebraska
Sister - Lydia Fre˙tag
Born - March 1890 - Nebraska
Sister - Lala Madeline (Fre˙tag) Gregg
Born - April 23, 1892
Auburn, Nemaha County, Nebraska

Father - Frederick H. Fre˙tag
Mother - Catharine (Rohrs) Fre˙tag

Family Indexes
Home Rohrs Eltiste Kaiser Fink
Eltiste Photos Kaiser Photos Rohr Photos Fink Photos
Last Up-Date 07/21/2012 01:06:14 AM