Eltiste-Kaiser Web Site
---
Rohrs Family
Reverend William Henry Dye
Born - June 10, 1804 - New York
Married - About 1825 - 1830
Per 1930 Conewango, Cattaraugus County, New York
Died -1865 - Madison, Wisconsin

Wife- Ann (Bailey) Dye
Born - April 23, 1805 - New York
Residence -August 25, 1870
Bedford, Nemaha County, Nebraska
Died - November 9, 1881
Buried - Bedford Cemetery
Howe, Nemaha County, Nebraska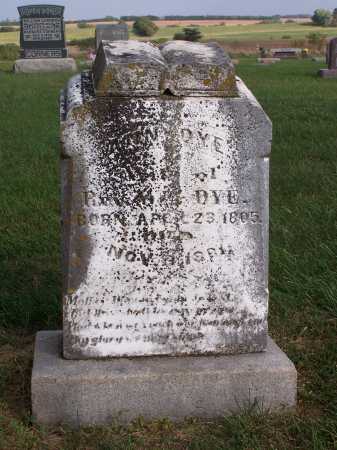 Obituary
Mrs. Ann (Bailey) Dye

Died - Friday, November 11, 1881, at the residence of
Mr. James R. Dye, in Bedford precinct,
Mrs. Ann Dye, aged 78 years.
Mrs. Dye was the mother of James R. and George E. Dye,
of Bedford, and for several years had made her home with
her son James. She has lived in Nemaha county most of the
time for the past ten years and for a long time
has been an invalid.
Death was not unexpected, for the nature of her trouble was
such that she lived in daily expectation that she might not see
the end of another day. Mrs. Dye had been a faithful member of
the Baptist Church for over fifty years. The funeral sermon was
preached by Rev. B. F. Lawler, a minister of that church.
The remains were interred in Bedford Cemetery,
near the homes of her children.
Thus another
"Mother in Israel" has passed away,
leaving the rich legacy of an honest life and the lessons
that prudence, purity and faithful motherhood always leave to bless whoever will observe and learn.

Nemaha County Granger
Friday
November 18, 1881

Daughter - Julia Dye
Died - At 12 Years of Age
Seneca, Cattaraugus County, New York
Son - William Henry Dye
Born - April1831 - New York
Occupation - Harness-Maker
Residence in 1880,1895, 1900, 1905 Ottumwa, Wapello County, Iowa
Wife - Maria Anna Dye
Born - November 1840 - England
Married - 1865
Children: Has a Daughter and One Son
Daughter - Luella M. Dye
Born - September 1871 - Nebraska
Son - Edward H. Dye
Born - August 1872 - Nebraska
Occupation - Musician
Son - Nathan P. Dye
Born - 1833 - New York
Per Brother George Dye's Obituary in 1916,
Nathan died in Nemaha county, Nebraska, in the prime of life
Occupation in 1920 - Apartment Landlord
Died - Prior to July 1916
Nemaha County, Nebraska
Wife - Minerva Dye
Born - 1836 - New York
Son - James R. Dye
Born - February 1834
DeRuyter, Madison County, New York
Daughter - Mary E. (Dye) Dye
Mary E. married a cousin by the name of Dye,
both being deceased Before July 1916, and they left one daughter

Son - George Emery Dye
Born - Thursday, August 6, 1839
Yates County, New York
Wife - Mary E. (Grant) Dye
Born - March 22,1848
Jefferson County, Wisconsin
Son - Charles L. Dye
Died - At 4 Years of Age

Brother - James R. Dye
Born - April 28, 1793
DeRuyter, Madison County, New York
Wife - Sally (Fox or Palmer) Dye
Born - January 13, 1799
Bennington, Bennington County, Vermont
Died - October 1, 1845
Hebron, Jefferson County, Wisconsin
Sister - Rachel Dye
Born - November 11, 1794
DeRuyter, Madison County, New York
Sister - Sallie Dye
Born - January 19, 1796
DeRuyter, Madison County, New York
Brother - John Philetus Dye
Born - October 16, 1797
DeRuyter, Madison County, New York
Died - May 18, 1855
Lincklean, Chenango County, New York
Wife - Esther Burdick
Born - June 10, 1801
Westerly, Washington County, Rhode Island
Died - March 16, 1877
DeRuyter, Madison County, New York
Brother - Daniel Dye
Born - August 14, 1799
DeRuyter, Madison County, New York
Per the July 9 1860 Walworth, Wisconsin Census Daniel is (60 Years Old)
Living with his wife Fidelis (50) and his 2 Daughters,
Maria (12) and Mary (11)
Occupation - Baptist Clergyman
Brother - Walter G. Dye
Born - April 15, 1801
DeRuyter, Madison County, New York
Died - October 21, 1868
McGraw, Cortland County, New York
Occupation - Baptist Clergyman
Wife - Theodosia Dye
Born - 1821 - New York
Brother - Rouse Simon Dye
Born - November 9, 1802
DeRuyter, Madison County, New York
Died - April 7, 1871
Antwerp, Jefferson County, New York
Wife - Ximina Hull
Born - December 24, 1803
Fabius, Onondaga County, New York
Died - April 18. 1871
Antwerp, Jefferson County, New York
Sister - Polly H. Dye
Born - April 1, 1806
DeRuyter, Madison County, New York
Died - December 23, 1869
DeRuyter, Madison County, New York
Brother - Nathan P. Dye
Born - June 13, 1808 - New York
Wife - Lucy Maria Kinyon
Brother - Enoch P. Dye
Born - November 24, 1810 - New York
Married - 1833
Died - April 9, 1888 - Wisconsin
Wife - Lovina Bailey
Born - December 23, 1812
Fabius, Onondaga County, New York
Died - September 5, 1878
Hebron, Jefferson County, Wisconsin

Father - John Patelle Dye
Born - May 9, 1768
South Kingston, Washington County, Rhode Island
Died - May 3 1822
DeRuyter, Madison County, New York
Mother - Sarah Sally (Rhodes) Dye
Born - June 2, 1768
Kingstown, Washington County, Rhode Island
Died - November 30, 1840
DeRuyter, Madison County, New York

Family Indexes
Home Rohrs Eltiste Kaiser Fink
Family Thumbnail Photo Gallery Index
Last Up-Date 03/01/2011 06:03:13 AM