Eltiste-Kaiser Web Site
---
Rohrs Family
Mary E. (Grant) Dye
Born - March 22,1848
Jefferson County, Wisconsin
Married - April 12, 1866
Hebron, Jefferson County, Wisconsin
Residence -1870 - Falls City, Richardson County, Nebraska
Residence -1900 - Nemaha, Nemaha County, Nebraska
Died - Sunday, October 4, 1931
Her Home, Auburn, Nemaha County, Nebraska
Burial - Monday, October 5, 1931
Howe Cemetery, Nemaha County, Nebraska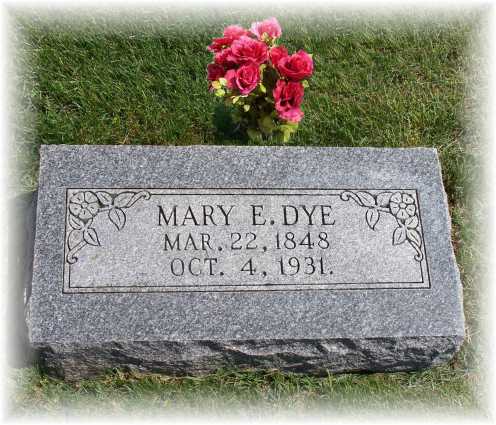 ~
FINAL SUMMONS TO GOOD WOMAN ~

MRS. GEORGE E. DYE
PASSED AWAY SUNDAY

Deceased Came to Nemaha County Shortly After Her Marriage in 1866 and Had Lived Here Ever Since
Funeral Held Monday Afternoon.
Mrs. Mary E. Dye, who passed away at her home in Auburn last Sunday was so well known throughout this community, and had such a wide circle of friends, that there are many to mourn her passing and share the sorrow that has come to her bereaved children. She was in every sense a good woman; beloved for her beautiful character, her true womanly qualities and all those traits that give to womanhood its influence for all that is good in life.
Mary E. Dye, eldest daughter of Willard and Sarah Grant, was born March 22, 1848 at Jefferson, Wisconsin. She was married to George E. Dye at Hebron, Wisconsin, April 12, 1886. Four years later they came to Nebraska and located in Nemaha county where they spent the greater part of their lives. Five children were born to them; Charles G., of Nemaha, Edith E., who died in June 1899, Emery G., of Omaha and Jessie and Blanche, with whom she had made her home since the death of her husband in 1916.
In 1916 Mr. and Mrs. Dye celebrated their golden wedding anniversary in Auburn and children, friends and neighbors helped them observe that happy event.
As a pioneer woman, Mrs. Dye had experienced many hardships, which she met and overcame with the courage and faith so necessary to womanhood in those days.
Because of her sunny disposition and her fine strength of character, her home was a place where her children and friends loved to gather. She was a member of St. Paulís Lutheran church and her life was spent in doing the things that can be done only by one of strong Christian character and making home and community better because of her influence.
She leaves to mourn her passing, two sons, Charles and Emery; her daughters, Jessie and Blanche; four grandchildren; Alton, Dorothy, George and Marjorie Dye, all of Omaha. Two sisters also survive her, Mrs. Ellen Miner of Auburn and Mrs. Martha Palmer of Stella and two brothers, Liberty F. Grant of Auburn and Willard J. Grant of Spokane, Washington.
Reverend Swan at St. Paulís Lutheran church in Auburn conducted the funeral services at 2:00 oíclock Monday afternoon. There was a large attendance of friends and many beautiful flowers. At the conclusion of the services the interment was made in the Howe cemetery beside the graves of her husband and daughter who preceded her.

Nemaha County Herald
Friday - October 9, 1931




Husband - George E. Dye
Born - August 6, 1840
Yates County, New York
Died - July 11, 1916
Military National Home, Leavenworth, Kansas
Burial - Howe Cemetery, Nemaha County, Nebraska

Son - Charles Grant Dye
Born - May 18,1866 - Wisconsin

Daughter - Edith Ellen Dye
Born - January 19, 1871- Nebraska

Daughter - Jessie Veronica Dye
Born - May11, 1877 - Nebraska

Daughter - Blanche Ann Dye
Born - August 10,1881- Nebraska
Son - Emery George Dye
Born - July 19,1882 - Auburn, Nebraska

Sister - Ellen G. (Grant) Miner
Born - May 1851-Wisconsin
Brother - Samuel LaMonte Grant
Born - June 1852 - Wisconsin
Sister - Martha V. (Grant) Palmer
Born- December 1854- Wisconsin

Brother - Liberty Freemont Grant
Born - February 23, 1857- Wisconsin
Brother - Willard James Grant
Born -September 1860 -Wisconsin


Father - Willard Grant

Mother - Sarah (Dye) Grant


Family Indexes
Home Rohrs Eltiste Kaiser Fink
Family Thumbnail Photo Gallery Index
Last Up-Date 01/15/2012 09:41:49 AM