Eltiste-Kaiser Web Site
---
Schick Family
Carl P. Schick
Born - Friday, October 30,1891
Elmwood, Cass County, Nebraska
Confirmed - Sunday, March 25, 1906
Saint Peter's Lutheran Church
Logan, Phillips County, Kansas
Married - Wednesday, November 26, 1919
Phillips County, Kansas
Died - Thursday, March 25,1965
Phillipsburg, Phillips County, Kansas
Buried - Pleasant View Cemetery
Logan, Phillips County, Kansas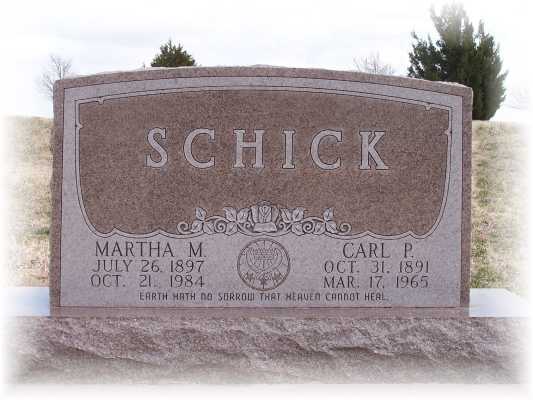 O
bituary

Carl P. Schick, son of Jacob and Marie Schick, was born in Elmwood, Nebraska, October 31, 1891, and passed away on March 17, 1965 at Phillipsburg, Kansas after a lengthy illness, at the age of 73 years.
Mr. Schick came with his parents to Logan as a small child and resided on a farm north of Logan. He was baptized in the Lutheran Church as an infant and confirmed on March 25, 1906, at St. Peter's Lutheran Church, Logan.
He was married November 26, 1919, to Martha Marie Fischli. To this union three children were born; Lee, Evelyn and Raymond. In 1926, he moved from north of Logan to his home in Norton County where he has since resided.
Mr. Schick was a devoted member of this congregation. He hardly missed the Sunday Worship services all his life long. When he had a major operation last spring, he was not able to walk, but he and his family came to church on Sundays with the help of Raymond. He supported the church faithfully as well as the work of World Missions.
He received the last Holy Communion on Monday evening, March 15th when the time of his departure was near. He had fought the good fight, he had finished the race, He had kept the faith in Jesus Christ all his life.
He was predeceased by his parents, 3 brothers, John, Albert and Richard, and one grandchild.
Those left to mourn his passing are: his wife, Martha, three children, Lee Schick, Mrs. Evelyn Kaiser, Phillipsburg, and Raymond Schick, Densmore, 7 grandchildren, 2 sisters, Mrs. Katherine Fisk, Colorado, Mrs. Pauline Hickman, Logan, one brother, Fred Schick, Logan, numerous nieces and nephews, other relatives and many friends.

CARD OF THANKS
We wish to extend our heartfelt thanks and appreciation to all our friends and relatives for cards, flowers, food and the memorial gifts. Also, for all the other kind expressions of sympathy at the time of the death and long illness of our husband, father and grandfather. May God bless each of you.
Mrs. Carl P. Schick
Mr. and Mrs. Lee Schick and Family
Mr. and Mrs. Gus Kaiser and Family
Dearest Father, thou hast left us and your sweet face no more we'll see,
Till we meet in yonder City forever happy be.
Dearest Father, we must lay thee in the peaceful graves embrace,
But your memory will be cherished,
Till we see thy heavenly face.

Out of town relatives:
Mr. and Mrs. Alva Parker, Longmont, Colorado; Mr. and Mrs. John Cunningham, Norton; Mrs. Myrtle Fischli, Phillipsburg; Mrs. Mary Fischli, Covina, California; Mr. and Mrs. Floyd Fix, Stockton; Mr. and Mrs. Bob Fischli, Phillipsburg; Mr. and Mrs. Alvin Schick, Phillipsburg; Mr. and Mrs. Max Schick, Phillipsburg; Mrs. Chas. Shearer and sons, Hutchinson; Mr. and Mrs. Ed Hickman, Englewood, Colorado; Mr. and Mrs. Jake Fischli, Densmore; Harold Fischli, Densmore; Mrs. Pauline Hickman, Logan; Mr. and Mrs. Lloyd Becker and family, Mrs. Mollie Schick, Logan; Mr. and Mrs. Carlie Schick, Logan; Mr. and Mrs. Melvin Blomenkemp, Alma; Mr. and Mrs. Paul Bruning, Logan; Mr. and Mrs. Larry Shepherd, Hill City; Mr. and Mrs. Eric Bretz, Norton; Mr.and Mrs. Art Bietz, Norton; Mrs. and Mrs. Rudy Radloff, Phillipsburg; Mr. and Mrs. Douglas Edgett, Phillipsburg; Ray Hollingshead, Phillipsburg; Mr. and Mrs. Stanley Glaum, Phillipsburg; Merina Hollingshead, Phillipsburg.
Funeral Services were conducted Friday, March 19, 1965 at 2:00 p.m. at the St. Peter's Lutheran Church in Logan with the Rev. Louis Shim officiating. Musical selections of "Abide With Me" and "Safe in the Arms of Jesus" were sung by Mrs. Dan D. Bushnell and Mrs. Harold Brooks, accompanied by Mrs. Arthur Ruff.
Casket bearers were Max Schick, Harold Fischli, Lloyd Becker, Carlie Schick, Robert Fischli, and Floyd Fix.
Interment was in the Pleasant View Cemetery, Logan, Kansas.

Logan Republican
Thursday
March 25, 1965


Wife - Martha (Fischli) Schick
Born -July 26, 1897- Kansas
Died -October 21,1984


Son - Lee C. Schick
Born - April 10, 1922 - Kansas
Enlistment Date - October 10, 1942
Veteran World War 2
Died - April 1981
Johnson County, Kansas

Daughter - Evelyn Pauline (Schick) Kaiser
Born -September 30, 1925
Son - Raymond Schick
Born - June 18, 1938

Brother - John Jacob Schick
Born - December 17, 1887 - Nebraska
Married - March 1, 1911
Phillips County, Kansas
Wife - Albertina A. (Granlund) Schick
Brother - Albert Peter Schick
Born - March 1889 - Nebraska
Married - January 11, 1911
Phillips County, Kansas
Died - February 3, 1948
Buried - Saint Peter's Lutheran Cemetery
Logan, Phillips County, Kansas
Wife - Mollie A. (Jaenicke) Schick
Born -December 1888 - Kansas
Father - Richard Jaenicke
Mother - Amelia Janicke
Daughter - Martha P. Schick
Born - 1912 - Kansas
Son- Carl F. Schick
Born - October 13, 1913 - Kansas
Daughter - Maxine M. Schick
Born - 1915 - Kansas
Daughter - LaVergne L. Schick
Born - 1915 - Kansas
Sister - Catherine Gertrude (Schick) Fisk
Born - May 1890
Sister - Pauline (Schick) Hickman
Born - February 25,1894 - Kansas
Married - February 25, 1920
Phillips County, Kansas
Died - October 1976
Husband - George Gaylon Hickman
Born - April 4, 1890 - Eden, Atchison County, Kansas
Died - March 22, 1946
Son- Edwin Hickman
Born - 1924 - Kansas
Son- Robert Hickman
Born - 1926 -Kansas
Daughter - Eulla Hickman
Born - 1928 - Kansas
Brother - Richard Julius Schick
Born - October 26, 1896 - Kansas
Brother - Frederick Schick
Born - July 17,1898

Father - Jacob J. Schick
Mother - Marie (Strodtbeck) Schick

Family Indexes
Home Kaiser Fink Eltiste Rohrs
Family Photo Gallery Thumbnail Index
Last Up-Date 01/15/2012 09:42:31 AM