Eltiste-Kaiser Web Site
---
Kaiser Family
Paulus August Hermann Kaiser
Paul Kaiser
Born- Monday, April 2, 1917
Phillipsburg, Phillips County, Kansas
Married - Sunday, December 14, 1952
Attica, Harper County, Kansas
Died - Wednesday, November 22, 2000
Buried - Monday, November 27, 2000
Emmanuel Evangelical Lutheran Cemetery
Stuttgart, Phillips County, Kansas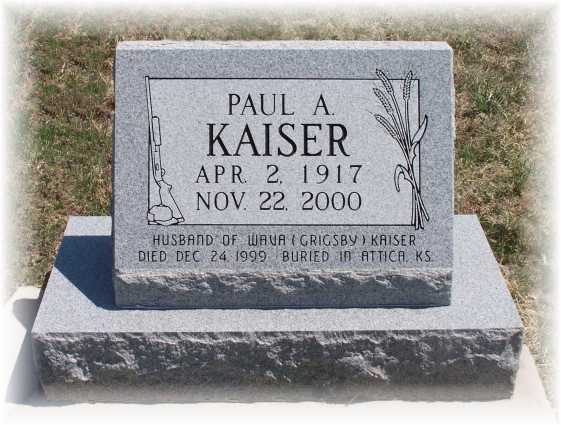 P
aul A. Kaiser

Paul A. Kaiser Passed away November 22, 2000, at Phillips County Hospital Long Term Care Unit in Phillipsburg, Kansas at the age of 83.

Paul was born on April 2, 1917 to Henry C. Kaiser and Sophia Eltiste Kaiser on a farm north of Phillipsburg, Kansas.
He attended the Iowa Union School and was confirmed at the Emmanuel Evangelical Lutheran Church in Stuttgart, Kansas. Paul grew up helping his father on the the family farm.
After graduation, Paul purchased a farm of his own. On December 14, 1952, he was united in marriage to Wava Grigby at the Methodist Episcopal Church in Attica, Kansas. They returned to Phillips County and continued to farm together.
Paul was active in his church and community. He enjoyed square dancing with his wife. Paul would sometimes call the square dances at Speed, Kansas. Hunting was another of Paul's favorite hobbies. Paul and Wava enjoyed traveling together. He loved spending time with children, especially his nieces and nephews.
Paul always had candy and quarters to give to them. Family gatherings and reunions were very special to Paul. He will be greatly missed by those who knew and loved him.
Paul is survived by two brothers: Gus Kaiser and William Kaiser, Phillipsburg and by two sisters; Sophia Hazen, Stockton, Kansas and Wilma Sterrett, Quinter, Kansas; and one sister-in-law, Edna Kaiser, Phillipsburg. He is preceded in death by his parents, his wife, Wave Grigby Kaiser on December 24, 1999 and one brother, Henry Kaiser.
Funeral services were held Monday, November 27, 2000 at Olliff-Boeve Memorial Chapel, Officiating Pastor Bill "J" Terry Jr. Interment at Emmanuel Lutheran Cemetery, Stuttgart, Kansas. Arrangements by Olliff-Boeve Memorial Chapel.

CARD OF THANKS
Thank you to all who were so very thoughtful at the time of the loss of our loved one. The flowers, calls, memorials and other acts of kindness were greatly appreciated.
The Family of Paul A. Kaiser

Footprints In The Sand
One night I had a dream. I was walking along the beach with the Lord, and across the skies flashed scenes from my life. In each scene I noticed two sets of footprints in the Sand.
One was mine, and one was the Lord's.
When the last scene of my life appeared before me, I looked back at the footprints in the sand, and to my surprise, I noticed that many times along the path of my life there was only one set of footprints and I noticed that it was at the lowest and saddest times in my Life. I asked the Lord about it:
"Lord you said that once I decided to follow you, you would walk with me all the way. But I notice that during the most troublesome times in my life there is only one set of footprints. I don't understand why you left my side.
"My precious child, I never left you during your time of trial. Where you see only one set of footprints, I was carrying you."

Phillips County Review
November 30, 2000


Wife - Wava (Grigsby) Kaiser
Born - Monday, March 14, 1910
Attica, Harper County, Kansas
Died - Friday, December 24, 1999
Buried - Tuesday, December 28, 1999
Attica Cemetery
Attica, Harper County, Kansas
Wava's Father - Walter Henry Grigsby
Born - March 12, 1882 - Missouri
Wava's Mother - Ida Bell (Reed) Grigsby
Born -1884 - Kansas

Paul's Father - Henry Christian Kaiser

Paul's Mother - Sophia Katherina (Eltiste) Kaiser

Family Indexes
Home Kaiser Fink Eltiste Rohrs
Family Thumbnail Photo Gallery Index
Last Up-Date 09/10/2014 02:43:22 PM