Eltiste-Kaiser Web Site
---
Eltiste Family
Sophia Katharine (Eltiste) Kaiser
Born - Monday, April 17, 1882
Johnson, Nemaha County, Nebraska
Baptized - Thursday, April 20, 1882
Sponsor - Anna Sophia Stadtler
Confirmed - Monday, March 25, 1895
(Hickory Grove)
Residence - Saturday, June 9, 1900
Washington Precinct, Nemaha County, Nebraska
Henry C. & Sophie (Eltiste) Kaiser
Married - Sunday, June 6, 1909
Independence, Buchanan County, Iowa
Residence - Thursday, April 28, 1910
Dayton Township, Phillips County, Kansas
Died - Wednesday, May 9, 1979
Phillips County Home
Phillipsburg, Phillips County, Kansas
Buried - Saturday, May 12, 1979
Emmanuel Lutheran Cemetery
Stuttgart, Phillips County, Kansas


OBITUARY
MRS. SOPHIA KAISER

Sophia Kathrina Eltiste Kaiser, daughter of Paul and Maria Barbara Stadtler Eltiste was born near Johnson on April 17, 1882. She died, May 9, 1979 at Phillips County Home in Phillipsburg, Kansas at the age of 97 years and 22 days.
Reared in the Johnson and Auburn area, she moved with her husband to Phillips County, where they farmed.
Sophia was baptized April 20, 1882 at St. Paulís Hickory Grove Lutheran church near Auburn, and was confirmed March 25, 1895. She was a member of Emmanuel Lutheran church at Stuttgart, Kansas at the time of her death.
On June 9, 1909 she was married to Henry Kaiser at Independence, Iowa, and six children were born: William, Henry, Sophia, Paul, Gus and Wilhelmina.
Her parents, husband, three brothers, three sisters, and one son-in-law, Lawrence Look, preceded her in death.
Survivors include four sons, William of Agra, Kansas; Henry Paul and Gus of Phillipsburg, Kansas; two daughters, Mrs. Clarence Hazen of Stockton, Kansas; and Wilma Look of Hays, Kansas; one brother, Herman Eltiste of Johnson; 11 grandchildren; six great-grandchildren; other relatives and friends.
Funeral services were held at Emmanuel Lutheran church in Stuttgart, Kansas on May 12, 1979, conducted by Reverend Duane Levin.
Burial was in the church cemetery.
Attending services from this area were Mr. and Mrs. Warren Eltiste of Nebraska City; Herman A. Eltiste of Auburn; Mrs. Keil Eltiste and Leona Gerdes of Johnson.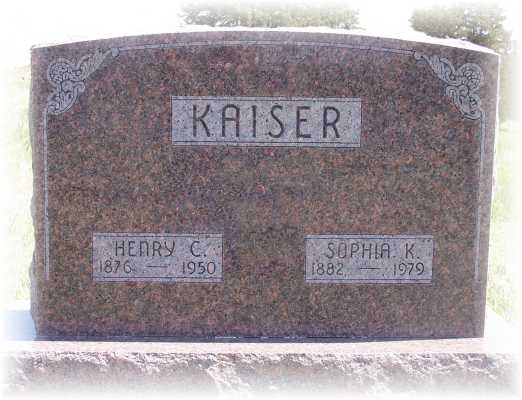 Husband - Henry Christian Kaiser
Henry C. Kaiser

Son - William Christian Kaiser
Bill Kaiser
Son - Henry George Kaiser
Daughter - Margaret Eva Wilhelminia (Kaiser) Hazen
Sophia Hazen

Son - Paul August Kaiser
Paul Kaiser
Son - August Fred Kaiser
Gus Kaiser
Daughter - Wilhelmina (Kaiser) Sterrett
Wilma Sterrett


ĹSister - Christina (Eltiste) Smith

ĹBrother - August Christian Eltiste
Chris Eltiste

Sister - Wilhelmine Pauline Christina (Eltiste) Wingert
Minnie Wingert

Sister - Wilhelmine Emil Elizabeth (Eltiste) Bohling
Elizabeth Bohling

Brother - William Frederick Eltiste
Willie Eltiste


Brother - George Heinrich Paul Eltiste
Paul Eltiste

Brother -Conrad August Herman Eltiste
Harry Eltiste

Brother- Theodore Friederich Emil Eltiste
Born - January 31, 1895 ۩ Died - April 1, 1895


Father - Friederich Paul Eltiste

Mother - Maria Barbara (Stadtler) Eltiste



Family Indexes
Home Eltiste Kaiser Rohrs Fink
Family Thumbnail Photo Gallery Index
Last Up-Date 11/07/2014 08:02:37 AM