Eltiste-Kaiser Web Site
---
Balbach Family ~Coat of Arms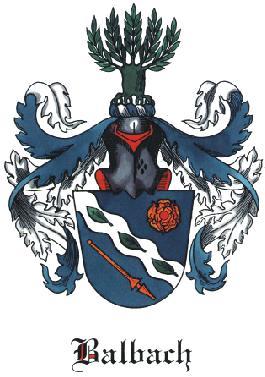 The wave bar symbol light that/those Balbach and explains naturally the surnames of the coat of arms founder. "Balm.." probably from Palm developed and "Palme" stands for the Salweide. The early bloom conditions of the Salweide are well-known as Palmkaetzchen. The Balbach is thus a waters, which once closely from Salweiden bewachsen was. Is taken the tournament seaweeds from the coat of arms of Lauda, the tournament seaweeds loaded which from the coat of arms of the gentlemen from got (castle and place carried the names of this family). The rose knows on Koenigshofen and is taken an old coat of arms. Colors: The color blue is the coat of arms of Lauda a.d. Deaf takes. The color silver is taken from the city Koenigshofen. Both cities were united by the municipality reform to the new city Lauda Koenigshofen, in whose administrative territory today upper and Unterbalbach lie

Origin of The Name -German

Spelling variations include: Balbach, Balback, Ballbach, Balbache, Ballbache, Bahlbach and many more.
First found in Franconia, where the name became noted for its many branches with the region, each house acquiring a status and influence which was envied by the princes of the region.
Some of the first settlers of this name or some of its variants were: Christoph Balbach, who came to America in 1804. David Balbach landed in Philadelphia in 1812.



Family Indexes
Home Kaiser Eltiste Fink Rohrs
Thumbnail Family Photo Gallery Index
Last Up-Date 12/24/2006 10:49:33 PM