Eltiste-Kaiser Web Site
---
Eltiste Family
Fredrick Daniel Eickhoff
Born - Tuesday, December 5, 1893
Solomon Township, Phillips County, Kansas
Baptized - Wednesday, December 20, 1893
Zion Lutheran Church
Belmont Township, Phillips County, Kansas
Residence - Wednesday, March 1, 1905
Solomon Township, Phillips County, Kansas
Confirmed - Sunday, April 26, 1908
Zion Lutheran Church
Belmont Township, Phillips County, Kansas
Residence - 1930 - Solomon, Phillips County, Kansas
Died - Sunday, March 8, 1953
Smith Center Hospital
Smith Center, Smith County, Kansas
Buried - Zion Lutheran Cemetery
Belmont Township, Phillips County, Kansas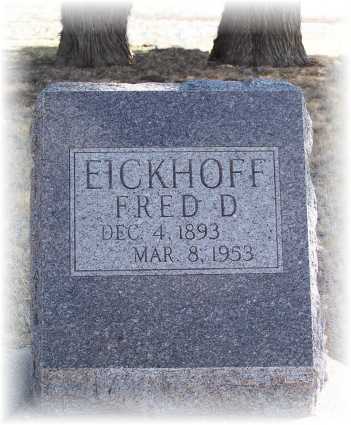 Obituary–Eickhoff

Friedrick Daniel Eickhoff was the fourth child of Friedrick Eickhoff and Lena (nee: Eltiste), born in Solomon township of Phillips county, Kansas, December 5, 1893. He became a child of God through Holy Baptism on December 20, 1893 and on April 26, 1908 he confirmed his baptismal vow at Zion Lutheran church in Belmont Township.
Mr. Eickhoff has from the time of his baptism been a member of Zion Lutheran church. He has always resided at the place of his birth. During the past weeks, Mr. Eickhoff contracted the flue and several days before his death suffered a heart attack after which pneumonia set in. He was taken to the Smith Center hospital by ambulance Saturday, March 7, where he passed away three days later.
His parents and two sisters preceded him in death, his father dying in 1942 and his mother in 1944. A sister, Louise, died in 1914 and another sister, Sophia, passed away in 1926. He leaves to mourn his death two brothers, August and John, and many relatives and friends. His age at the time of his death was 59 years, 3 months and 4 days.
Funeral services were held in the Zion Lutheran church with Reverend Kenneth Kohl officiating. Burial was in Belmont cemetery, Pall bearers were: Henry Ehm, Arnold Ehm, Carl Bredemier, Edwin Meyer, Harold Beckman and John Selbe.

Phillips County Review
Thursday
March 26, 1953



Sister - Sophia (Eickhoff) Stepper
Born - April 1885
Brother - August Fredrick Eickhoff
Born - June 15, 1887

Brother - Johan Fredrick Eickhoff
Born - November13, 1889

Sister - Louisa M. (Lucy) Eickhoff
Born - July 9, 1896

Father - Fred Eickhoff

Mother - Magdalena (Eltiste) Eickhoff

Family Indexes
Home Eltiste Kaiser Fink Rohrs
Thumbnail Family Photo Gallery Index
Last Up-Date 04/10/2008 05:55:58 AM