Eltiste-Kaiser Web Site
---
Fink Family
Ellsworth Johann Freidrich Mueller
Born - May 5, 1914
Stuttgart, Phillips County Kansas
Baptized - 1914
Married - June 3, 1937
Emmanuel Evangelical Lutheran Church
Stuttgart, Phillips County, Kansas
Died - May 9, 1998
His Home, Phillipsburg, Phillips County, Kansas
Buried - Wednesday, May 13, 1998
Emmanuel Lutheran Cemetery
Stuttgart, Phillips County, Kansas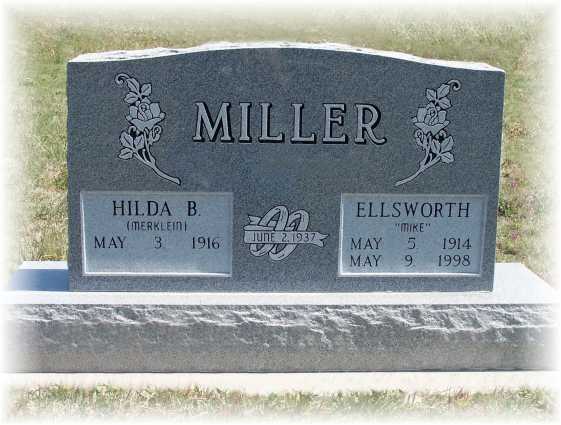 Ellsworth Miller

Ellsworth J. "Mike" Miller son of Michael J. and Christina Eltiste Miller was born in Stuttgart on May 5, 1914 and died at his home in Phillipsburg on May 9, 1998 at the age of 84.
He attended school in Phillips County.
On June 2, 1937, he was united in marriage to Hilda Merklein at Stuttgart and to this union three children were born; Shirley, Eldon "Butch"
and Lannie.
"Mike" was an oil field pumper until his retirement. He and Hilda lived in Stuttgart until a couple of years ago when they moved to Phillipsburg. He was a member of the Emmanuel Lutheran Church, Stuttgart.
Survivors include his wife, Hilda of the home in Phillipsburg; one daughter, Shirley Vanderplas and her husband, Bill, Phillipsburg; two sons; Eldon
"Butch" Miller and is wife, Bev, Stuttgart and Lannie Miller and his wife, Judy of Lake View, Iowa; two sisters, Ester Weinman, Stuttgart and Erna Lazure, Stamford, Nebraska; nine grandchildren and 11 great-grandchildren.
"Mike" will be greatly missed by his family and many many friends.
Funeral services were held Wednesday, May 13 at 10:00 a. m. in the Emmanuel Lutheran Church, Stuttgart with Pastor Bill "J" Terry, Jr., officiating.
Kathy Merklein and Jane Kirchhoff sang "The Last Mile Of The Way" and the congregation sang "How Great Thou Art" and "Children Of The Heavenly Father" accompanied by Phyllis Merklein, organist.
Casket bearers were: Jeff Vanderplas, Tom Jacobs, James Zillinger, Michael Miller, Alan Hanke, Louis Zillinger and Glenn Weinman. Honorary bearers were: Willard (Hap) Weinman, Robert Sharp II and all of Mike's friends.
Interment was in the Emmanuel Lutheran Cemetery, Stuttgart.
Arrangements were handled by Olliff-Boeve Memorial Chapel.

CARD OF THANKS
Our warmest, heartfelt thank you to our relatives and dear friends for their support and love throughout Mike's illness and at the time of his death. The flowers, prayers, memorials, food and love was deeply appreciated. A special thanks to Emmanuel Lutheran Church for serving us lunch after the service.
The Family of Ellsworth (Mike) Miller

Phillips County Review
May 21, 1998

Wife - Hilda Barbette Elisabeth (Merklein) Miller
Born - May 3, 1916
Prairie View, Phillips County, Kansas
Baptized - 1916
Emmanuel Evangelical Lutheran Church
Stuttgart, Phillips County, Kansas

Daughter - Shirley (Miller) Vanderplas
Born - September 6, 1938
Husband - Billy Vanderplas
Married - September 6, 1958

Son - Eldon Leroy Miller
"Butch" Miller
Born - April 25, 1940
Wife - Beverly (Cole) Miller
Married - June 16, 1963
Stuttgart News

Mr. and Mrs. Ellsworth Miller are the proud parents of a son born April 25. The baby has been given the name of
Eldon Leroy. Dr. Nelson was the attending physician.

Phillips County Review
May 2, 1940

Son - Lannie Miller
Born - August 27, 1951
Wife - Judy (McClellan) Miller
Married - February 2, 1974

Brother - Irvin Michael August Mueller
Born -May 19,1911
Sister -Esther Emma Margaretha (Mueller) Weinman
Born - August 16,1919
Sister - Erna Margarethe (Mueller) Bach
Born - July 11, 1921

Father - Wilhelm Johann Michael Mueller
Mother - Christina Katharina (Eltiste) Mueller


Family Indexes
Home Eltiste Kaiser Fink Rohrs
Eltiste Photos Kaiser Photos Rohr Photos Fink Photos
Last Up-Date 11/16/2014 12:54:20 AM