Eltiste-Kaiser Web Site
---
Fink Family
Glenn W. Fink Family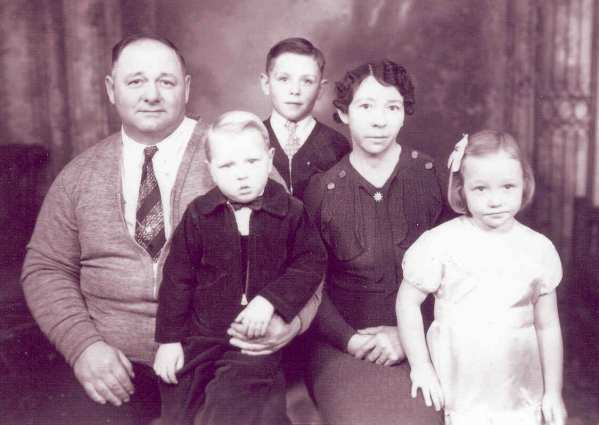 Glenn W., Gary, Glenn E., Mildred, & Mary Lou

Glenn Welty Fink
Born - August 6,1901
Zwingle, Jackson County, Iowa
Married - December 5, 1931
Belle Fourche, Butte County, South Dakota
Pastor - Reverend S. H. Herbert Congressional Minister
Died - July 26,1979
Belle Fourche, Butte County, South Dakota
Buried - July 30, 1979 - Pine Slope Cemetery
Belle Fourche, Butte County, South Dakota

Fink Services Here Monday

Funeral services are to be held here Monday afternoon for Glenn W. Fink, 77, who died Thursday at the Long Term Health Care Center in Belle Fourche.
Rites will be held at 2 p.m. Monday at the Belle Fourche Congregational Church with Rev. Samuel Cushing officiating. Burial will be in Pineslope Cemetery
under direction of the Frost and Sons Funeral Home.
Masonic Graveside rites are planned.
Glenn W. Fink was born August 6, 1901 at Zwingle, Iowa, the son of Nick and Minnie Fink. The family moved to Minnesota when he was a child, and later to Wessington, South Dakota. They came to Belle Fourche in 1907 and two years later moved to New England, North Dakota.
The family homesteaded near Mason, north of Belle Fourche, in 1915
and lived there until 1945.
He was married December 5, 1931 at Belle Fourche to Mildred Ernest.
Fink was a star route mail carrier for 12 years and also worked for the Utah-Idaho Sugar Company here. He later worked for the U. S. Postal Service and retired in 1971. He had lived here since.
He was a member of Cedar Lodge 124 AF & AM.
A memorial has been established.
Survivors include: his widow, Mildred, Belle Fourche; a daughter, Mrs. Marion (Mary Lou) Hespe, Belle Fourche; two sons, Glenn at Casper and Gary at Bettendorf, Iowa; nine grandchildren; seven great-grandchildren; one aunt, Mrs. Elizabeth Cain, Belle Fourche; numerous nieces and nephews.
He is preceded in death by his parents.

Belle Fourche Daily Post
Belle Fourche, South Dakota
Friday - July 27, 1979


Wife - Mildred A. (Ernest) Fink
Born -January 24,1907 - Butte County, South Dakota
Died - April 9, 2002 - Butte County, South Dakota
Father - William Henry Ernest
Born - October1866 -Ohio
Died - June 24, 1946 - Butte County, South Dakota
Mother - Rose Marie (DuCharme) Ernest
Born - September 20,1878 - Canada
Naturalized - 1881
Died - September 1979 - Alamogordo, Otero County, New Mexico
Mildred Fink

Mildred A. Fink 95. Belle Fourche , Died Tuesday, April 9, 2002, at Lookout Memorial Hospital in Spearfish.

Visitation will be from 2 to 5 p.m. Sunday April 14, at the Funeral Home of the Northern Hills in Belle Fourche, and for one hour prior to service at the church. There will be a prayer service held 7p.m. Sunday, April 14, at the First Congregational United Church of Christ, with Pastor Steve Olson of Belle Fourche United Methodist Church officiating, Interment will follow in Pine Slope Cemetery at Belle Fourche. A Memorial has been established. Funeral Home of the Northern Hills, is in charge of the arrangements.
Mildred was born January 24, 1907, at Macy, to William Henry and and Rose Marie (Ducharme) Ernest. She attended the Harding School, and later moved with her family to a farm on Horse Creek near Newell, attending the Horse Creek School. where she graduated from the eighth grade. Following her schooling , she lived with her family near the Macy Road House on the South Fork of the Moreau River.
She married Glenn W. Fink, December 5, 1931, at Belle Fourche. Following their marriage, they farmed and ranched near Mason. In 1945, they sold their place and moved into Belle Fourche. Mildred lived in Belle Fourche until 1955, when she moved to Dorsett Home in Spearfish.
Mildred enjoyed her family and many friends. She also enjoyed playing bingo and doing embroidery work. She liked to camp and fish with her family. She was a member of the Belle Fourche Senior Citizens.
Survivors are her three children, Glen and his wife Jackie Fink, Yuma Arizona, Gary and his wife Peggy Fink, Bettendorf, Iowa, and Mary Lou and Marion Hespe, both of Belle Fourche, nine grandchildren, 23 great-grandchildren. four great-great-grandchildren, and a sister-in-law Ruby Ernest, Belle Fourche.
She was preceded in death by her parents, her husband Glenn, in 1979, and three brothers, Ervin, Roy, and Bill Ernest.

Belle Fourche Bee
Belle Fourche, South Dakota
April 13, 2002


Son - Glenn Ernest Fink Jr.
Born - May 2, 1932
Daughter - Mary Lou (Fink) Hespe
Born - April 13, 1935
Son - Gary Gene Fink
Born - November 11, 1937

Father - Nicholas Fink
Mother - Minnie (Welty) Fink


Family Indexes
Home Fink Kaiser Eltiste Rohrs
Eltiste Photos Kaiser Photos Rohr Photos Fink Photos
Last Up-Date 11/24/2007 10:39:55 AM