Eltiste-Kaiser Web Site
---
Fink Family
Margaret Katharina (Merklein) Jackson
Born - Monday, October 11, 1920
Phillipsburg, Phillips County, Kansas
Baptized - Tuesday, November 9,1920
Emmanuel Evangelical Lutheran Church
Married - Wednesday, November 27, 1946
Emmanuel Evangelical Lutheran Church
Stuttgart, Phillips County, Kansas
Died - Sunday, March 23, 2014
Phillips County Retirement Center
Phillipsburg, Phillips County, Kansas
Buried - Friday, March 28, 2014
Fairview Cemetery
Phillipsburg, Phillips County, Kansas

Merklein ~ Jackson

A beautiful wedding was solemnized at the East Lutheran Church at Stuttgart, Wednesday November 27th at two o'clock when Miss Margaret Merklein became the bride of Harold Jackson. The Reverend F. Krause officiated at the double ring ceremony.
The bride was attired in a beautiful gown of white silk with an off the shoulder neckline edged with two ruffles and a yoke of silk lace. The sleeves were fitted and extended in points over, her wrists, her full length veil was held in place with a tiara of seed pearls. Her only ornament was a strand of pearls, and she carried a bouquet of pink roses and white carnations.
Miss Elsie Merklein, niece of the bride served as maid of honor, she wore a gown of blue chiffon, and taffeta with a sweetheart necklace, her corsage was of pink carnations.
The groom was handsome in a brown suit, and was attended by his brother James, who wore a blue suit. Both wore white carnations boutonnieres.
Immediately following the ceremony a reception was held at the bride's home. The table held a three-tiered wedding cake and blue tapers in crystal holders.
The young couple are at home on the Jackson farm.

Phillips County Review
December 12, 1946


Margaret Katharine (Merklein) Jackson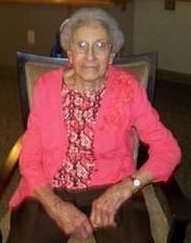 Margaret Katharine (Merklein) Jackson was born October 11, 1920 to Charles F. and Margaret (Miller) Merklein and passed away March 23, 2014 at the age of 93.
She became a child of God in Holy Baptism on November 9, 1920 at Emmanuel Lutheran Church in Stuttgart, Kansas. On June 24, 1934 she reaffirmed her faith at her confirmation at Emmanuel. She attended Highland Rural Grade School and grew to adulthood on the farm west of Phillipsburg
On November 27, 1946, Margaret married Harold Jackson at Emmanuel Lutheran Church. To this union one son, Allan, was born.
Margaret was a life-long member of Emmanuel Lutheran Church and enjoyed going to the quilting days for sewing and fellowship as long as her health allowed. She enjoyed life on the farm southwest of Phillipsburg, working hard to provide her family with all they needed. Her most precious memories were made when her two granddaughters stayed with Grandma and Grandpa at the farm when they were younger. Special times remembered by Tina and Staci included taking full course meals to the harvest field; long walks to the mailbox, through the pasture or to Wilma's house; making sock monkeys, building blanket forts in the living room and just making life fun in general. Margaret loved to grow vegetables and flowers, raise chickens, sewing and crocheting and she baked the best apple pie and angel food cake in the country. She also had a special gift of playing the piano by ear and shared this talent for others to enjoy her music for many years.
After Harold suffered a stroke, she moved to Phillipsburg to be closer to family and lived there until her health required her to move to the retirement home.
Preceding her in death were her husband, Harold; her parents; her sisters – Anna Dahlke, Alwina Kellerman, Thelma Wagner, Lillie Meyer, Selma Zillinger; her brothers – Edward, John, George and Carl.
Survivors include her son, Allan, and wife, Mary; granddaughters – Tina and husband, Josh McMannis, and Staci and husband, Ryan Manning; great-grandchildren – Reilly, Robyn and Ryann Manning and Lane and Faith McMannis; brother-in-law – James Jackson and wife, Wilma; and many nieces, nephews and friends.
Funeral services will be held Friday, March 28, at 2:00 p.m. in the Emmanuel Evangelical'
][ Lutheran Church, Stuttgart, with Pastor Lorna Paulus officiating. Burial will follow in the Fairview Cemetery, Phillipsburg.
Visitation will be Wednesday and Thursday from 9 a.m. – 9 p.m. at the Olliff-Boeve Memorial Chapel, Phillipsburg, with the family greeting friends Thursday evening from 7 – 8 p.m.
Memorial contributions may be given to the Emmanuel Evangelical Lutheran Church or the Phillips County Retirement Center

Hays Post
March 25, 2014


Husband - Harold F. Jackson
Born - August 26, 1917
Logan, Phillips County, Kansas

Sergeant United States Army World War II
Died - January 7, 2002
Phillipsburg, Phillips County, Kansas
Buried - Fairview Cemetery
Phillipsburg, Phillips County, Kansas
Father - George F. Jackson
Born - May 17, 1885 Phillips County, Kansas
Died - June 1978
Buried - Pleasant Valley Cemetery
Logan, Phillips County, Kansas
Mother - Mary Marie (Dill) Jackson
Born -1888 - Germany
Died -1967 - Kansas
Buried - Pleasant Valley Cemetery
Logan, Phillips County, Kansas

Son - Allan Lynn Jackson
Born -October 21,1948
Phillips County, Kansas
Married - July 14, 1972
Wife - Mary Elaine (Kipp) Jackson
Born - December 17, 1953
Daughter - Tina Janell (Jackson) McMannis
Born - March 8, 1975
Daughter - Staci Lynn (Jackson) Manning
Born - July 13, 1979

Brother - Edward Michael Heinrich Merklein
Born - December 24, 1897
Brother -John W. Merklein
Born - November 23, 1900
Brother - George L. Merklein
Born - 1902
Sister - Anna M. (Merklein) Dahlke
Born - February 26,1904
Sister - Alwinia M. (Merklein) Kellerman
Born - August 2, 1906
Sister - Lillian B. (Merklein) Meyer
Born - April 4, 1909
Brother - Carl M. Merklein
Born - March 9,1912
Sister - Thelma C. (Merklein) Wagner
Born -1915
Sister - Selma J. (Merklein) Zillinger
Born - September 24, 1917

Father - Charles Fred Michael Merklein
Mother - Marie Margaret (Mueller) Merklein


Family Indexes
Home Fink Kaiser Eltiste Rohrs
Eltiste Photos Kaiser Photos Rohr Photos Fink Photos
Last Up-Date 04/08/2014 03:11:31 PM