Eltiste-Kaiser Web Site
---
Fink Family
Lillian Anna (Merklein) Meyer
Born - April 4, 1909
Stuttgart, Phillips County, Kansas
Married - October 10, 1934
Emmanuel Evangelical Lutheran Church
Stuttgart, Phillips County, Kansas
Died - Tuesday, April 27, 2004
Phillips County Retirement Center
Phillipsburg, Phillips County, Kansas
Buried - Monday, May 3, 2004
Zion Lutheran Cemetery,
Belmont Township, Phillips County, Kansas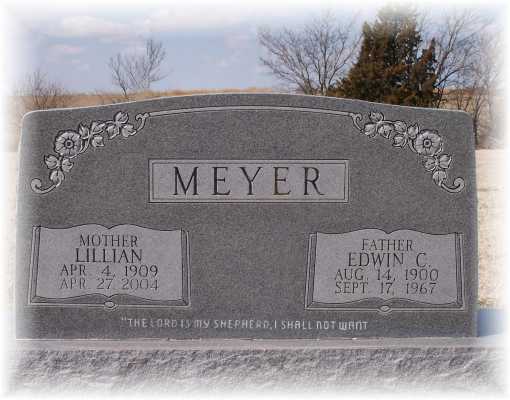 Lillian Anna Meyer
PHILLIPSBURG - Lillian Anna Meyer, 95, died Tuesday, April 27, 2004, at Phillips County Retirement Center.
She was born April 4, 1909, in Phillips County to Charles and Margaret (Miller) Merklein.
She married Edwin C. Meyer on October 10, 1934, in Stuttgart. He died September 17, 1967. She was a homemaker.
Survivors include a son, Ronald Meyer, Chapman; a sister, Margaret Jackson, Phillipsburg; four grandchildren; and a great-grandchild.
Services will be at 10:30 a.m. Monday at Zion Lutheran Church; burial in Zion Lutheran Cemetery, Phillips County.
Visitation will be from 9 a.m. to 9 p.m. Saturday and Sunday at Olliff-Boeve Memorial Chapel, Phillipsburg.
Memorials are suggested to Zion Lutheran Church or Phillips County Retirement Center.

The Hays Daily News
Saturday
May 1, 2004

Husband - Edwin C. Meyer
Born - August 14, 1900
Died - September 17, 1967
Phillipsburg, Phillips County, Kansas
Buried - Zion Lutheran Cemetery,
Belmont Township, Phillips County, Kansas

Son - Ronald Meyer

Brother - Edward Michael Heinrich Merklein
Born - December 24, 1897
Brother - John W. Merklein
Born - November 23, 1900
Brother - George L. Merklein
Born - 1901
Sister - Anna M. (Merklein) Dahlke
Born - February 26,1904
Sister - Alwinia M. (Merklein) Kellerman
Born - August 2, 1906
Brother - Carl M. Merklein
Born - March 9,1912
Sister - Thelma C. (Merklein) Wagner
Born - 1915
Sister - Selma J. (Merklein) Zillinger
Born - September 24,1917
Sister - Margaret Katharina (Merklein) Jackson
Born - October 11,1920

Father - Charles Fred Michael Merklein
Mother - Marie Margaret (Mueller) Merklein


Family Indexes
Home Fink Kaiser Eltiste Rohrs
Eltiste Photos Kaiser Photos Rohr Photos Fink Photos
Last Up-Date 04/11/2008 10:37:10 PM