Eltiste-Kaiser Web Site
---
Kaiser Family
John Henry Kaiser
Born- April 29, 1942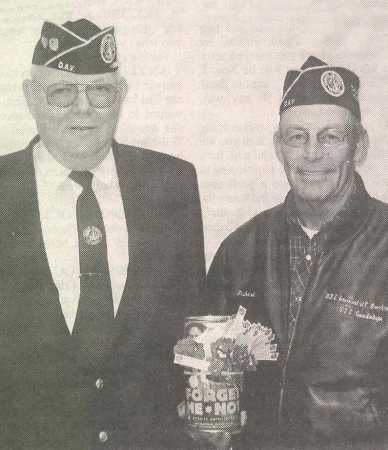 Campaign Begins
Holdrege Chapter 15 of the Disabled American Veterans is raising Money over the next two weeks through the annual "Forget Me Not" Campaign Pictured here, at the left, John Kaiser, and Richard Miller, Commander. Canisters are locate at Phelps County Banks, including First National, FirsTier, TierOne, Lincoln Federal Savings, and Home Federal Savings in Holdrege, First State Bank Bank of Loomis and the Bank of Bertrand. Money goes to help provide vans to assist in veterans' medical treatment.

Wife - Ursula (Kulle) Kaiser
Born - March 6, 1939
Ober-Morlen, Germany
Died - Thursday, May 4, 1989
Mary Lanning Hospital,
Hastings, Adams County, Nebraska
Buried - Saturday, May 6,1989
Long Island Cemetery, Long Island, Kansas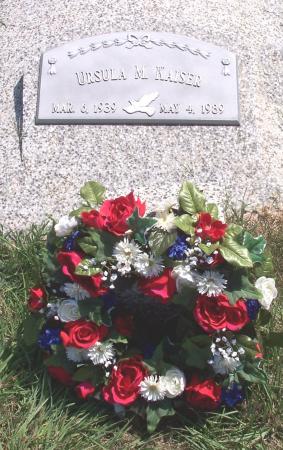 Ursula M. Kaiser

Ursula Marie Martha Kaiser, the daughter of Heinrich and Annelesi Bruckner Kulle, was born on March 6, 1939, in Ober-Morlen, Germany, and passed away on May 4, 1989, at Mary Lanning Hospital in Hastings, Nebraska at the age of 50 years, two months and one day.
Ursula was educated in West Germany and was later employed by the United States Army and the EES System. In 1962, she immigrated to the United States. On September 28, 1968, she was united in marriage to John Kaiser and they made their home in Lawton, Oklahoma, and in 1981 they moved to Long Island, Kansas. Since August of 1988, they have resided in Orleans, Nebraska. She was employed at the Andbe Home in Norton, Kansas, as a dietician.
Besides her husband John of Orleans, she leaves to mourn her passing one son, Robert James, of Orleans, one sister, Karin Erdmann of West Germany; and her mother and father in-law, Mr. and Mrs. Arnold Kaiser of Long Island, Kansas.
She was preceded in death by her parents.
Graveside services were conducted at the Long Island Cemetery, Long Island, Kansas, on Saturday, May 6, at 9:00 a.m., with Rev. Robert Carlson of the Trinity Lutheran Church, Stamford, officiating.
A memorial fund has been established.
Mitchell Funeral Home of Orleans had charge of arrangements.

Harlan County Journal
Thursday
May 11, 1989

Son - Robert James Kaiser

Brother - David Paul Kaiser
Born- August 18, 1934
Wife - Lois (Corke) Kaiser
Brother - Franklin Eugene Kaiser
Born- February 25, 1939
Wife - Pauline (Smith) Kaiser
Sister - Alta Marie (Kaiser) Rhoades Morris
Born - August 26, 1943

Father - Arnold Heinrich Kaiser
Mother - Anna Georgia (Colby) Kaiser


Family Indexes
Home Kaiser Eltiste Fink Rohrs
Eltiste Photos Kaiser Photos Rohr Photos Fink Photos
Last Up-Date 05/08/2012 12:38:05 AM