Eltiste-Kaiser Web Site
---
Kaiser Family
Arnold Heinrich Kaiser
Born - November 3, 1905 - Family Farm Home
Stuttgart, Phillips County, Kansas
Baptized - 1905
Stuttgart, Phillips County, Kansas
Married - February 21, 1931
Stuttgart, Phillips County, Kansas
Died - September 9, 2000
Phillips County Retirement Center
Phillipsburg, Phillips County, Kansas


Arnold H. Kaiser
LONG ISLAND
Arnold H. Kaiser, 94, Long Island, died Saturday, September 9, 2000, at Phillips County Retirement Center, Phillipsburg.
Mr. Kaiser was born Nov. 3, 1905, at rural Phillips County and was a longtime resident of Long Island. He was a farmer.
Survivors include his wife, Anna G. of Long Island; three sons, David Paul of Hartford, S.D., Franklin Eugene of Long Island and John Henry of Holdrege, Nebraska; a daughter, Alta Marie Rhoades of Hoyt; a sister, Irene Zillinger of Phillipsburg; 10 grandchildren; and 20 great-grandchildren.
The funeral will be at 2 P.M. Monday at Long Island United Methodist Church, the Rev. Rich Zimmerman officiating. Burial will be in Long Island Cemetery.
Memorials may be made to Long Island Cemetery Association.
Visitation will be from 9 a.m. to 9 p.m. today at Olliff-Boeve Memorial Chapel, 1115 Second, Phillipsburg 67661.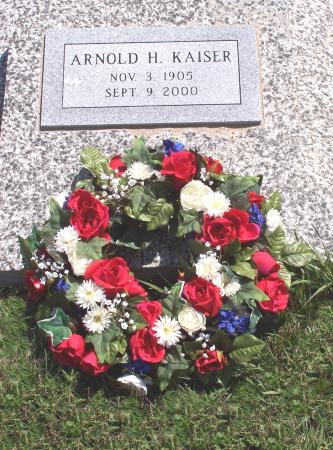 Wife - Anna Georgia (Colby) Kaiser
Born - February 19, 1910
Family Farm Home - North West of Long Island
Phillips County, Kansas
Died - July 1, 2005

Son - David Paul Kaiser
Born - August 18, 1934
Son - Franklin Eugene Kaiser
Born - February 25, 1939
Wife - Pauline (Smith) Kaiser
Son - John Henry Kaiser
Born - April 29, 1942
Daughter - Alta Marie (Kaiser) Rhoades Morris
Born - August 26, 1943

Sister - Rosa Margaretha Christine (Kaiser) Hopson
Born - June 17, 1908
Sister - Leona Katharina Sophia (Kaiser) Gerdes
Leona Gerdes
Born - July 12, 1910
Brother - Richard August Johann Kaiser
Born - November 3, 1912
Brother - August Georg Kaiser
Born - February 25, 1915
Sister - Irene Margarethe Alwinie (Kaiser) Zillinger
Born -October 12, 1917

Father - Christian Adam Kaiser
Mother - Emma (Woerlen) Kaiser



Family Indexes
Home Kaiser Eltiste Fink Rohrs
Eltiste Photos Kaiser Photos Rohr Photos Fink Photos
Last Up-Date 03/31/2011 08:33:34 AM