Eltiste-Kaiser Web Site
---
Rohrs Family
Helen Belinda (Miner) Hawkins
Born - April 22,1888
Stella, Richardson County, Nebraska
Married - March 7, 1911
Falls City, Richardson County, Nebraska
Died - Saturday, September 15, 1934
Lincoln, Lancaster County, Nebraska
Buried - Tuesday, September 18, 1934
Sheridan Cemetery
Section -8 Lot -815 Row-15
Auburn, Nemaha County, Nebraska


Untimely Death of Good Woman
Mrs. Ralph Hawkins Has Been Called

Death of Well Known and Respected Woman Occurred at Lincoln and Brought Sorrow to Hearts of Many Friends
Funeral Held Tuesday

The passing of Mrs. Ralph Hawkins which occurred in Lincoln Saturday, September 15, brought a sense of personal sorrow to friends throughout this community and inspired expressions of sincere sympathy for her husband and children and other relatives. She was one who possessed the fine qualities of true womanhood and motherhood and who found her chief interests in the home life. Nevertheless she found time and opportunity to help those by whom help was needed and she was kindly and sympathetic and because of these traits she had won a place in the hearts of all who knew her and by whom tender memories of her helpful influence
will long be cherished.
Helen Belinda Miner was born at Stella April 22, 1888 and had reached the age of 46 years, 4 months and 23 days. She lived at Stella until she was twelve years of age and then came to Auburn where the remainder
of her life was spent.
She was married to Ralph T. Hawkins March 7, 1911 at Falls City and two children were born to them: Mrs. Ouida E. Bassinger and Vivian M. Hawkins.
At the age of fourteen Mrs. Hawkins united with the Presbyterian church in Auburn and 1920 transferred her membership to the First Methodist church of which she remained a faithful member until death.
She leaves to mourn her departure her husband, Ralph T. Hawkins; two daughters, Mrs. Ouida Bassinger of Des Moines, Iowa, and Miss Vivian M. Hawkins of Auburn. She is also survived by one grandchild, Dean Bassinger, her father and mother, Mr. and Mrs. H. L. Miner of Auburn; two sisters, Mrs. Perle Rohrs of Peru and Mrs. Carrie Davidson of Palmer; three brothers-in-law, Williard H. Miner and Harry W. Miner who live in California and Bert G. Hall of Garret, Kansas.
Funeral services were held from the First Methodist church Tuesday afternoon conducted by Rev. W. N. Wallis of Pawnee City, assisted by Rev. O. U. McProud. There was a very large attendance of friends and neighbors and many beautiful floral tributes. A quartet composed of Mrs. O. U. McProud, Mrs. John Gergens, Frank Wells and R.R. Blankenship sang appropriate songs, with Carl Hohensee at the piano. Pallbearers were W. A. Wolfe, Dr. L. L. Eells, A. R. Rogers, Ernest Seid, Charles F. Humphrey and J. R. Clark. Following he services the interment was made in Sheridan Cemetery.
Out of town relatives who came to attend the funeral were Mrs. Carrie Davidson and son, Carl, Palmer; Mrs. Perle Rohrs and family, Peru; Mr. and Mrs. Frank C. Grant, and Mrs. Derald Hill, Lincoln; Mr. and Mrs. Emory Dye and Misses Blanche and Jessie Dye, Omaha; Mrs. Martha Palmer, Stella; Mr. and Mrs. Everett Bassinger and Everett Dean, Des Moines, Iowa, and Mr. and Mrs. Charles Dye, Nemaha.

Nemaha County Herald
September 20, 1934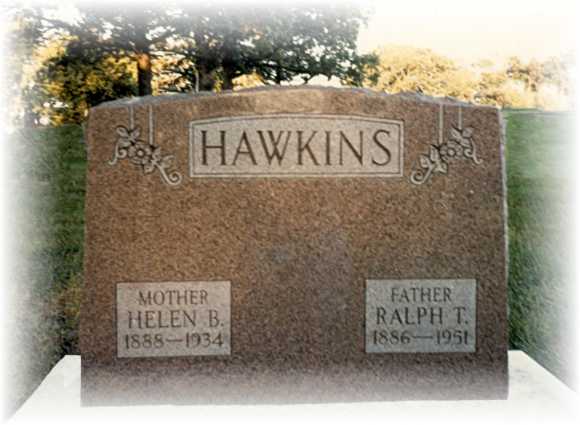 Husband - Ralph Tremlett Hawkins
Born - March 16, 1886
David City, Butler County, Nebraska
Died - Sunday, January 11,1951
Auburn, Nemaha County, Nebraska
Buried - Wednesday, January 14,1951
Sheridan Cemetery
Section-8 Lot-815 Row-15
Auburn, Nemaha County, Nebraska
Father - John Hawkins
Born - June 1860 - England ~ Died -1932
Mother - Elizabeth "Bessie" Hawkins
Born - October 1860 -England ~ Died -1930

Ralph T. Hawkins
Died At His Home
Early Sunday A.M.

Funeral Services were Held Wednesday
He had been at his duties as City Water Commissioner On Saturday; He Had served the City of Auburn for Nearly 30 Years; He was a Community Builder

One of the city's most valuable citizens. Ralph T. Hawkins, 64, passed away at his home in this city early Sunday morning, following a severe illness
of but of short duration.
While Mr. Hawkins, had not been in the best of health for several months, the gravity of his condition was not generally known, even to the immediate members of his family.
The day prior to his passing he had conducted the duties of his office of city water commissioner, and was making plans for the next week's activities, indicative of his continued search into the future of the city's welfare.
Ralph T. Hawkins was born March 16, 1886 at David City. When he was but two years of age his family moved to Peru, and a few years later they moved to Auburn, which has since been his home.
On March 7, 1911, Mr. Hawkins was united in marriage to Helen B. Miner. There were two children born to this union. Ouida, Mrs. Everett Bassinger, Auburn, and Vivian, Mrs. George Kuhl, Biloxi, Mississippi.
Mrs. Hawkins preceded him in death by 16 years. Since that time, Mr. Hawkins has made his home with his eldest daughter, Mrs. Everett Bassinger of this city.
Early in life Ralph Hawkins learned the lessons of industry. It was while he was a lad in his teens that he started to work for the Auburn Canning Company. His industry and desire to advance, soon was recognized and he became superintendent of the canning firm, as well as a stockholder in the organization, where he worked, ceaselessly until the dissolution of the canning company many years ago.
Following his severance of association with the canning firm, he became an employee of William Cooper, former water and light commissioner of the city. In 1922 Mr. Hawkins ability was recognized and he was appointed water and light commissioner of the city of Auburn, a position he occupied at the time of his passing.
It was during these nearly 30 years of service to the city and his fellow men, that he became known, to probably more residents of this city
than anyone other citizen.
It was not only through his office that he became so well known, but his interest in the problems of his fellow man were uppermost in his thinking, and he became known as one of Auburn's most useful citizens.
Ralph Hawkins was always active in the civic affairs of Auburn. He was a member of the Chamber of Commerce for years, and served on all of its important committee assignments. He was apparently never to tired nor too busy to lend a helping hand in a community project, nor was he found lacking when it came his lot to give of his services. His reward was ample, if he had lessened the burden of someone, or given a boost to some less fortunate individual. The good will of friends was all he asked.
During his many years as a servant of the city of Auburn, Ralph took an active interest in the fire department, where he was served as foreman for the past 25 years. He was selected as foreman of the Auburn Hose Company, a position he held for many years. He became assistant chief, and later chief.
In 1943 he became second vice-president of the Nebraska State Volunteer Firemen's Association. In 1944 he was elected to the first vice-presidency, which he held for two years. In 1946 he was elected to the presidency of the State Volunteer Firemen's Association. He has served on many of the state organization's most important committees and his valuable experience through the years has been widely recognized, and frequently used. He was secretary-treasurer of the Southeast Nebraska Volunteer Firemen's Association. He was a member of the Sheridan Cemetery Association.
His lodge affiliation was that of the IOOF, where he was awarded many offices of prominence.
Mr. Hawkins is survived by this wife, two daughters, a sister, Mrs. Logan Irvin, Auburn, several grandchildren, and numerous other relatives and a great host of friends.
Funeral services were held Wednesday at the Methodist church
at 2:30 p. m. with Rev. Arthur Swanson, pastor of the church and Rev. Eric Asboe, Nebraska City, assisting. Mrs. Esther Wells was soloist, and Mrs. Mary Sanford, accompanist.
Pallbearers were: Luther Hutton, E. R. Brock, H. N. Howe, T. W. Goit, Fred Maclay, Harry Bunge. Those in charge of the flowers; Mrs. Ivan Erisman and Mrs. Wesley Palmer.
Interment was made in Sheridan cemetery with May and Timm funeral home in charge.

Nemaha County Herald
January 18, 1951


Daughter - Ouida Evelyn (Hawkins) Bassinger
Born - June 25, 1911
Auburn, Nemaha County, Nebraska
Died - August 11, 1994
Albany, Linn County, Oregon
Husband - Everett Dean Bassinger
Born - May 1, 1905 - Iowa
Died - January 27, 1966 - Linn County, Oregon
Parents - Charles E. & Estella M. Bassinger
Daughter - Vivian M. (Hawkins) Kuhl
Born - December 11, 1912
Auburn, Nemaha County, Nebraska

Brother - Willard Henry Miner
Born - December 27, 1879
Whitewater, Walworth County, Wisconsin
Sister - Pearl Mary (Miner) Rohrs
Born - July 1, 1883
Whitewater, Walworth County, Wisconsin
Brother - Harry R. Miner
Born - June 20, 1885
Stella, Richardson County, Nebraska

Father - Henry L. Miner
Mother - Ellen (Grant) Miner

Family Indexes
Home Rohrs Eltiste Kaiser Fink
Family Thumbnail Photo Gallery Index
Last Up-Date 01/01/2009 03:12:38 AM