Eltiste-Kaiser Web Site
---
Rohrs Family
Paul Curlyn Miner
Born - Sunday, November 26, 1911
Auburn, Nemaha County, Nebraska
Died - Monday, April 15, 1940
Cheyenne, Laramie County, Wyoming
Buried - Thursday, April 18, 1940 - Lakeview Cemetery
Cheyenne, Laramie County, Wyoming

Services for Paul Miner
to Be Thursday

Funeral services for Paul Miner 28, clerk in the Cheyenne police department who died at 10 p.m. Monday at Memorial hospital will be held
at 2:00 p.m. Thursday at the Worland mortuary chapel and
will be conducted by the Rev. R. T. Caldwell.
Interment will be in the Lakeview cemetery.
Pallbearers have not been selected.
Miner, who died of spinal meningitis, was stricken at work Saturday afternoon and was taken to the hospital at that time.
Miner was born in Auburn, Nebraska, on November 24, 1913, and
moved to Cheyenne with his mother when he was eight years old.
He attended the Cheyenne schools, but returned to Auburn to finish
his high school education. He had been employed in the police department since the first of this year. Before that time he worked for the
A. H. Reed Contacting company and at other jobs in Cheyenne.
Three years ago he was employed for a time in Livingston, Montana.
He was a member of the Presbyterian church and of the the Elks Lodge, having transferred his membership from the Livingston lodge.
He was also a member of the Young Democrats organization here.
He is survived by his mother, Mrs. Joe Kurteki of Cheyenne,
four brothers, Marvin and Don of Cheyenne:
Harold of Oakland, California, and Fred of Los Angeles, California;
three sisters, Mrs. Robert Walden of Oakland, California; Mrs. Hollis Holcomb of Norfolk, West Virginia, and Mrs. A. B. Staley of Great Falls, Montana, and a niece, Betty Kay Miner of Cheyenne.
The funeral services will be attended by all of Miner's brothers and sisters.

Wyoming State Tribune
Tuesday
Cheyenne, April 16, 1940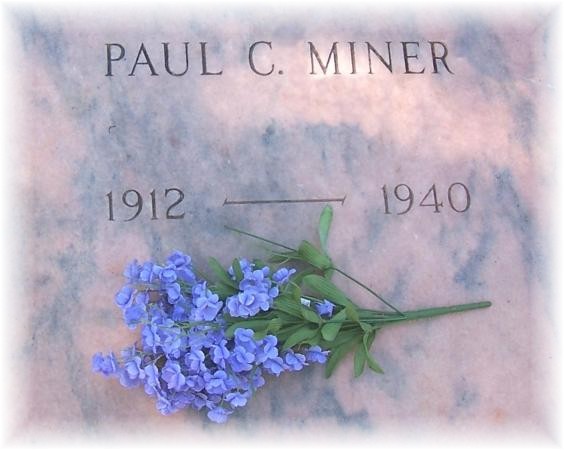 Wife - Nellie Lucille (Cannon) Miner
Born - October 16, 1916
Mount Pleasant, Sanpete County, Utah
Father - Mark Leroy Cannon
Born - 1894 - Wisconsin
Mother - Florence Fay (Young) Cannon
Born - 1901 - Utah
Parents Married 1915

Son - Richard Paul Miner
Born - March 4, 1933
Daughter - Carolyn Faye (Miner) Hoppe
Born - September 28, 1935

Sister - Mary Marguerite Miner
Born - July 15, 1902
Brother - Harold Willard Miner
Born - December 17, 1903
Brother - Frederick Rohrs Miner
Born -October 9, 1907
Sister - Dorothy Pearl (Miner) Chapman
Born - November 14, 1909

Brother - Marvin Clayton Miner
Born - August 22, 1913
Sister - Hollis Grant (Miner) Ohm
Born - May 11, 1915

Brother - Ross Henry Miner
Born - June16, 1916

Brother - Donald Earl Miner
Born - July 20, 1920

Father - Willard Henry Miner

Mother - Ida Pearl (Rohrs) Miner

Family Indexes
Home Rohrs Eltiste Kaiser Fink
Family Thumbnail Photo Gallery Index
Last Up-Date 01/15/2012 09:41:51 AM