Eltiste-Kaiser Web Site
---
Rohrs Family
Ross Henry Miner
Born - June 16, 1916
Never Married
Died - August 8, 1935
Rawlins, Carbon County, Wyoming
Buried - Lakeview Cemetery, Cheyenne, Wyoming
Lot 1956

REPUBLICAN - BULLETIN
Country Edition - Rawlins, Wyoming
August 28, 1935

Coroner Attempts to Identify Man

Coroner M. B. Pickett is attempting to identify a young man who fell beneath the wheels of a freight train in the east yards about 4 o'clock this morning and was killed. Chris Carlson and one of the Salvation Army officials heard the man scream as he fell, but when they reached him the truck of the train had crushed his chest.
There was not a mark of identification upon his person except two dry cleaner's tags; one on his tie reading G108, and one on his trousers M90. The man was five feet 10 inches tall; weighed 185 pounds; has blue eyes and light straight hair. He was apparently about 34 years old.
The reporter is having finger prints and photo's made to aid in identification.

REPUBLICAN - BULLETIN
Rawlins, Wyoming
Friday, August 30, 1935
Accident Victim Cheyenne Youth

The body of the youth who fell from a train in the railroad yards here Wednesday morning was identified yesterday by friends as Ross Miner, 18 years old, of Cheyenne. His brother accompanied a representative of the Worland Mortuary of Cheyenne here to return his body to Cheyenne this morning.
The young man left his home Tuesday and his family was not aware of his intention of taking a trip. Local residents who viewed the body at the H. Rasmussen Funeral parlors were able to give the young man's name and Coroner M. E. Pickett immediately contacted the family, telling of the fatal accident. Miner's mother is proprietor of the Stand Hotel in Cheyenne.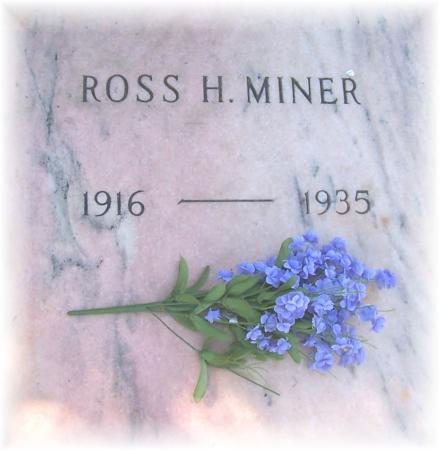 Sister - Mary Marguerite Miner
Born - July 15, 1902
Brother - Harold Willard Miner
Born - December 17, 1903
Brother - Frederick Rohrs Miner
Born - October 9, 1907
Sister - Dorothy Pearl (Miner) Chapman
Born - November 14, 1909

Brother - Paul Curlyn Miner
Born - November 26, 1911


Brother - Marvin Clayton Miner
Born - August 22, 1913
Sister - Hollis Grant (Miner) Ohm
Born - May 11, 1915

Brother - Donald Earl Miner
Born - July 20, 1920

Father - Willard Henry Miner

Mother - Ida Pearl (Rohrs) Miner

Family Indexes
Home Rohrs Eltiste Kaiser Fink
Family Thumbnail Photo Gallery Index
Last Up-Date 09/23/2008 06:14:36 AM