Eltiste-Kaiser Web Site
---
Torbeck Family
Alice Geneva (Torbeck) Rippe
Born - January 21, 1922
Married - April 20, 1948
Saint John's Lutheran Church
Nemaha County, Nebraska
Died - December 11, 2003
Buried - Saturday, December 13, 2003
Martin Luther Cemetery
(Friedhof Cemetery)
Nemaha County, Nebraska
Aged - 81 Years, 10 Months and 20 Days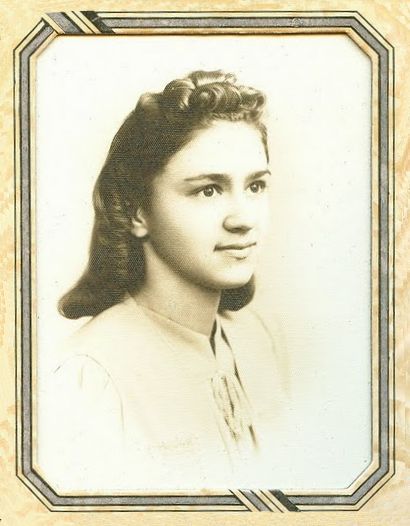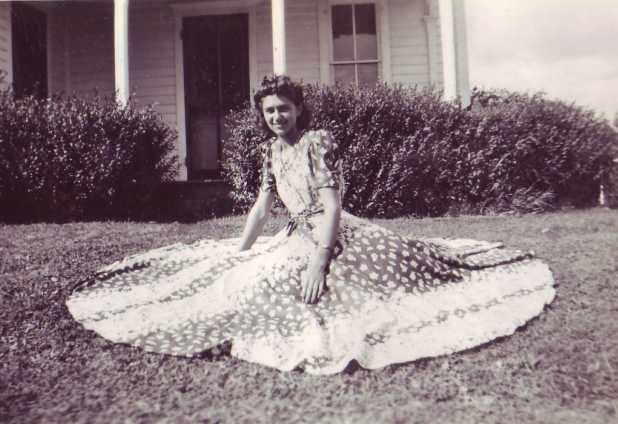 August 1942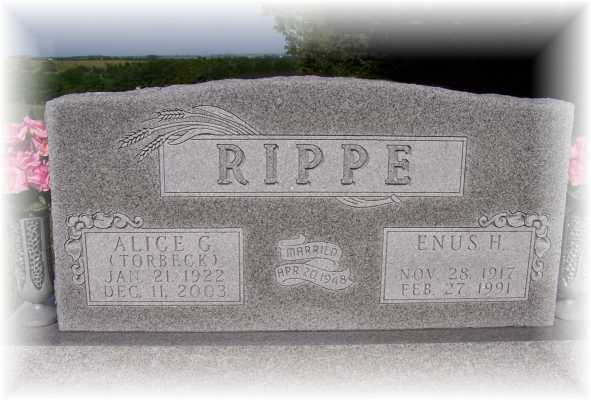 Obituary
Alice Geneva (Torbeck) Rippe

Alice Geneva (Torbeck) Rippe was born on a farm northwest of the Stone Church to Fred Wilhelm (Fred) Torbeck and Kathrena (Nordbrock) Torbeck.

on January 21, 1922. Reverend Gustav Duhrkop baptized her at the Stone Church on March 2, 1922. Alice attended District 42 and Johnson Public Schools. She grew to young womanhood in the Stone Church neighborhood, where she was confirmed on April 5, 1936 by Reverend G.K. Wiencke and became a member of the church.

After the death of her mother in 1945 Alice continued to live with her older sister Eveline and her father on the family farm. She was active in the church, teaching Sunday school for many years and as a member of the Luther League and a musical quartet.

Alice met Enus H. Rippe, and Reverend Wiencke married them on April 20, 1948 at Stone Church. The couple moved to a farm north and west of Martin Luther Church. To this union three children were born: LaVonda, Doyle, and Randall.

Alice and Enus raised turkeys on the farm for many years. Alice transferred her church membership to Martin Luther Church and was still a member there. She was active with the Ladies Aid of the church and grew many flowers to dress the altar for Sunday services.

In 1969 Alice was stricken with M.S. (Lateral Sclerosis). She sought help from many doctors over the years. In 1976 she bowed to the wheelchair and was taken care of by her husband until his death in February 1991. It was then she entered the Nemaha County Good Samaritan Center in Auburn and had been a resident there since that time. All the staff and residents at the home dearly loved Alice. She took time to enjoy at the extra activities the staff provided.

Alice's health declined for the last year or so, and it was at the Good Samaritan Center that she passed away on Thursday, Dec. 11, 2003 at the age of 81 years, 10 months and 20 days. Her parents, husband, sister Eveline Kaiser, and grandson Brent Bando preceded her in death.

Those left to mourn are her three children LaVonda and husband Larry Bando of Nebraska City, Doyle and wife Patricia of Brock, and Randall and wife Becky of Johnson; nine grandchildren Brian, Laura, Kevin, Melissa, and Shellene Bando, Kate and Kimberly Rippe; Kyle and Rachel Rippe: one great-grandchild Broc Bando; sisters Ora Eltiste of Johnson and Opal Eltiste of Tecumseh; brothers-in-law Wilbert and wife Lucille Rippe of Elk Creek; Delynn and Phyllis Rippe of Johnson; sisters-in-law Edus Rippe of Auburn, Iva and husband Larry Bohlken of Auburn; nieces, nephews, other relatives, and a host of friends.

Funeral services held Saturday, December 13, 2003 at Martin Luther Lutheran Church, officiated by Pastor Amy Krejcarek. Joan Bohling was organist for hymns by the church choir and the congregation. Pallbearers were Brian Bando, Kevin Bando, Kyle Rippe, Kiel Eltiste, Alan Rippe, Hal Eltiste, Wayne Eltiste and Loyal Rippe. Laura Bando, Melissa Bando, Shellene Bando, Kate Rippe, Kimberly Rippe, and Rachel Rippe assisted with flowers. Burial followed in the church cemetery.



Husband - Enus Henry Rippe
Born - November 28, 1917
Died - February 27, 1991
Buried - Martin Luther Cemetery
(Friedhof Cemetery)
Nemaha County, Nebraska

Daughter - Lavonda Kay (Rippe) Bando
Born - May 18, 1949
Husband - Larry Bando
Son - Doyle Enus Rippe
Born - May 13, 1952
Wife -Patricia (Huls) Rippe
Son - Randall Orin Rippe
Born - December 23, 1955
Wife - Becky (Alberts) Rippe


Sister - Eveline Hilka Christena (Torbeck) Kaiser
Born - September 21, 1912

Sister - Ora Zerline (Torbeck) Eltiste
Born - October 25, 1918

Sister - Opal Delores (Torbeck) Eltiste
Born - December 12, 1923


Father - Fred W. Torbeck
Mother - Kathrena (Nordbrock) Torbeck


Family Indexes
Home Eltiste Kaiser Fink Rohrs
Thumbnail Family Photo Gallery Index
Last Up-Date 10/22/2014 05:09:38 PM