Eltiste-Kaiser Web Site
---
Eltiste Family

Leonard Paul Eltiste
Born - Tuesday, March 28, 1916
Overton, Dawson County, Nebraska
Never Married
Died - Sunday, July 22, 1979
His Home, Dawson County, Nebraska
Buried - Wednesday, July 25, 1979
Sumner Cemetery
Sumner, Dawson County, Nebraska
Section-3 Row-2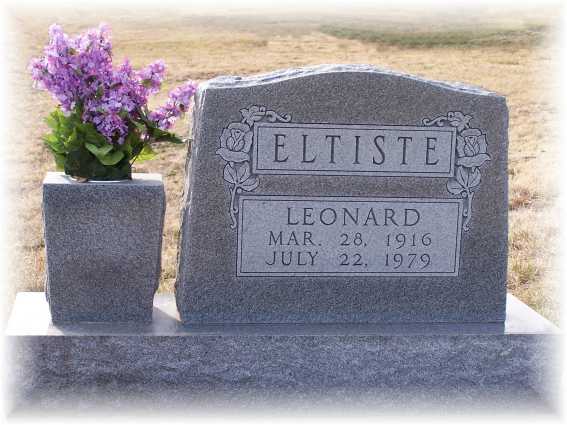 Leonard Eltiste
Dies At Overton
Leonard P. Eltiste, 63, died unexpectedly at a farm north of Overton Sunday, July 22.
Services were held Wednesday afternoon at the Sumner Baptist Church with the Rev. John Hooge officiating.
Interment was in the Sumner Cemetery.
Pallbearers were Alva Johnson, Francis Barta, Nile Lavery, Addison Winters, Corbert Wolfe and David Warner.
He was born on a farm north of Overton on March 28, 1916 to Paul and Edna Eltiste. He spent most of his life ranching and farming.
Survivors include two brothers, Vernon of Overton and Dale of Tecumseh; stepmother, Anna Eltiste, Sumner. He was preceded in death by his parents, a brother and a sister.
Dawson County Herald July 30, 1979



Brother - Vernon Herman Eltiste


Sister - Mary Barbara Eltiste


Brother - Willis Dale Eltiste


Brother - Gordon Bruce Eltiste


Father - George Heinrich Paul Eltiste


Mother - Edna Barbara (Rohrs) Eltiste



Family Indexes
Home Eltiste Kaiser Rohrs Fink
Dale & Vernon Eltiste Family Photos
Eltiste Photos Kaiser Photos Rohr Photos Fink Photos
Last Up-Date 11/03/2010 07:06:13 AM