Eltiste-Kaiser Web Site
---
Eltiste Family
Born - Friday, March 28, 1919
Near Johnson, Nemaha County, Nebraska
Never Married
Died - Sunday, December 23, 1945
Brewster Clinic
Lexington, Dawson County, Nebraska
Buried - Sumner Cemetery
Sumner, Dawson County, Nebraska
Section-3 Row-6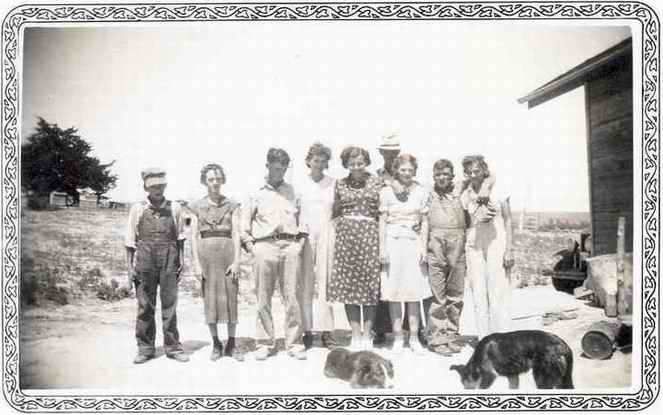 Gordon Eltiste, Mary Eltiste, Vernon Eltiste, Sophie Hazen, Alma Eltiste,
Paul Kaiser, Bernice Vollmer, Leonard Eltiste & Wilma Sterrett

Mary Barbara Eltiste

Mary Barbara Eltiste, daughter of Paul and Edna Eltiste
was born at Auburn, Nebraska on March 28, 1919; and passed away at the Brewster Clinic at Lexington, Nebraska on Dec. 23, 1945, at the age of 26 years, 8 months and 25 days.

At the age of 8 years, she came with her parents to Dawson County. Nebraska, where she lived until her death. She attended grade school and Overton High School, until she was forced to discontinue because of ill health.

Because of ill health, her circle of acquaintances was limited. However, she was a devoted daughter and sister.

She was preceded in death by her mother, who passed away December 24, 1931. She leaves to mourn her father, Paul Eltiste, and her brothers, Vernon, Leonard and Gordon of Overton and Dale of Tecumseh, and other relatives.




Brother - Vernon Herman Eltiste


Brother - Leonard Paul Eltiste


Brother - Willis Dale Eltiste


Brother - Gordon Bruce Eltiste



Father - George Heinrich Paul Eltiste


Mother - Edna Barbara (Rohrs) Eltiste



Family Indexes
Home Eltiste Kaiser Rohrs Fink
Eltiste Photos Kaiser Photos Rohr Photos Fink Photos
Last Up-Date 05/18/2008 06:59:49 PM