Eltiste-Kaiser Web Site
---
Eltiste Family
Ruby R. (Wingert) Todd Pryce
(Adopted) Great - Niece of Arthur Wingert
Born - Wednesday, July 26, 1922
Milford, Seward County Nebraska
Died - Thursday, January 5, 1984
Broken Bow, Custer County, Nebraska
Buried - Wednesday, January 11, 1984
Buried - Armada Cemetery, Buffalo County, Nebraska
Birth Mother - Hazel Maye Wingert
Aged - 61 Years, 5 Months, 10 Days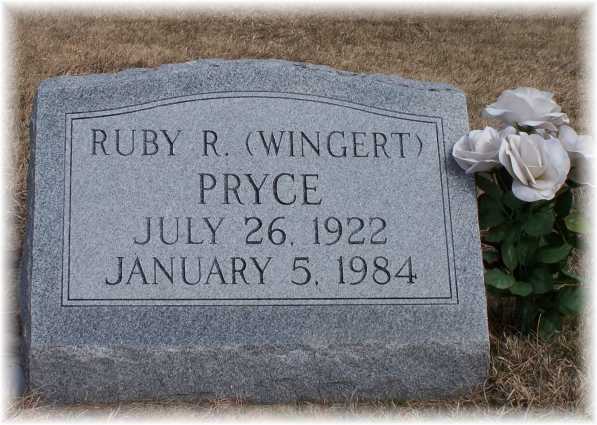 Custer County Chief
January 14, 1984

Ruby Pryce

Ruby R. Pryce was born July 26, 1922 at Milford to Arthur L. and Wilamena Pauline Eltiste Wingert and died January 5, 1984, at Broken Bow at the age of 61
Ruby had made her home in the Broken Bow area since her marriage to Van G. Pryce in 1964. She was employed at the Broken Bow County Club at the time of her death.
Survivors include two daughters, Mrs. Retha Ruth Meis of Thousand Oaks, California and Mrs. Sheila Dee Carr of Overton, Nebraska. One son, Carl Lee Todd of Breckenridge, Colorado, and 8 grandchildren; Joseph Louis Meis Jr., John Lee Meis, James Lawrence Meis and Jennifer Meis, all of Thousand Oaks, California. Margue Todd of Breckenridge, Colorado, Russ Lynn Nichols, Dayle Dee Nicholas and Ted Lee Nichols, all of Kearney.
She was preceded in death by her parents and husband, Van Pryce. Memorials may be given in her name to the Valley Hope Centers at Norton, Kansas or O'Neill.
Services were held Wednesday, January 11, at 2:00 p.m., at the Govier Brothers Chapel in Broken Bow, with Reverend Gregory Clark officiating. Burial was in the Armada Cemetery at Miller. Mrs. Norma Johnson was the organist and Allan Woodard was the soloist.
Honorary pallbearers were: Joseph Meis, John Meis, Russ Nichols, Alvin Brink and James Meis. Active pallbearers were: Ted Nichols, Tom Connely, Bob Harold and Albert Pryce.



1st Husband - Samuel Lee Todd
"Lee Todd"
Born - March 12, 1918
Neligh, Antelope County, Nebraska
Died - October 23, 2001
Cottonwood, Yavapai County, Arizona

Daughter - Retha Ruth (Todd) Meis-Burger
Born - February 28, 1940
Daughter - Sheila Dee (Todd) Nichols-Gilbert
Son - Carl Lee Todd


2nd Husband -Van G. Pryce
Born - November 4, 1918
Married - 1964
Died - May 3,1977
Broken Bow, Custer County, Nebraska
Father - Albert

Lucius

Pryce
Born -

March 27,1872 - Wisconsin

Died - November 17, 1945 - York County, Nebraska
Mother -

Margaret

"Lucy" Lucinda (Hoffer)

Pryce
Born -

July 22, 1883 - Nebraska


Died -

October 7, 1934 -York County, Nebraska

Van Pryce, 57 Dies in Grand Island

A funeral for Van G. Pryce, 57, of Broken Bow
will be 10 a.m. Friday, May 6, at the
Govier Brothers Chapel
in Broken Bow, with the Rev. A. O. Ernst officiating.
Graveside services and burial will be at 3 p.m.
in the Rosemond Cemetery northeast of York,
with Govier Brothers Mortuary in charge of arrangements.
A memorial has been established to the Emphysema Foundation, in care-of Mrs. Bill Pedersen of Broken Bow.
Mr. Pryce died Tuesday, May 3, at the V. A. Hospital in
Grand Island after a lingering illness.
He is survived by his wife, Ruby; two brothers,
Ike of Berwyn and Al of Broken Bow;
four sisters, Laura Dudley of Coos bay, Oregon,
Martha Bell Gardner, Margaret Pryce of Grand Island
and Bessie Carson of North Platte.

Custer County Chief
May 5, 1977


Brother - Ivan Richard Wingert
Born - February 6, 1915
(Adopted) Nephew of Arthur Wingert

Father - Arthur Leonard Wingert
Mother - Wilhelminia Pauline Christina (Eltiste) Wingert

Music ~ Twilight Time ~ The Platters

Family Indexes
Home Eltiste Kaiser Rohrs Fink
Eltiste Photos Kaiser Photos Rohr Photos Fink Photos
Last Up-Date 09/11/2014 05:03:32 PM