Eltiste-Kaiser Web Site
---
Eltiste Family
Wilhelminia Pauline Christina
(Eltiste) Wingert
Minnie Wingert
Born - Thursday, January 24, 1884
Auburn, Nemaha County, Nebraska
Baptized -Sunday, February 24, 1884
Confirmed - 1896
Saint Paul's Lutheran Church, Nemaha County, Nebraska
(Hickory Grove Lutheran Church)
Residence - Saturday, May 7,1910
Lincoln Precinct, Dawson County, Nebraska
Residence - Wednesday, February 18, 1920
Lincoln Precinct, Dawson County, Nebraska
Residence - Monday, May 5, 1930
Logan Precinct, Dawson County, Nebraska
Residence - Monday, April 8, 1940
Logan Precinct, Dawson County, Nebraska
Moved From Farm Home in Dawson County,
to Sumner Nebraska - 1951
Died - Tuesday, May 27, 1969
Broken Bow Hospital, Broken Bow, Nebraska
Buried - Saturday, May 31, 1969
Armada Cemetery, Buffalo County, Nebraska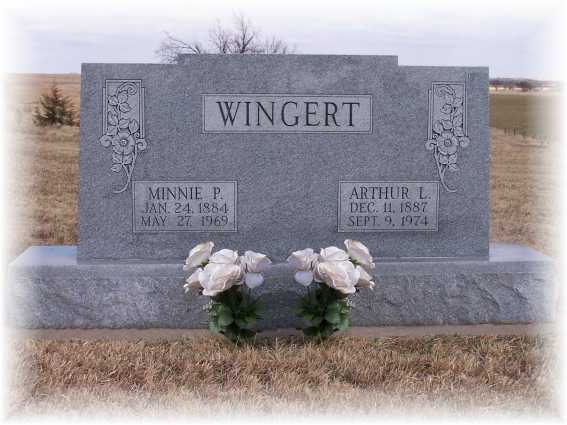 Married - Thursday, March 11, 1915
Johnson, Nemaha County, Nebraska


Funeral Services for
W. P. Wingert - 85
To Be Saturday

Funeral services for Mrs. Arthur Wingert, 85, will be held Saturday, May 31, 1969 at 2:00 p.m. at the Grace Lutheran Church of Sumner with Reverend. Gary Fortkamp officiating.
Wilheminia Pauline Eltiste was born January 24, 1884 at Auburn, Nebraska, and came to Dawson county as a young lady. She married Arthur Wingert, March 11, 1915.
She passed away Tuesday, May 27, 1969 at the Broken Bow hospital, after an illness of one week.
She is survived by her husband, Arthur; daughter, Ruby Pryce of Broken Bow; a sister, Sophia Kaiser of Phillipsburg, Kansas; two brothers, Paul Eltiste, Sumner and Herman Eltiste, Auburn, Nebraska; 3 grandchildren and seven great-grandchildren.
Overton Funeral Home is in charge of arrangements. Burial will be at Miller.

The Overton Observer
May 29, 1969



Husband - Arthur Leonard Wingert
Born - December 11, 1887
Bucyrus, Crawford County, Ohio
Died - September 9, 1974
Good Samaritan Hospital
Kearney, Buffalo County, Nebraska


Son - Ivan Richard Wingert
Born - February 6, 1915
(Adopted) Nephew of Arthur Wingert

Daughter - Ruby (Wingert) Todd Pryce
Born - July 22, 1922
(Adopted) Great-Niece of Arthur Wingert


½Sister - Christina (Eltiste) Smith

½Brother - August Christian Eltiste

Sister - Sophia Katharine (Eltiste) Kaiser
Sophie Kaiser

Sister - Wilhelmine Emil Elizabeth (Eltiste) Bohling
Elizabeth Bohling

Brother - William Frederick Eltiste
Willie Eltiste


Brother - George Heinrich Paul Eltiste
Paul Eltiste

Brother -Conrad August Herman Eltiste
Harry Eltiste

Brother - Theodore Fredrich Emil Eltiste
Born - January 31, 1895 ۩ Died - April 1, 1895


Father - Freiderick Paul Eltiste

Mother - Maria Barbara (Stadtler) Eltiste



Family Indexes
Home Eltiste Kaiser Rohrs Fink
Family Thumbnail Photo Gallery Index
Last Up-Date 09/10/2014 02:43:22 PM