Eltiste-Kaiser Web Site
---
Eltiste Family
Avis Lucille (Wallenberg) Woods
Born - Monday, September 17, 1917
Deweese, Clay County, Nebraska
Died - Sunday, May 29, 1990
Lincoln, Lancaster County, Nebraska
Buried - Wyuka Cemetery
Lincoln, Lancaster County, Nebraska
Section-37 Lot-122 Space-4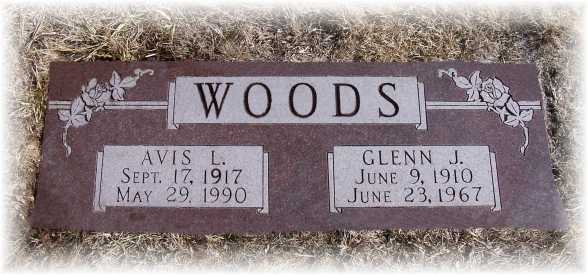 Avis Woods

Woods - Avis, 72, Lincoln, died Tuesday. She was
employed as a Nursing Technician for the Lincoln Regional
Center for 20 years.
Avis was born in Deweese, Nebraska, and an active member of
the United Methodist Church.
Survivors left to mourn her passing are two daughters;
Glenda Jones and Marian McGinness, both of Lincoln; a brother,
George Wallenburg, Fairfield; seven grandchildren;
six great-grandchildren; nieces and nephews.
Services are at 1:30 p.m., Friday. Roper & Son's Mortuary,
4300 "O" Street, Wyuka, in charge of arrangements. Visitation
until services, at the mortuary.

Lincoln Star
Thursday
May 31, 1990


Husband - Glenn J. Woods
Born - Thursday, June 9, 1910
Blue Hill, Webster County, Nebraska
Died - Friday, June 23,1967
Lincoln. Lancaster County, Nebraska
Buried - Wyuka Cemetery
Lincoln, Lancaster County, Nebraska
Section-37 Lot-122 Space-5

Glenn J. Woods

Woods Glenn J., 57, 1601 North 28th died Friday. Born Blue Hill, Lincoln Resident nine years. Retired custodian, State Farm. Member Ways Of Holiness Church.
Survivors Wife, Avis; Daughter, Mrs. Franz Penner, Lamar Missouri, and Glenda at home; Brothers Arthur, Frank, Lee, Miles City, Montana; Sisters Mrs. Charlotte Parker, Benkelman Nebraska; Edith Morey, Evans, Colorado; Marie Gourley, Weisser, Idaho; three grandsons.

Metcalf's Funeral Home
245 North 27th Street
Lincoln, Nebraska

Lincoln Star
Saturday
June 24, 1967


Daughter - Marian (Woods) Mc Ginnis
Born - March 1938
Husband - Don Mc Ginnis
Daughter - Glenda Sue (Woods) Jones
Born - December 31, 1954
Husband - Keith Jones

Sister - Clara Alvinia (Wallenberg) Shaw
Born - December 17, 1900
Brother - Carl Wallenberg
Born - November 8, 1903
Phillipsburg, Phillips County, Kansas
Married - May 31, 1930
First Baptist Church
San Diego, California
Died - June 20, 1971 - Massachusetts
Buried - Somerville, Middlesex County, Massachusetts
Wife -Ora (Schurman) Wallenberg
Born - August 3, 1909 - Massachusetts
Died - November 30, 2002 - Plymouth, Massachusetts


Brother - William August Wallenberg
"Bill Wallenberg"
Born - April 1, 1906


Brother - George W. Wallenberg
Born - September 15, 1907
Sister - Vera (Wallenberg) Shunkwiler
Born - July 22, 1910

Sister - Fern (Wallenberg) Hoyt
Born - January 3, 1913
Sister - Corinne (Wallenberg) Potts
Born - March 14, 1915

Father - William Henry Wallenberg

Mother - Christina (Muller) Wallenberg


Family Indexes
Home Eltiste Kaiser Fink Rohrs
Family Thumbnail Photo Gallery Index
Last Up-Date 03/31/2008 05:13:41 PM