Eltiste-Kaiser Web Site
---
Eltiste Family
Fern (Wallenberg) Hoyt
Born - January 3, 1913
Fairfield, Clay Center County, Nebraska
Died - Saturday, July 21, 1984
Buried - Tuesday, July 24, 1984
Fairfield Cemetery. Nebraska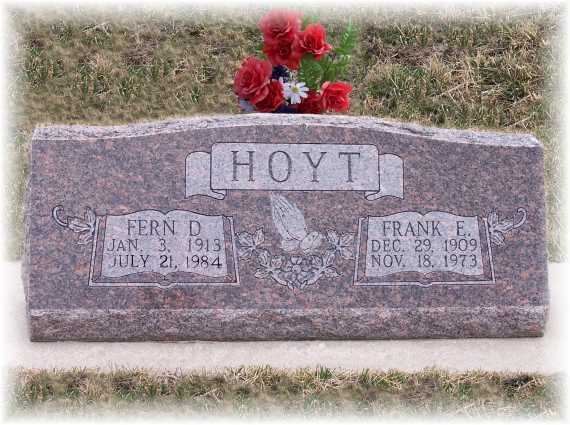 Fern Hoyt

Fern D. Hoyt, 71, of Good Samaritan Village, died
Saturday, July 21, 1984, in a Lincoln hospital.
Services will be held Tuesday at 2 p. m. in the McLaughlin
Funeral Home Chapel in Clay Center with the
Reveremd Donald H. Burkum officiating.
Burial will be in the Fairfield Cemetery.
Mrs. Hoyt was born on January 3, 1913, in Fairfield and
attended school there.
She had been a resident of Good Samaritan Village
for the past 10 years.
She is survived by one daughter, Brenda Moncrief of Kimball;
one son, Gary of Hastings; three sisters, Mrs. Wesley (Vera) Shunkweiler of Fairfield, Mrs. Roy (Alvina) Shaw of Edgar and
Mrs. Glenn (Avis) Woods of Lincoln; and two grandchildren.
Memorials may be given to the American Diabetes Association Inc.

The Hasting Tribune
Monday
July 23, 1984

Husband - Frank E. Hoyt
Born - December 29, 1909
Died - Sunday, November 18, 1973
Clarkson Hospital, Omaha, Douglas County, Nebraska
Buried - Wednesday, November 21, 1973
Fairfield Cemetery, Nebraska

+Fairfield+
Funeral Services Held November 21
for Frank E. Hoyt

Frank E. Hoyt, 63 of Hastings, died last Sunday at the
Clarkson hospital at Omaha. He was a native of Milbank, South Dakota, and a former resident of Fairfield where he was a law officer and street commissions. He was later associated with the Fairfield Implement Company. He moved to Hastings in 1970, and was
employed as a mechanic for the Werner Construction Company.
Funeral services were Wednesday at 1:30 p. m. at the Community Presbyterian Church with Rev. R. Keith Roumpf officiating.
Burial was in the Fairfield cemetery.
Mr. Hoyt is survived by his widow, Fern; a son, Gary of Livermore, California; a daughter, Mrs. Keith Moncrief of Elwood; two grandchildren; six sisters, Mrs. Madge Henninger of Cozad,
Mrs. Helen Miller, Miss Mildred Sapinfield and Miss Edith Hoyt of Sioux Falls, South Dakota, Mrs. Eunice Flieshman of Nampa, Idaho, and Mrs. Ethel Strain of Denver, and two brothers, Harold of
Billings, Montana, and Jack of Arkansas.
The McLaughlin Funeral Home of Clay Center was in charge.

The Clay Center Sun
Thursday
November 22, 1973

Son -Gary Hoyt
Daughter - Brenda Eileen (Hoyt) Moncrief
Born - May 27, 1948
Married - Sunday, July 2, 1967
Died - April 5, 1993
Husband - Keith Dewayne Moncrief
Born -October 1947

Sister - Alvinia (Wallenberg) Shaw
Born - December 17, 1900
Brother - Carl Wallenberg
Born - November 8, 1903
Phillipsburg, Phillips County, Kansas
Married - May 31, 1930
First Baptist Church
San Diego, California
Died - June 20, 1971 - Massachusetts
Buried - Somerville, Middlesex County, Massachusetts
Wife -Ora (Schurman) Wallenberg
Born - August 3, 1909 - Massachusetts
Died - November 30, 2002 - Plymouth, Massachusetts


Brother - William August Wallenberg
"Bill Wallenberg"
Born - April 1, 1906


Brother - George Wallenberg
Born - September 15, 1907
Sister - Vera (Wallenberg) Shunkwiler
Born - July 22, 1910
Sister - Corinne (Wallenberg) Potts
Born - March 14, 1915

Sister - Avis (Wallenberg) Woods
Born - September 17, 1917

Father - William Henry Wallenberg

Mother - Christina (Muller) Wallenberg


Family Indexes
Home Eltiste Kaiser Fink Rohrs
Family Thumbnail Photo Gallery Index
Last Up-Date 03/31/2008 05:12:32 PM