Eltiste-Kaiser Web Site
---
Fink Family
Edward John Mueller
Born - June 7,1876
Stuttgart, Phillips County, Kansas
Baptized - Emmanuel Evangelical Lutheran Church
Married - January 31, 1905
Emmanuel Evangelical Lutheran Church
Stuttgart, Phillips County, Kansas
Died - October 16, 1955
His Home, Logan, Phillips County, Kansas
Buried - Saint Peter's Lutheran Cemetery
Logan, Phillips County, Kansas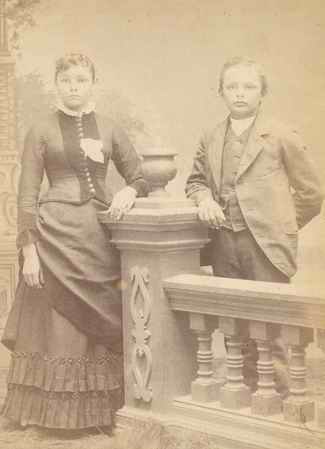 Maggie (Mueller) Merklein& Ed Mueller

Obituary ~ Edward Miller

Edward J. Miller was born near Stuttgart, Kansas on June 7, 1876, the son of Mike and Katie Miller, and passed away at his home in Logan on October 16, 1955, at the age of 79 years, 4 months and 9 days.
At an early age he was baptized into the Emmanuel Lutheran church at Stuttgart, transferring to the Trinity Lutheran, and later moving his membership to St. Peter's church in Logan.
As a young man he worked on the Henry Merklein Sr., farm. After acquiring his own farm south of Stuttgart, he married Matilda Pralle and the home was blessed with two children: August of Phillipsburg and an adopted daughter, Mrs. Gertrude Widener of Boulder, Colorado. His wife, Matilda, died in 1922.
Edward married Elizabeth Barbara Schauer on August 20, 1923, and they made their home on the farm until his retirement in 1942 when they moved to Logan. He had enjoyed wonderful health until July of this year when illness came. He never complained of his illness and was not confined to bed until two days before his death. He was a hard worker all of his life and leaves to mourn his passing many friends.
Survivors of this family include: August, his son; Mrs. Widener, his daughter; his wife, Elizabeth; one brother, Mike Miller, Stuttgart; five sisters, Mrs. Maggie Merklein, Route 4, Phillipsburg, Mrs. Anna Vogel, Stuttgart, Mrs. Barbara Detimer, Kensington, Mrs. Frieda Miller, Phillipsburg, Mrs. Clara Bertholf, Ft. Collins, Colorado; six grandchildren and 23 nieces and nephews.

CARD OF THANKS
We wish to thank our relatives and friends for their many deeds of kindness, for the beautiful floral offerings and other expressions of sympathy extended to us in our recent bereavement. We especially want to thank the neighbors and Ladies Aid for their gifts of food and help, the minister for his words of comfort and also those who furnished the music. Your thoughtfulness will never be forgotten.
Mrs. Ed Miller, Mr. and Mrs. August Miller,
Mrs. Gertrude Widener and children.

Phillips County Review
October 27, 1955


1st Wife - Mathilda "Tilda" (Pralle) Mueller
Born -April 21, 1883- Kansas
Died - July 24, 1921 - Kansas
2nd Wife -Elizabeth Barbara (Schauer) Miller
Born - June 8, 1890 - Kansas
Married - August 29, 1923
Died - July1970
Buried - Saint Peter's Lutheran Cemetery
Logan, Phillips County, Kansas

Son - August Michael Mueller
Born - November 15, 1906
Died - January 23, 1980
Adopted Daughter - Gertrude (Miller) Widener
Born - 1914 - Kansas

Sister - Marie Margaret (Mueller) Merklein
Born - September 8, 1874
Brother- Johann Wilhelm Mueller
Born- March 31, 1878
Brother - George Michael Mueller
Born - March 4, 1880
Brother- Wilhelm Johann Michael Mueller
Born - July 20, 1882
Sister -Anna Margartha Elizabeth Katharine
Annie Vogel
Born - October 14, 1884
Sister- Babette Sophia Maria (Mueller) Dettmer
Born - February 5, 1888
Brother - Leonard John Frederick Charles Mueller
Born - January 4, 1891
Sister - Fredia Marie Babette (Mueller) Miller
Born -May 19, 1894
Sister - Klara Babette Barbara (Mueller) Bertholf
Born - July 22, 1897

Father - Johann Michael Mueller
Mother - Anna Katharina (Fink) Mueller


Family Indexes
Home Fink Kaiser Eltiste Rohrs
Eltiste Photos Kaiser Photos Rohr Photos Fink Photos
Last Up-Date 01/27/2007 01:13:16 PM