Eltiste-Kaiser Web Site
---
Kaiser Family
Evelyn Pauline (Schick) Kaiser
Born - September 30,1925
Phillips County, Kansas
Married - August 23, 1947
Phillipsburg, Phillips County, Kansas
Died - January 14, 1996
Buried - Friday, January 19, 1996
Fairview Cemetery
Phillipsburg, Phillips County, Kansas
Range-5 Block-8 Lot-9 Space-6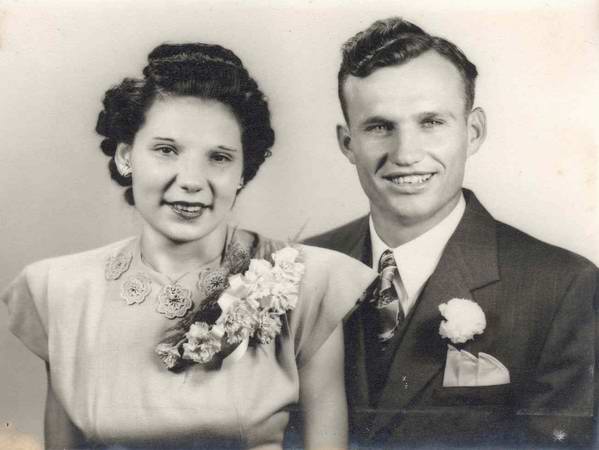 August Fred & Evelyn Pauline (Schick) Kaiser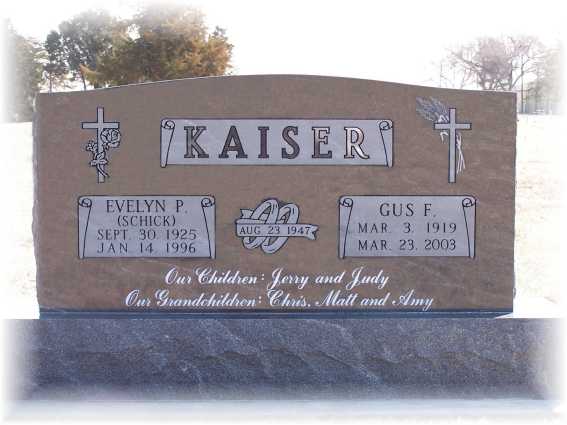 Schick ~ Kaiser

Evelyn Schick, daughter of Mr. and Mrs. Carl Schick of Densmore, Kansas, and Gus Kaiser, son of Mr. and Mrs. Henry Kaiser of Stuttgart, Kansas, were united in the Holy bonds of Matrimony at two o'clock, August 23, 1947, in the Lutheran parsonage at Phillipsburg, with the Rev. L. Fabrizius officiating.
The bride was very attractive in a street length dress of aqua. Her corsage was pink carnations.
The bridesmaid, Mrs. Lawrence Look, sister of the groom, wore a gold dress.
The groom and his attendant, Mr. Lawrence Look, wore business suits. The groom wore a white carnation.
After the ceremony a reception was held at the home of the bride's parents. The table was centered with a three-tiered wedding cake and garden flowers.
After the wedding trip to Colorado the happy couple will be at home to their many friends on a farm near Stuttgart.

Phillips County Review
August 28, 1947


Gus, Evelyn, Jerry, & Judy Kaiser

E
velyn Kaiser

Evelyn Pauline Schick Kaiser was born September 30, 1925 on a farm in western Phillips County Kansas to Carl and Martha Fischli Schick. Her parents moved to Norton County when Evelyn was a small child. She attended grade school at the Cactus School. Evelyn was baptized into the Christian faith at the St. Peter's Lutheran Church in Logan and confirmed by Rev. R. W. Schlarhter on June 15, 1941. She spent much time at home helping her parents on the family farm in Norton County. She completed high school at
Densmore in 1944.
On August 23, 1947 she married Gus. F. Kaiser at Phillipsburg. They moved to a farm north of Stuttgart where Gus farmed and Evelyn was a homemaker.
Their first son Jerry was born in July 1950. In 1955 the family moved to Kirwin to continue their career in farming. In January 1957 Judy was born. Gus and Evelyn continued farming until 1960 when they moved to Phillipsburg. Gus then made a career change building houses and doing electrical work. It was during this time they built their house on south seventh street in Phillipsburg.
Evelyn was very proud of her home. Her family was the center of her life. She loved to spend time cooking and caring for her children and she faithfully supported all her family's interests and activities.
In the late 1970's Evelyn was diagnosed with Pre-senile dementia. It was during this time her health began to deteriorate. As time progressed Gus became the prim care giver in the home.
Evelyn especially loved little children. In 1984 she became a grandmother. She was elated at the news of the birth of each of her three grandchildren, Matthew, Christopher and Amy.
Evelyn departed this life on January 14, 1996.
Survivors include her husband Gus of the home; one son Jerry and his wife Allene, Inman; one daughter Judy and her husband Paul McLean, Roseville, Minnesota; one brother and his wife Edith, Densmore; three grandchildren: Matt Kaiser, Christopher and May McLean and a host of relatives and friends.
Funeral services were held Friday, January 19 at 10:30 a.m. in the Zion Lutheran Church with Pastor Don Swanson officiating.
Mary Lutz, soloist, sang "How Great Thou Art" and "Go Tell It On The Mountain" accompanied by Jean Ann Wagner.
Casket bearers were Rex and Brian Schick, Myron Bietz, Mark Kaiser, Alton Hazen and Lawrence Look. Honorary bearers were: Esther Norden, Linda Blubaugh, Phyllis Wilderman, LaVergne Biete and Pauline Imm.
Interment was in Fairview Cemetery, Phillipsburg.
Arrangements were handled by Olliff-Boeve Memorial Chapel.

CARD OF THANKS
We would like to thank everyone for all their many deeds and acts of kindness extended to us upon Evelyn's passing. We want to thank you for your prayers and visits, food brought in, flowers, cards and memorials at our time of bereavement. A special thanks to Dr. Knackstedt, the E.M.T.'s, Rev. Swanson and Rev. Hiesterman and the Phillips County Hospital staff.
The Family of Evelyn Kaiser

Phillips County Review
January 25, 1996



Husband - August Fred Kaiser
Gus Kaiser
Born - March 3,1919
Phillipsburg, Phillips County, Kansas


Son - Jerry Lee Kaiser
Born - July 1, 1950
Daughter - Judy (Kaiser) McLean
Born - January 39, 1956


Father - Carl P. Schick
Born -October 30,1891- Elmwood, Cass County, Nebraska
Married - November 26, 1919 - Phillips County, Kansas
Died - March 1965
Mother - Martha (Fischli) Schick
Born -July 26, 1897- Kansas
Died -October 1984


Family Indexes
Home Kaiser Fink Eltiste Rohrs
Family Photo Gallery Thumbnail Index
Last Up-Date 08/25/2014 04:34:51 PM