Eltiste-Kaiser Web Site
---
Kaiser Family
Heinrich Hermann Georg Kaiser
Henry Kaiser "Junior"
Born - April 30,1913
Phillipsburg, Phillips County, Kansas
Married - Sunday, December 6,1942
Ocean Park, Ventura County, California
Inducted into Army - February 3, 1941
Service Number - 37033504
Veteran World War II
Died - March 28, 1985
Good Samaritan Hospital
Kearney, Buffalo County, Nebraska
Buried - April 1, 1985
Fairview Cemetery
Phillipsburg, Phillips County, Kansas
Range-5 Block-6 Lot-7 Space-1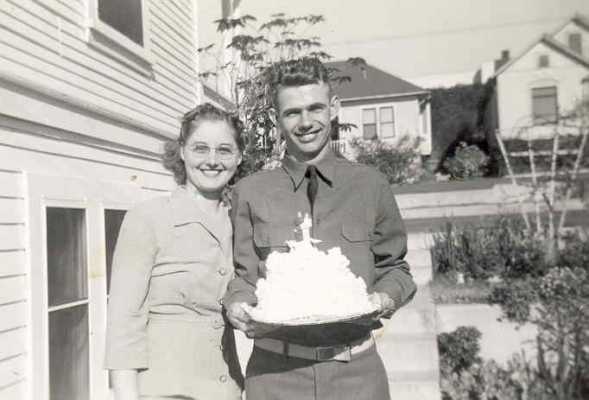 Henry & Edna Kaiser
Henry Kaiser
Henry George Kaiser, second son of Henry C. and Sophie Eltiste Kaiser was born on April 30, 1913, on the family farm in the Iowa Union Community north of Phillipsburg. He passed away March 28, 1985, at the age of 71 years, 10 months and 28 days in the Good Samaritan Hospital at Kearney, Nebraska.
On December 6, 1942, he was married to Edna Jones of Ocean Park, California. To this union two children were born.
Henry, a WW II veteran, spent five years in the United States Army. He served in the European Area where he participated in the Normandy Invasion at Omaha Beach, the Breakout of St. Louis, and the Battle of the Bulge. He was a lifetime member of the V. F. W.
After the war, Henry returned to farming and ranching in Phillips County. He enjoyed the quiet freedom of outdoor life.
Henry's last real enjoyment came when he accompanied his comrades of the 635 Tank Destroyer Bn. To Europe in the fall of 1984. The group revisited many of the WW II battlefields.
He was preceded in death by his parents. He leaves to mourn his wife, Edna; his son, Gerald, in the USAF presently stationed in South Korea, Gerald's wife, Terri and their children, Jennifer and Heather; and his son, Robert of Shawnee, Kansas, Robert's wife, Peggy, and their children, Ryan and Sarah; three brothers, Gus and Paul, Phillipsburg and William, Agra; two sisters, Sophia Hazen, Stockton and Wilma Look, Hays.
Memorial Services were held Monday, April 1, at 10 a.m. in the Olliff-Boeve Memorial Chapel with Pastor Joel Hiesterman officiating. Fred R. Henrichs sang special music, accompanied by Helen Witmer.
Casket bearers were Alton Hazen, Roger Jones, Lawrence Look, Louis Bohl, Paul Beyerlein and Edwin Wilderman. Honorary bearers were all of Henry's friends. Interment was in Fairview Cemetery with Military Honors by Meyers-Hesler VFW Post No. 1360, Phillipsburg.
Card of Thanks
We want to thank our friends for the cards, calls, beautiful flowers, and the many kindnesses shown us at the time of the loss of our loved one. The memorial contributions and all the other thoughtful deeds brought us much comfort and will always be remembered.
The Family of Henry G. Kaiser

Wife - Edna Charlotta (Jones) Kaiser
Born -June 23, 1916
Cambridge, Furnas County, Nebraska
Died - January 2, 2001
Presbyterian Hospital, Albuquerque, New Mexico
Buried - January 6, 2001
Fairview Cemetery
Phillipsburg, Phillips County, Kansas
Range-5 Block-6 Lot-7 Space-2
Father - Reverend Harrison Morton Jones
Born - November 5,1892 - Sidney, Cheyenne County, Nebraska
Died - December 1975 - Broken Bow, Custer County, Nebraska
Mother - Ruby (Achen) Jones
Born - October 27, 1894 - Alma, Harlan County, Nebraska
Died - November 8, 1948 - McCook, Red Willow County, Nebraska


Son - Gerald George Kaiser
Born - January 24, 1949
Phillipsburg, Phillips County, Kansas
Married - January 28, 1978
Wife - Theresa (Lascari) Kaiser
Son - Robert Henry Kaiser
Born - December 30, 1951
Phillipsburg, Phillips County, Kansas
Married - January 1, 1977
Wife - Peggy (Hjetland) Kaiser


Father - Henry Christian Kaiser
Mother - Sophia Katherina (Eltiste) Kaiser


Family Indexes
Home Kaiser Eltiste Fink Rohrs
Family Thumbnail Photo Gallery Index
Last Up-Date 01/15/2012 09:38:31 AM