Eltiste-Kaiser Web Site
---
Kaiser Family
William Christian Kaiser
Bill Kaiser
Born - April 19,1910
Rural Phillips County, Kansas
Married - January 28, 1952
Auburn, Nemaha County, Nebraska
Died - Saturday, September 28, 2003
Agra, Phillips County, Kansas
Buried - Agra Cemetery
Agra, Phillips County, Kansas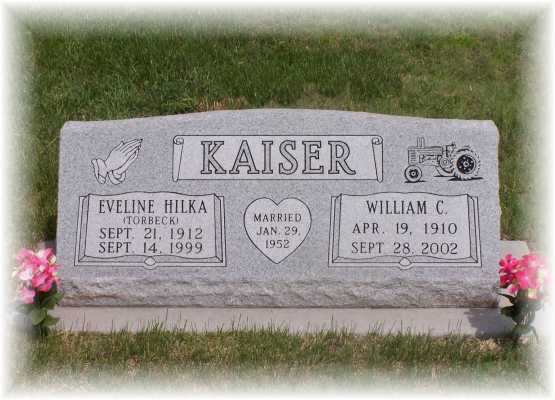 .
William C. Kaiser

AGRA - William C. Kaiser, 92, Agra, died Saturday, September 28, 2002.
Mr. Kaiser was born April 19, 1910, in rural Phillips County. He was a farmer.
He was preceded in death by his wife, Eveline, in 1999.
Survivors include a son, Mark of Westminster, Colorado; a brother, Gus of Phillipsburg; two sisters, Sophia Hazen of Stockton and Wilma Sterret of Quinter; two grandchildren; and a great-grandchild.
The service will be at 11 a.m. Saturday in Agra Cemetery.
Memorials may be made to Phillips County Retirement Center.
Visitation will be from 9 a.m. to 9 p.m. Thursday and Friday at Olliff-Boeve Memorial Chapel, 1115 Second, P.O. Box 563, Phillipsburg 67661.
The day of the funeral was incorrect in Tuesday's edition



Wife - Eveline Hilka Christena (Torbeck) Kaiser
Born - September 21, 1912
Johnson, Nemaha County, Nebraska
Father - Friedrich Wilhelm Torbeck
Mother - Katherana (Norbrock) Torbeck

Son - Mark Lynn Kaiser
Born - December 31,1953
Tecumseh, Johnson County, Nebraska
Married -June 7, 1974
Wife - Delores (Falton) Kaiser

Father - Henry Christian Kaiser
Mother - Sophia Katherina (Eltiste) Kaiser


Family Indexes
Home Kaiser Fink Eltiste Rohrs
Eltiste Photos Kaiser Photos Rohr Photos Fink Photos
Last Up-Date 06/19/2014 01:18:12 PM