Eltiste-Kaiser Web Site
---
Eltiste Family
Frederich Heinrich Dietrich Bohling
Fred "Feeddie Feeddie" Bohling
Born - Tuesday, November 25, 1879
Schwalingen, Germany
Arrived USA - June 15, 1882
Confirmed - Sunday, April 1, 1894
Nemaha County, Nebraska
Married - Wednesday, November 25, 1908
Nemaha County, Nebraska
Died - Wednesday, April 8, 1953
Auburn, Nemaha County, Nebraska
Buried - Friday, April 10, 1953
Hickory Grove Cemetery, Nemaha County, Nebraska
73 Years 4 Months 14 Days

Confirmation Certificate
Sunday, April 1, 1894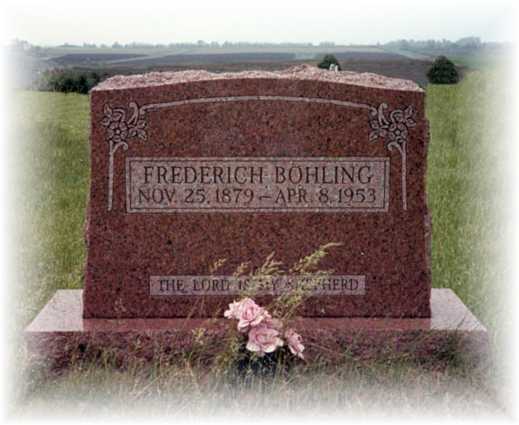 Wife - Wilhelmine Emile Elizabeth (Eltiste) Bohling
Born - Monday, August 3,1885
Family Home Near -Auburn, Nebraska
Died - Saturday, January 21,1967
Buried - Saint Paul's "Hickory Grove" Cemetery
Auburn, Nemaha County, Nebraska
81 Years 5 Months 18 Days


Obituary
Frederich H. D. Bohling

Frederich Henry Diedrich Bohling, age 73 years, 4 months and 14 days, died April 8th, at his home at 2222 O Street, Auburn.
Mr. Bohling was born November 25, 1879 in Schwalingen, Germany, the son of Frederich Bohling and his wife Anna, nee Baden, and was baptized in early infancy. He was brought to this county in 1881 by his parents.
He was confirmed in the Lutheran Faith on Easter Sunday, 1894 by the Rev. Theodore Streng.
Rev. Streng also performed the ceremony on November 25, 1908 which united Mr. Bohling in marriage with Elizabeth Eltiste in St. Paul's (Hickory Grove) Lutheran church. This union was blessed with four children.
After their marriage, Mr. and Mrs. Bohling resided on what is now known as the Henry Rogge farm, where they lived for nine years. They then moved to a farm one half mile east from there, where they farmed until the fall of 1948, when they retired, and moved to Auburn.
The departed one had been in failing health since the spring of 1950. He passed away early Wednesday morning.
He leaves to mourn his departure his bereaved wife; four daughters, namely, Helen, Mrs. Paul Gobber of Elk Creek; Esther, Mrs. Alvin Goering of Johnson; Hilda, the wife of Elmer Adcock, of Peru; and Elsie, wife of George Hosterman of Modesto, California. Also eleven grandchildren, three sisters, Emma, Mrs. Henry Oestmann, Augusta, Mrs. Carl Bohling; and Mary, Mrs. Henry Bohling; all three residing near Johnson.
He was preceded in death by one sister, Mrs. Anna Oestmann who passed away May 18, 1948.
Funeral services were held Friday, April 10. A family prayer was held at the Casey Funeral Home in Auburn at 1:30 p. m. with services at St. Paul's (Hickory Grove) Lutheran church at 2: 00 p. m., Rev. H. A. Kolm officiated at both services. Two songs "Nearer My God To Thee" and "Heaven Is My Home" were sung by the church choir. Mrs. Adolph Lunzman was organist.
Pallbearers were: Herman Weisbrook, Lester Cowell, George Kreglo, Peter Lang, August Bohling, and William Bohling Jr.
Assisting with the flowers were Mr. and Mrs. Korah Baker.
Interment was in the St. Paul's (Hickory Grove) Lutheran cemetery. Casey Funeral Home was in charge of funeral arrangements.

Nemaha County Herald
Thursday
April 16, 1953



Daughter - Helene Emma Wilhelmine (Bohling) Gobber
Daughter - Esther Sophia Emma (Bohling) Goering
Daughter - Hilda Barbara Augusta (Bohling) Adcock
Daughter - Elsie Adolene Marie (Bohling) Hosterman

Sister - Anna (Bohling) Oestmann
Born - February 1878
Schwalingen, Hanover, Germany
Brother - Wilhelm Friedrich Bohling
Born - April 13, 1884
Nemaha County, Nebraska
Died - April 22, 1885
Nemaha County, Nebraska
Buried - Hickory Grove Church Cemetery
Brother - Infant Baby
Born - April 29, 1886 ۩ Died - April 29, 1886
Nemaha County, Nebraska
Buried - Saint Paul's Cemetery (Hickory Grove)
Nemaha County, Nebraska

Sister - Emma (Bohling) Oestmann
Born - April 9,1887 - Nebraska
Nemaha County, Nebraska

Sister - Augusta Elise (Bohling) Bohling
Baptismal name - Emma Elise Augusta Bohling
Born - November 1, 1889
Nemaha County, Nebraska

Sister - Christine "Mary" (Bohling) Bohling
Born - August 31, 1892
Nemaha County, Nebraska



Father - Frederich Heinrich Bohling

Mother - Anna Katherina (Baden) Bohling



Family Indexes
Home Eltiste Kaiser Rohrs Fink
Family Thumbnail Photo Gallery Index
Last Up-Date 10/27/2014 04:30:31 PM