Eltiste-Kaiser Web Site
---
Hahn Family
Charles Jacob Hahn
Charlie Hahn
Born - May 4,1872 - Nebraska
Johnson, Nemaha County, Nebraska
Married - December 26, 1893
Died - Monday, September 29, 1952
St. Mary's Hospital
Nebraska City, Otoe County, Nebraska
Buried - Thursday, October 2, 1952
Johnson Cemetery
Johnson, Nemaha County, Nebraska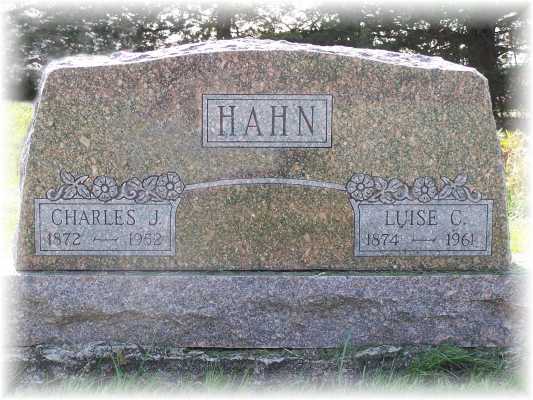 Obituary
Charles Jacob Hahn

Charles Jacob Hahn, who died Monday, September 29, at the St. Mary's hospital in Nebraska City, was born May 4, 1872, on a farm one and one-half miles northeast of Johnson. He was a son of the late Henry and Kathrina Hahn.
He was baptized on October 1, 1872. Growing up on the farm of his parents, he attended schools in that vicinity. He was confirmed January 12, 1889 during the pastorate of Rev. A. Meyers.
On the 26th of December 1893, he was united in marriage with Miss Louise Caroline Schmidt. On the 26th of December almost nine years ago, they were privileged to commemorate their Golden Wedding anniversary.
After their marriage they settled on a farm north of Graf and remained there for 8 years when they moved to a farm 31/2 miles northwest of Johnson where they resided for 48 years before moving to Talmage two years ago.
He was healthy in spite of his advancing years, until three years ago when he became afflicted with a physical malady which in the course of time, became at times quite uncomfortable, but yet he endured it all without complaint and through it all he never lost his congenial attitude nor his friendly and neighborly spirit.
He loved his friends and family and was always keenly interested in their wellbeing. He was a very personable individual whose cheerful smile for everyone he met as he walked down the streets was a real tonic to them, especially when one considered his constant affliction, which he bore with enduring patience and Christian fortitude.
A man withal who was unassuming in his ways, honest and dependable in his walk of life, and thoroughly convinced in his Christian Faith that ones salvation depends upon Faith in the Lord Jesus Christ through the Grace of God. He lived a long life as we count length of life by its years and a useful one too as all who knew him will testify.
He attained the age of 80 years, 4 months and 25 days. He parents, four sisters, and four brothers preceded him in death.
Those who survive are his bereaved widow, with whom he faithfully shared the sunshine and the shadows of life for almost 59 years; three sons, Henry of Johnson, Carl of Talmage, and Willis of Wichita, Kansas, four daughters; Frieda Wellsandt of Talmage, Elsie Zimmermann of Johnson, Tillie Schmidt of Nebraska City, and Lela Renken also of Nebraska City; 11 grandchildren, 9 great-grandchildren, two sisters, Mrs. Emma Schmidt of Johnson and Mrs. Lizzie Coleman of Johnson a large number of nieces and nephews plus many other relatives and a host of friends and acquaintances.
Funeral services were held Thursday, October 2. A family prayer was held in the Casey chapel in Johnson at 1:00 p.m. Church services were held in the Evangelical church in Talmage at 2:00 p.m. Rev. Elmer Jaberg officiated at both services.
Pallbearers were Frank Hahn, Robert Hahn, Ed Hahn, John Schmidt, Harry Scheone, and Arthur Collman.
Three songs "Take Thou My Hand," "Rock of Ages," and Going Down the Valley" were sung by a duet composted of Mrs. LaVerne Wittler and Mrs. Lyle Johnson, Organist was Mrs. Donald Hopp.
Mrs. Fred Holtgrewe assisted with the flowers.
Interment was in the Johnson cemetery. Caseys in charge of funeral arrangements.

Nemaha County Herald
October 16, 1952


Wife - Luise Caroline (Schmidt) Hahn
Born - June 1874 - Germany
Died - 1961
Buried - Johnson Cemetery
Johnson, Nemaha County, Nebraska

Son - Henry Hahn
Born - December 1894 - Nebraska
Son - Carl J. Hahn
Born - February 1896 - Nebraska
Daughter - Frieda R. (Hahn) Wellsandt
Born - September 1897 - Nebraska
Died - 1973
Talmage, Otoe County, Nebraska
Husband -Leonard Wellsandt
Daughter - Elsie M. (Hahn) Zimmermann
Born - June 1900 - Nebraska
Daughter - Tillie M. (Hahn) Schmidt
Born - 1901 - Nebraska
Daughter - Lela (Hahn) Renken
Born - May 19, 1902- Nebraska
Died - February 1987
Nebraska City, Otoe County, Nebraska,

Son - Willis C. Hahn
Born - May 14. 1918 - Nebraska
Died - April 25, 2000
Haysville, Sedgwick County, Kansas

Sister - Christine (Hahn) Lehn
Born - August 1, 1854 - Pennsylvania

Sister - Katharina (Hahn) Eltiste
Kate Eltiste
Born - April 13, 1858
Peru, LaSalle County, Illinois
Sister - Wilhelmina Emily Hahn
Born - December 1859 - Illinois
Brother - Johan Friedrich Hahn
"Fred J. Hahn"
Born - January 21,1861- Illinois
Brother - Johann Heinrich Hahn
"Henry Hahn"
Born - December 4, 1862 - Illinois

Brother - Jakob Hahn
"Jacob Hahn"
Born - July1864 - Illinois

Brother - George J. Hahn
Born - March 11, 1866 - Illinois

Sister - Maria Magdalena (Hahn) Ritter
Born - April1869 - Illinois

Sister - Anna Barbara (Hahn) Schoene
Born -1869 - Illinois
Sister - Emma Margaret (Hahn) Schmidt
Born - March1874 - Nebraska

Sister - Elizabeth A. (Hahn) Collman
Born - June 1875 - Nebraska


Father - Heinrich Hahn
Mother - Maria Katharina Sybillia (Lehn) Hahn


Family Indexes
Home Eltiste Kaiser Fink Rohrs
Family Thumbnail Photo Gallery Index
Last Up-Date 05/13/2008 05:47:07 AM